Choosing the Best Artificial Grass for Your Project

So you've decided to finally start pursuing artificial turf installation, but where do you start? Below we'll walk you through some dos and don'ts when shopping for the best artificial grass on the market. Learn how to choose artificial turf materials that are right for your specific needs with our buying guide below!
Artificial grass was invented in the 1960s and there was only one brand and one product: AstroTurf. Today there are dozens of companies offering hundreds of different types of artificial grass. Because of this, the shopping process can become a bit overwhelming.
How to Find the Best Fake Grass for Your Project
You'll notice different looks, shades, textures, and prices as you're browsing online for fake grass. It can be hard to know which option is best for your intended use. We've created a buyer's guide to assist you with your artificial grass purchase. By the end of this article, you'll have all the knowledge you need to confidently choose the best artificial grass for your home, playground, patio, or backyard putting green.
Below are our recommendations for when you're on the search for the best artificial grass on the market. Learn our professional tips before making any binding purchases to protect your investment and ensure you're reaping the benefits of installing artificial grass for many years to come!
Understand Popular Artificial Grass Terminology
Comparing Synthetic Grass Features
Finding Turf That Meets Your Budget
Desired Characteristics of Artificial Grass
The Best Artificial Grass for Rooftops, Balconies, and Patios
The Best Artificial Grass for Dogs
The Best Artificial Grass for Backyard Putting Greens
The Best Artificial Grass for Playgrounds
Assess Your Specific Needs
Before you can begin comparing synthetic turf materials online, you'll first want to pinpoint exactly the intended use of this new artificial lawn space. Some popular intended uses are pet-friendly turf applications, regular landscaping artificial grass, artificial turf for putting greens, fake grass for playgrounds, etc. Different turf materials will work best for different uses.
For example: while we'd recommend soft and plush fake grass for balconies and rooftops, this type of turf won't be long-lasting in a highly-trafficked space. This is because soft synthetic grass tends to become matted down by foot traffic at a much quicker rate than more durable options.
If you're unsure where to begin or exactly what your needs are, use the following questions to understand what matters the most to you:
---
Will this turf area be highly trafficked? If yes, you'll want to look for artificial grass with a quick recovery rate and durable blades.
Will this artificial grass be used as a restroom for pets? If yes, you'll want to opt for a full pet turf system and choose a fake grass that's permeable and easy to clean.
Are you looking for function or feel? While soft and plush grasses may feel the best to the touch, they will require more upkeep, get warmer on hot days, and may drain slower than less dense artificial grasses.
Will this artificial lawn be used as a play area? If yes, opt for soft grass that stays cool on warm days. Consider adding additional layers of padding for more shock absorption.
Do you have any existing drainage issues? If yes, you may need to assess the placement of your drains prior to turf installation and consider adding an additional drainage membrane to your installation to accelerate water flow.
---
Understand Popular Artificial Grass Terminology
Artificial Grass Backing
Turf backing is the material that holds the blades and synthetic fibers in place. Typically there are two layers for added durability. A strong and durable backing will provide your fake grass with dimensional stability. The backing's other main function is to aid in water flow and drain liquids from the space.
Even if you don't have pets or a sprinkler system in place, it's important to make sure the fake grass you buy features permeable or punched hole backing to naturally drain rainwater.
Artificial Grass Pile Height
The pile height of synthetic turf refers to the height of the blades and how tall the artificial grass is. For an artificial sports field, outdoor dog run, or other high-traffic areas, a lower pile height is recommended. This will provide a more durable surface that still suits a variety of needs. For lawns, balconies, patios, and rooftops, a taller pile height of 1 ¼ to 2 ½ inches offers a luxurious and true-to-life feel.
Synthetic Grass Face Weight
The face weight of fake grass refers to the weight of the synthetic turf blades per square yard. This is typically calculated in ounces and will exclude the weight of the turf's backing. Tall and dense turf materials will naturally weigh more and are often considered higher quality. However, that is not always the case. Depending on your intended use, you may want to choose less dense and shorter grass to make your new artificial lawn simpler to clean. As a rule of thumb, we'd say stay away from artificial grass that has a face weight of less than 50 oz. (excluding putting green turf).
Artificial Grass Thatch
The thatch of artificial turf are fibers with varying colors, weights, and textures that add volume and depth to the product. Thatch will often include brown fibers that replicate the dying under growth of grass beneath the vibrant green, growing one. A thatch layer provides the natural look and feel of a real lawn. It also adds an additional layer of cushion for shock absorption.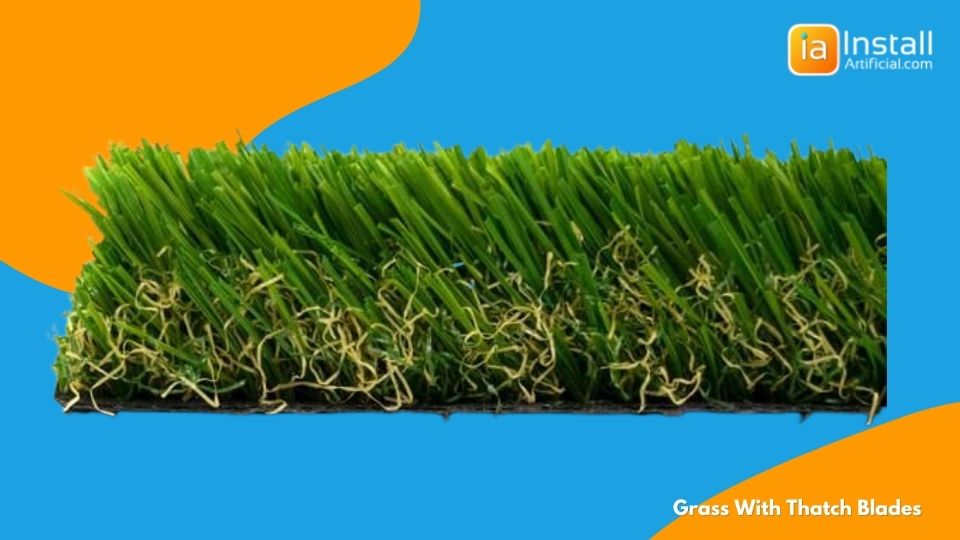 Artificial Turf Infill
Artificial grass infill is the fine granular substance that is laid in between the artificial turf blades. The main purpose of using infill is to keep the blades standing upright, or return them back to their initial upright position after they have been heavily trafficked. Additionally, infill weighs down the surface to help prevent wrinkles from occurring while also protecting the backing of your turf from the sun's UV rays. Silica sand infill is the most used infill.
Sub-Base of Artificial Grass
The sub-base of artificial turf is a layer of class II road base that is graded and compacted prior to laying artificial grass. It acts as the foundation for your synthetic turf and needs to consist of high-quality materials to ensure proper drainage. When you attempt to build a synthetic lawn directly on top of the soil, you'll start to experience wrinkles and buckling as the soil expands during temperature fluctuation. Prepping the sub-base the right way is critical to a quality turf installation.
For DIY turf installations, decomposed granite is typically substituted as the sub-base for artificial grass because it's easier to work with and doesn't require the use of professional machinery.
Comparing Synthetic Grass Features
Now that you know the common terminology of artificial turf, you'll be able to fully understand what you're looking at when differentiating your favorites. There are many specifications that will vary as you compare and contrast different options. The following are the most noted differences:
Thatch Color

Drainage Abilities

Antimicrobial Properties

Height, Density, Weight

Shade of Color

Intended Use
InstallArtificial sells artificial grass from four of the most trusted turf suppliers in the US and administers a series of performance tests on each turf product sold in order to provide you with an unbiased professional opinion. Once you understand the intended use and specific needs of your turf installation, you can use our Online Turf Lab to compare popular synthetic grasses in regards to wear and tear resistance, recovery rate, temperature, and more!
How to Compare Artificial Turf Samples
Most people compare artificial grass samples by holding them in their hands or standing above them. However, this doesn't give you the right perception of how the grass will look when it's completed. We recommend standing back about 10 or 15 ft. From a distance, you'll begin noticing the differences in color, texture, and shape. Take your fake grass samples and compare them to natural lawns in your neighborhood, this will give you an idea of how natural-looking they really are!
Find Artificial Turf That Meets Your Budget
When considering the cost of artificial grass installations, it's important to look beyond the sticker price. When comparing fake grass vs. real grass, the long-term savings on water and maintenance alone are more than worth it. Other financial benefits to synthetic turf are that you have less hassle with mowing/weeding/fertilizing, you'll increase your home's value, and it will have more curb appeal.
Browse our turf for sale online to compare dozens of leading grasses on the market. We offer affordable turf, premium turf, and everything in between! You're sure to find fake grass that meets your budget.
Desired Characteristics of Artificial Grass
Durable Artificial Turf
Different artificial grass products will withstand different traffic levels, so it's important to choose artificial grass that can hold up to everything you throw at it. If you're installing synthetic grass in a high-traffic area or space where pets will be present, durability should be top of mind during your turf buying process. Typically, more durable fake grass will cost more but you're paying for longevity and will get more life out of your lawn so the initial investment pays for itself.
Avoid "u" or "c" shaped artificial grass blades when looking for durable turf as these tend to be more pliable. A ribbed blade is a good sign of durability.
Plush & Cushioned Artificial Turf
Pile height, thatch, weight, and infill can all contribute to the density and plushness of your new artificial lawn. While a soft and plush artificial lawn is typically the most sought after, it requires significantly more upkeep and maintenance.
Because the blades of plush turf are more pliable, they are prone to matting and will need to be brushed with a power broom occasionally to remain upright. Also, the denser the artificial grass the slower the drainage. For this reason, we recommend shying away from tall and dense turf for high-traffic or pet-specific areas. Soft artificial grass is perfect for low-traffic areas such as balconies and rooftops, or backyards where young children will play!
Quick Draining Artificial Turf
Superior drainage and water flow are most important in pet turf systems, however adequate drainage is critical with any artificial grass installation. There must be a way for rainwater and natural condensation to exit the surface of your artificial lawn. In order for liquids to make their way to the sub-base below, the backing will need to have holes punched throughout. If the artificial grass doesn't have punched hole backing, we don't recommend purchasing.
For public or commercial pet turf systems, we'd recommend finding a fully permeable pet turf that allows even more accelerated drainage. 100% permeable backing will assist with keeping the surface of your synthetic lawn dry after high volumes of water and cleaning solution are flushed through during cleaning and maintenance.
To learn more about the drainage system that manufacturers recommend in pet-specific artificial grass, check out our pet turf systems explained article!
Natural-Looking Artificial Grass
The beauty of new-age technology in turf manufacturing is that it's easy to mimic the look and feel of a natural grass lawn. By using multi-colored blades and brown thatch, suppliers can create a realistic look. If natural looks are your top priority, order artificial grass samples online and compare them to natural lawns in your neighborhood. Avoid synthetic turf with a green thatch or bright green blades.
Artificial Grass with Antimicrobial Properties
We'd strongly recommend buying artificial grass with antimicrobial backing if you have children or pets. In these turf products, antimicrobial technologies are added during the manufacturing process. This helps prevent the build up of odor and bacteria from occurring within the synthetic materials.

The Best Artificial Grass for Rooftops, Balconies, and Patios
If your deck or balcony needs a little sprucing up artificial grass is an excellent addition! Transform your unusable areas into a cozy and functional space that's great for entertaining. Because turf will be installed over a hard surface, opt for synthetic grass that's permeable to prevent mold and mildew. For the best results, manufacturers recommend laying a turf drainage grid to accelerate water flow after rainfall.
Because balconies and rooftops tend to be low foot traffic, plush synthetic turf will offer you a barefoot-friendly feel without the need for constant upkeep. To learn more about the DIY process, check out our article on how to install artificial grass on balconies and rooftops!

The Best Artificial Grass for Dogs
Fake grass for dogs is a trend that's becoming more common in residential neighborhoods. As more people are recognizing the value of installing a dog-friendly synthetic lawn, homeowners are looking to replace their entire lawns or build dog runs. Synthetic turf for pet use is popular because it offers a clean surface that is safe for dogs and easy to maintain.
The best artificial grass for pets will have fully permeable backing to allow pet urine and other liquids to pass through quickly. For the simplest cleaning, we'd also recommend short and durable artificial grass. If you're installing pet turf for multiple dogs or an avid digger, we'd recommend opting for a nail-free installation to prevent your dog from damaging the surface.

The Best Artificial Grass for Outdoor Putting Greens
There are many different types of putting green grass, it really just depends on how you want to customize your gameplay. If you're looking for more flexibility and control on your artificial golf green, you might want to go with a longer pile system. This will allow avid golfers to adjust the speed of the course and give them a closer comparison to a natural green. Lower piles provide consistency, but less flexibility. Adding putt pads offers a little more adjustability and helps deaden the ball.
When installing an artificial putting green, we recommend using synthetic materials with proven technology and performance. Check out our artificial turf lab to compare the performance results of leading putting green materials online!

The Best Artificial Grass for Playgrounds
When installing artificial grass on playgrounds as a ground cover alternative to other abrasive options, there are a few key things to keep top of mind. As discussed above, you'll want to choose playground grass that offers antimicrobial technologies to remain germ-free.
The best fake grass materials for playgrounds will provide a thick thatch layer to offer superior cushion and shock absorption. You'll want to find turf that's soft enough for young children to play on, but durable enough to withstand consistent foot traffic. Additionally, you can use underlayment pads in conjunction with artificial grass to provide even more cushion if necessary.
Choosing InstallArtificial for Turf Installation
At InstallArtificial, we're not held down by just one specific artificial grass brand or partnership. We offer grasses from four of the most trusted turf suppliers in the US and administer a series of performance tests on each turf product sold in order to provide you with an unbiased professional opinion. Once you understand the intended use and specific needs of your turf installation, you can use our Online Turf Lab to browse and compare popular synthetic grasses, and check out each product page to see performance results for tests such as wear and tear resistance, recovery rate, temperature, and more!
It is rare to find high-quality materials cheaper than on our site because we work directly with manufacturers daily. By submitting high volumes of orders, we're able to provide more deals for our customers and ship artificial turf materials directly to you.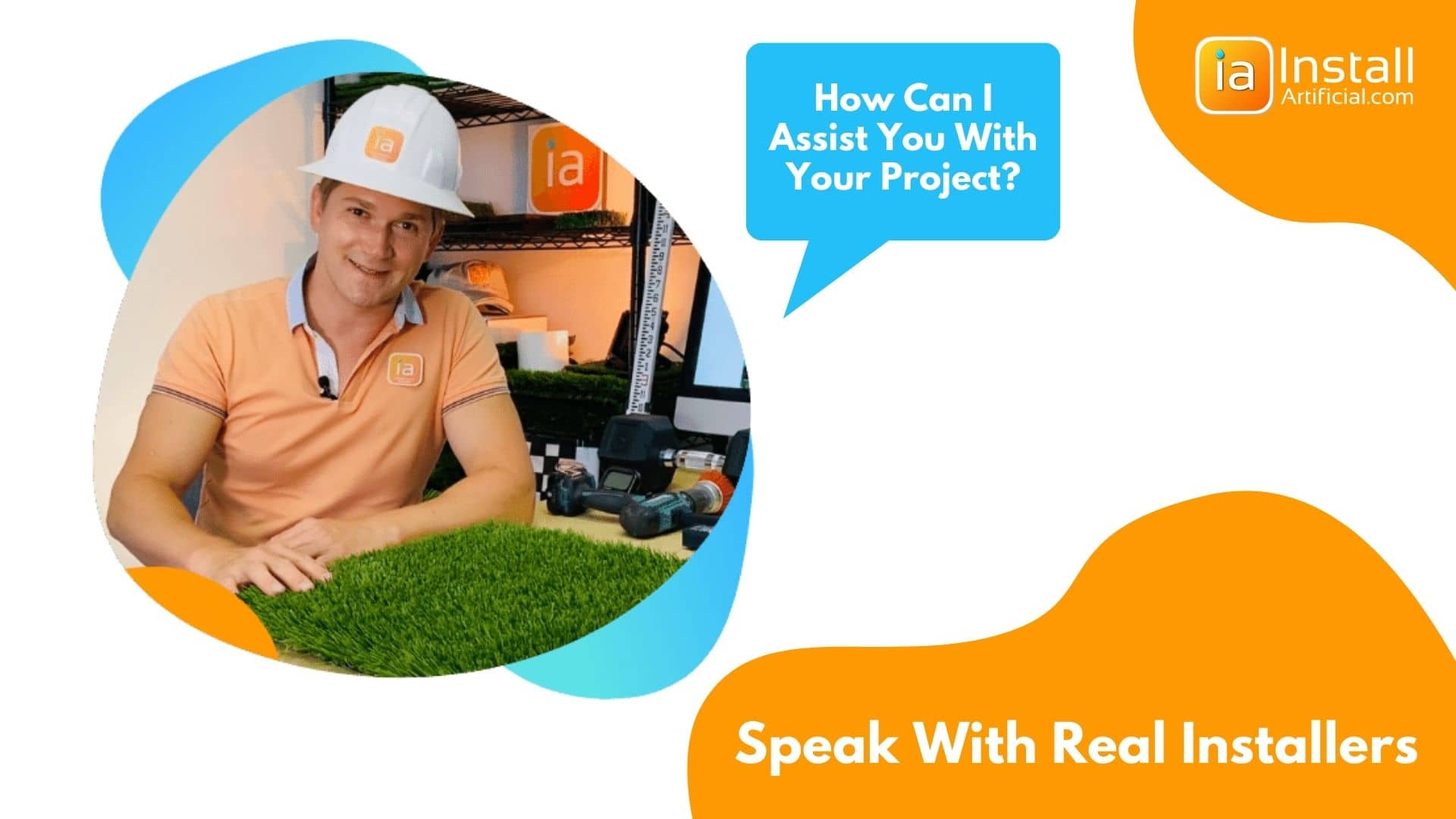 Still Need Assistance?
Speak with a real turf expert to ensure you're selecting the best artificial grass for your intended use and specific needs. Use the button below and provide a few details and photos of your space. We'll review your project and get back to you within 24 hours with our professional opinion!