ARTIFICIAL GRASS INSTALLATION COST CALCULATORS
Calculate the price for your artificial grass project in about 6 clicks. Get a realistic artificial turf estimate that is tailored to your yard. This is not a low-cost hook.
Updated 07/05/2023
Turf Project Cost Examples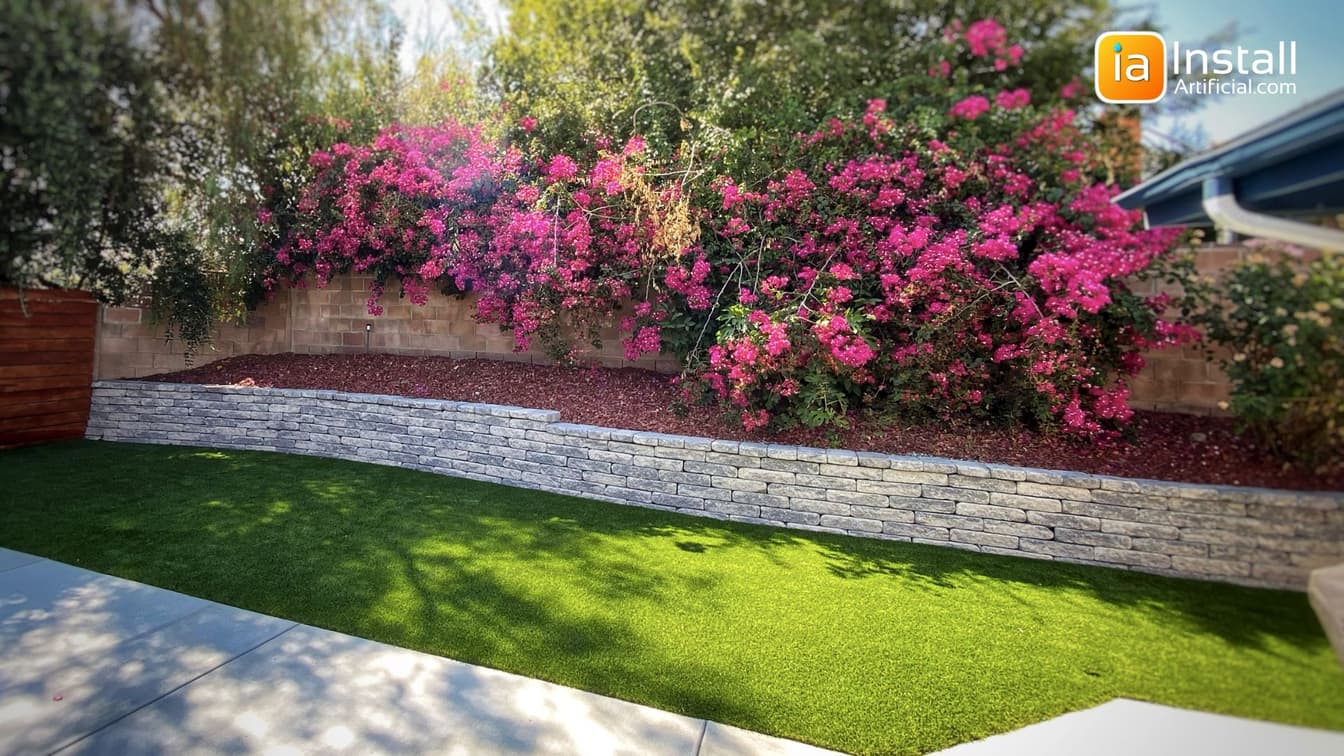 Artificial grass at side yard, Pet Friendly - 400 sq. ft.
Project Cost: $5,990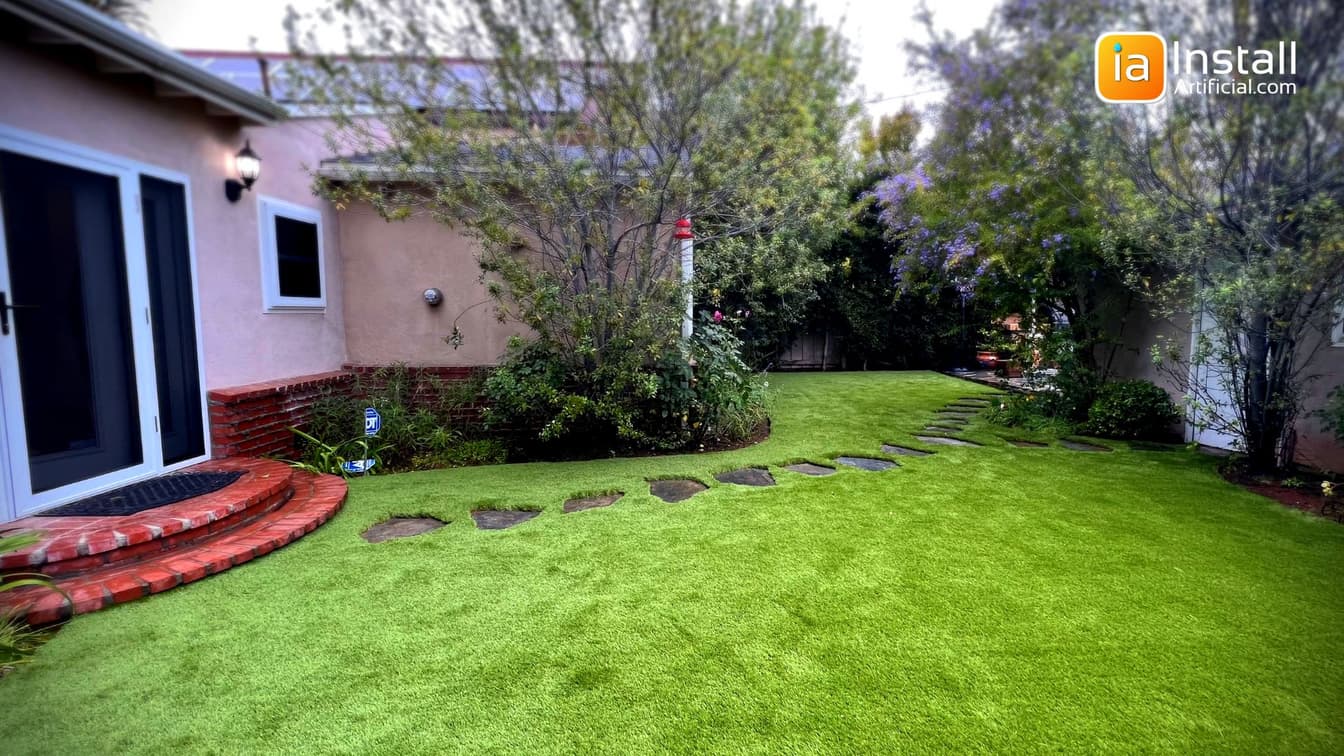 Backyard Synthetic Grass and Stepping Stones - 875 sq. ft.
Project Cost: $11,400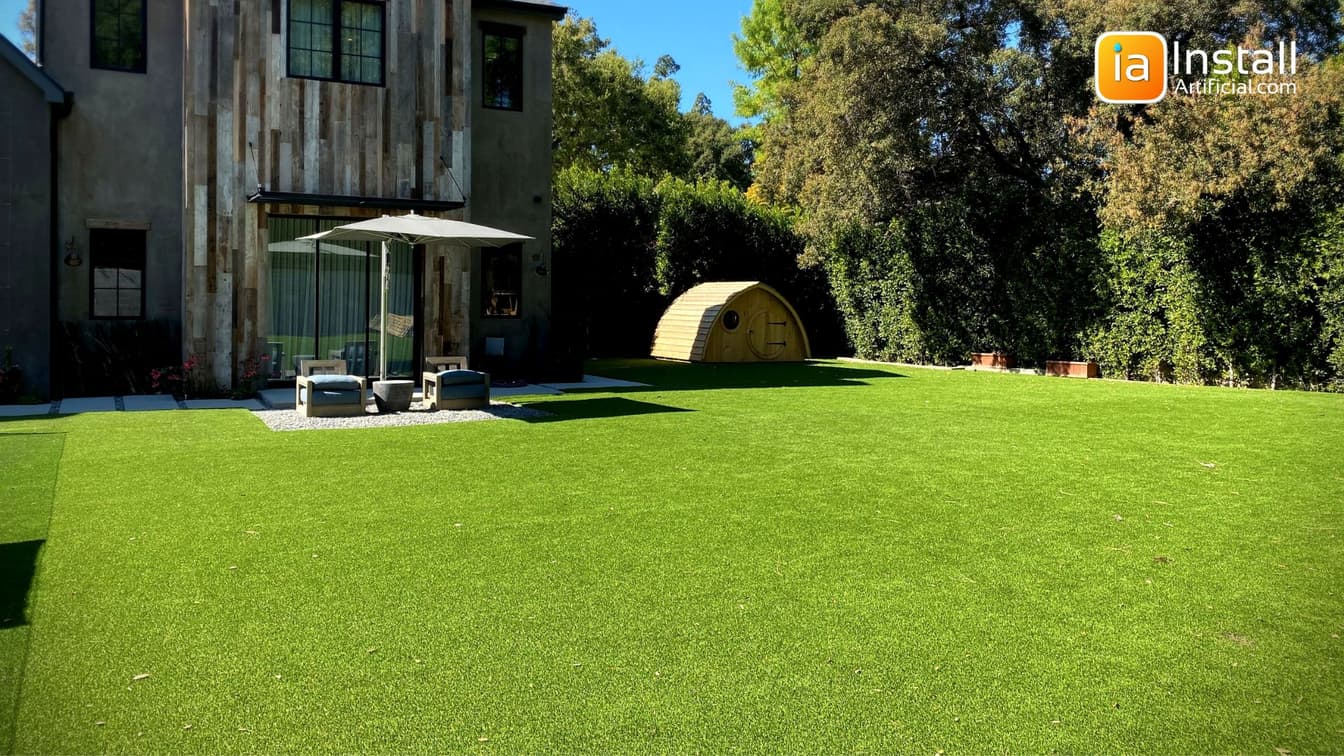 Artificial Turf Installed at Commercial Property - 3,000 sq. ft.
Project Cost: $25,900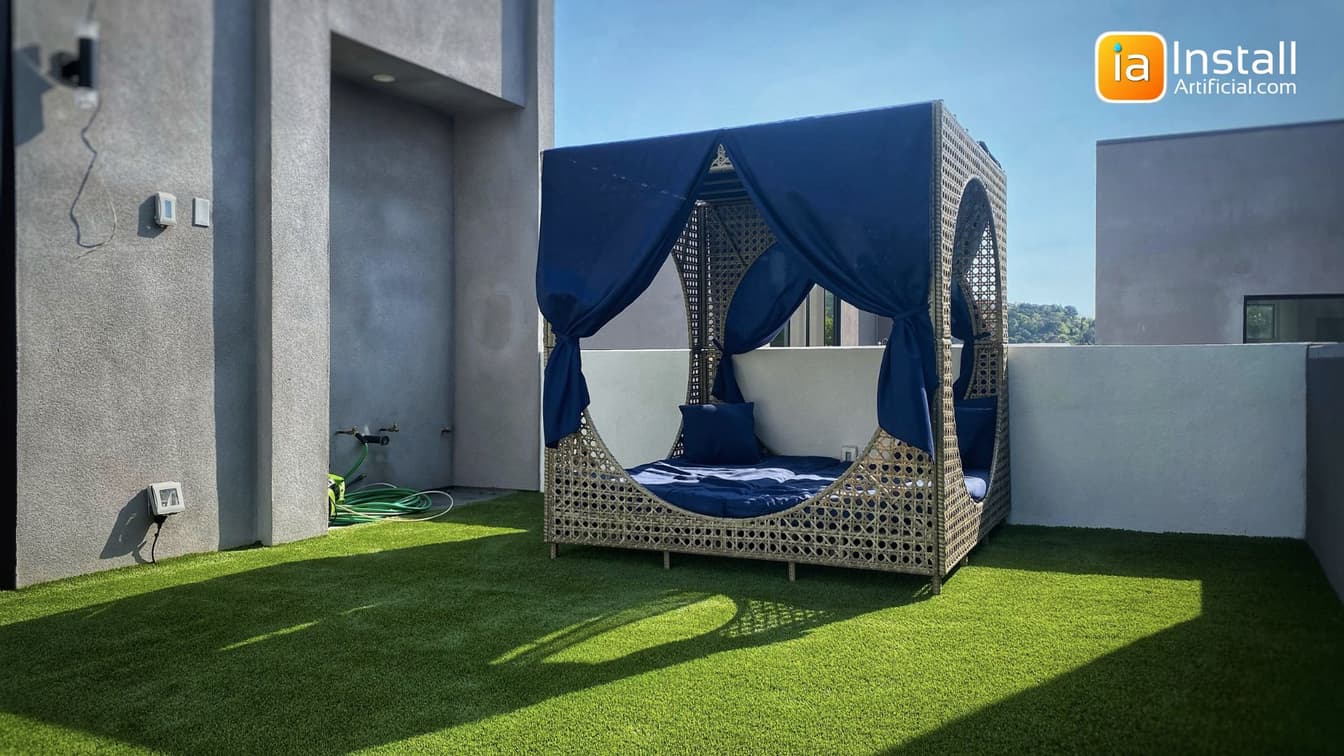 Artificial Grass Installed Rooftop with drainage - 500 sq. ft.
Project Cost: $4,200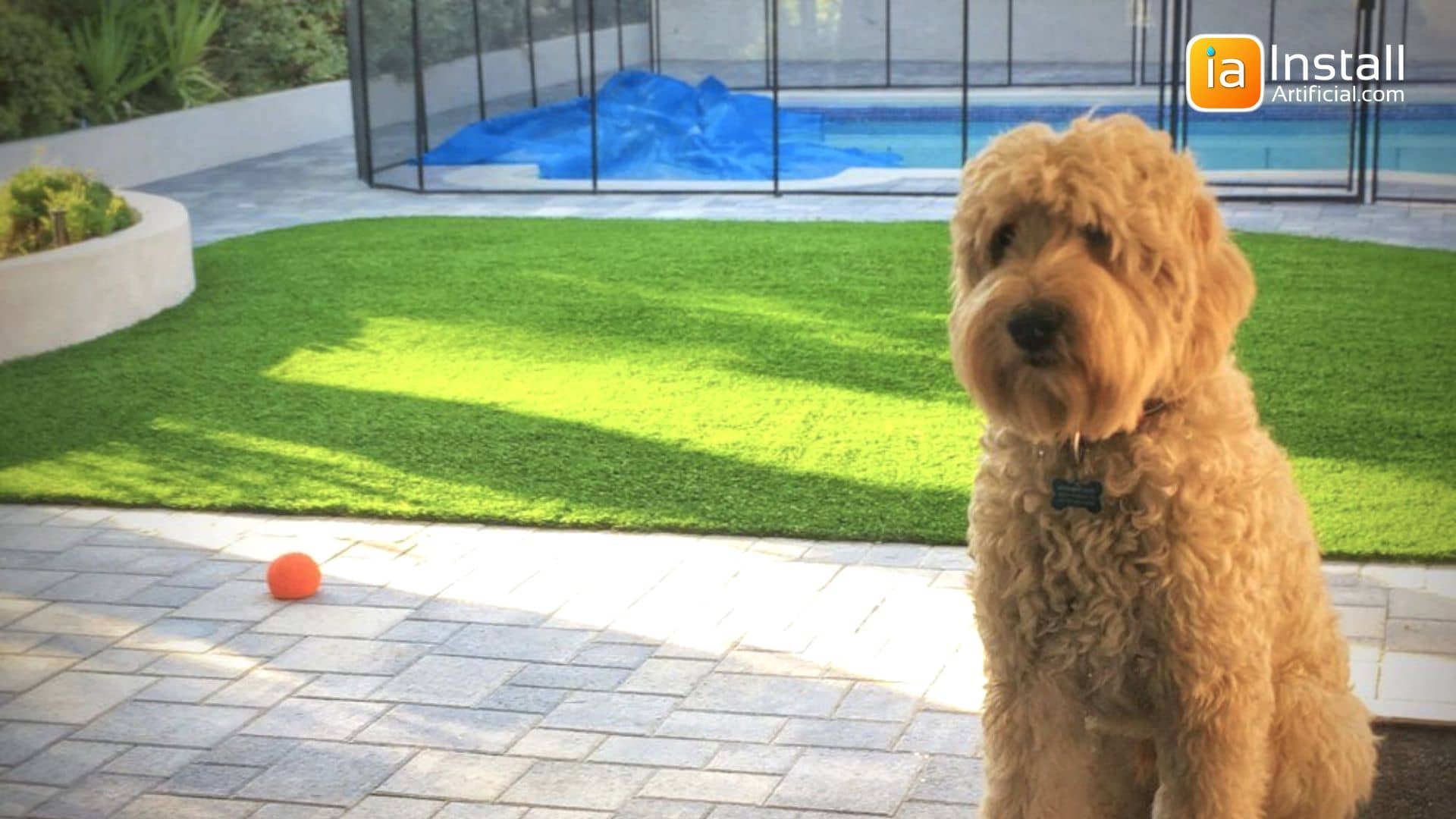 Clean Pet Turf System - 650 sq. ft.
Artificial Grass installation
Project Cost: $7,600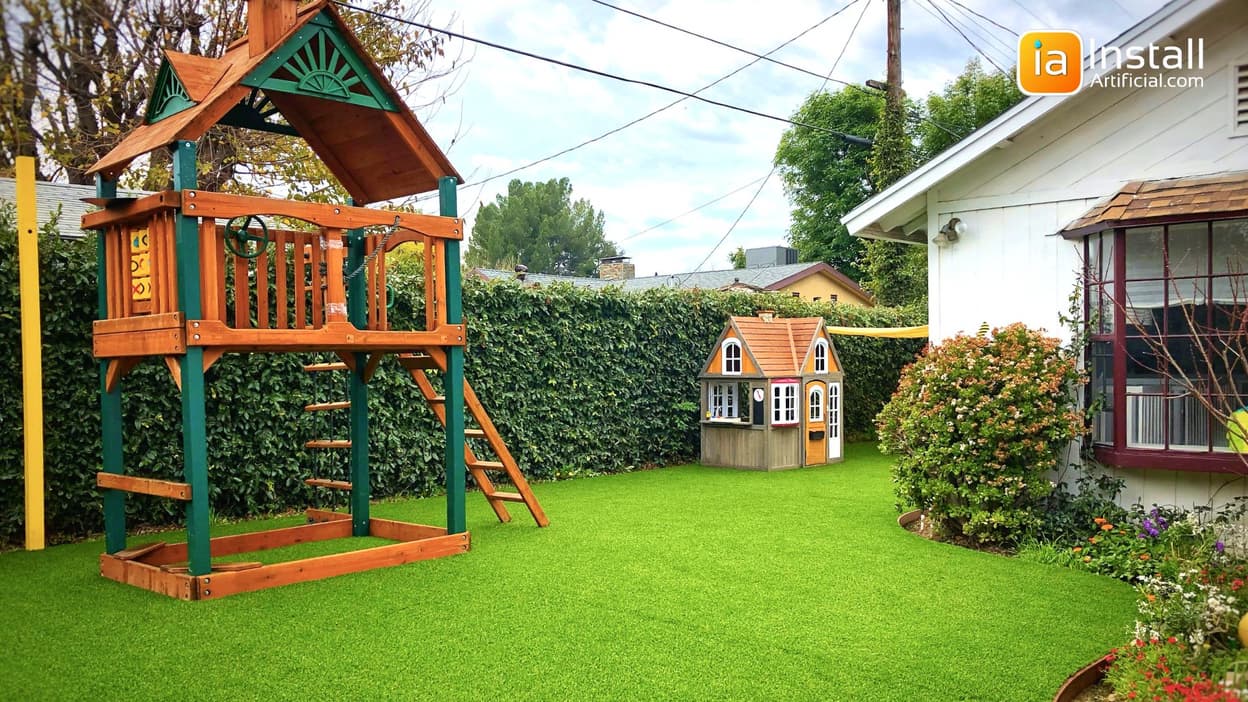 Playground Artificial Turf Installation at backyard - 700 sq. ft.
Project Cost: $7,960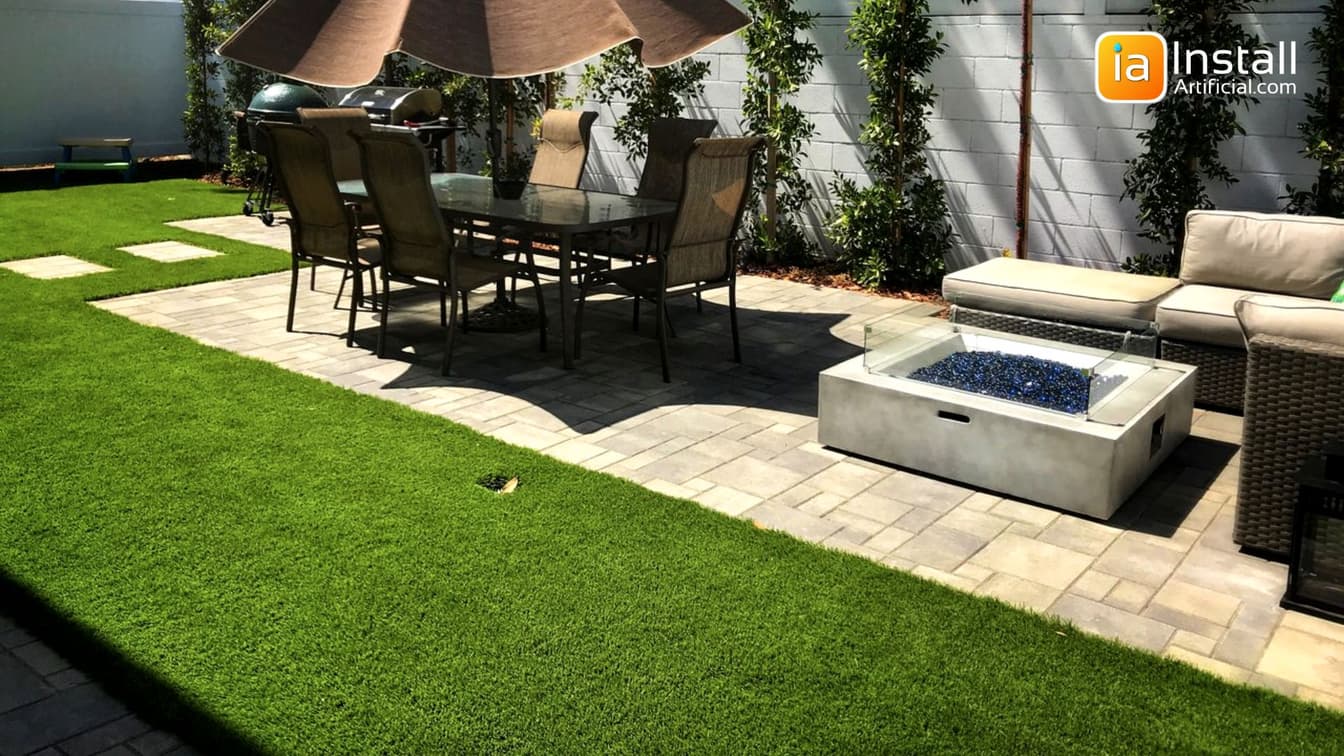 Backyard Renovation with Artificial Grass and Pavers - 900 sq. ft.
Project Cost: $16,800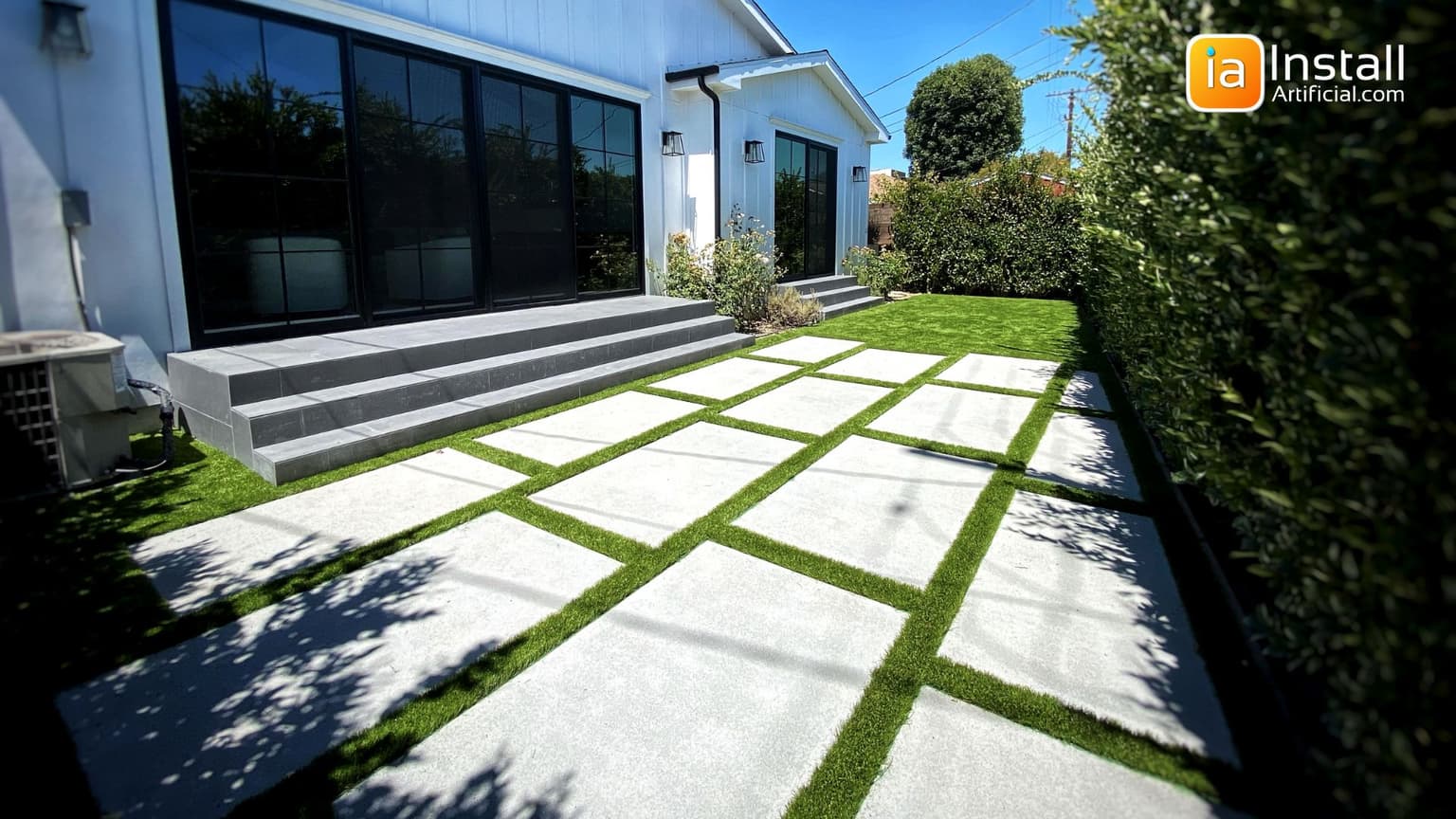 Concrete Slabs with Fake turf stripes and lawn - 1,200 sq. ft.
Project Cost: $17,300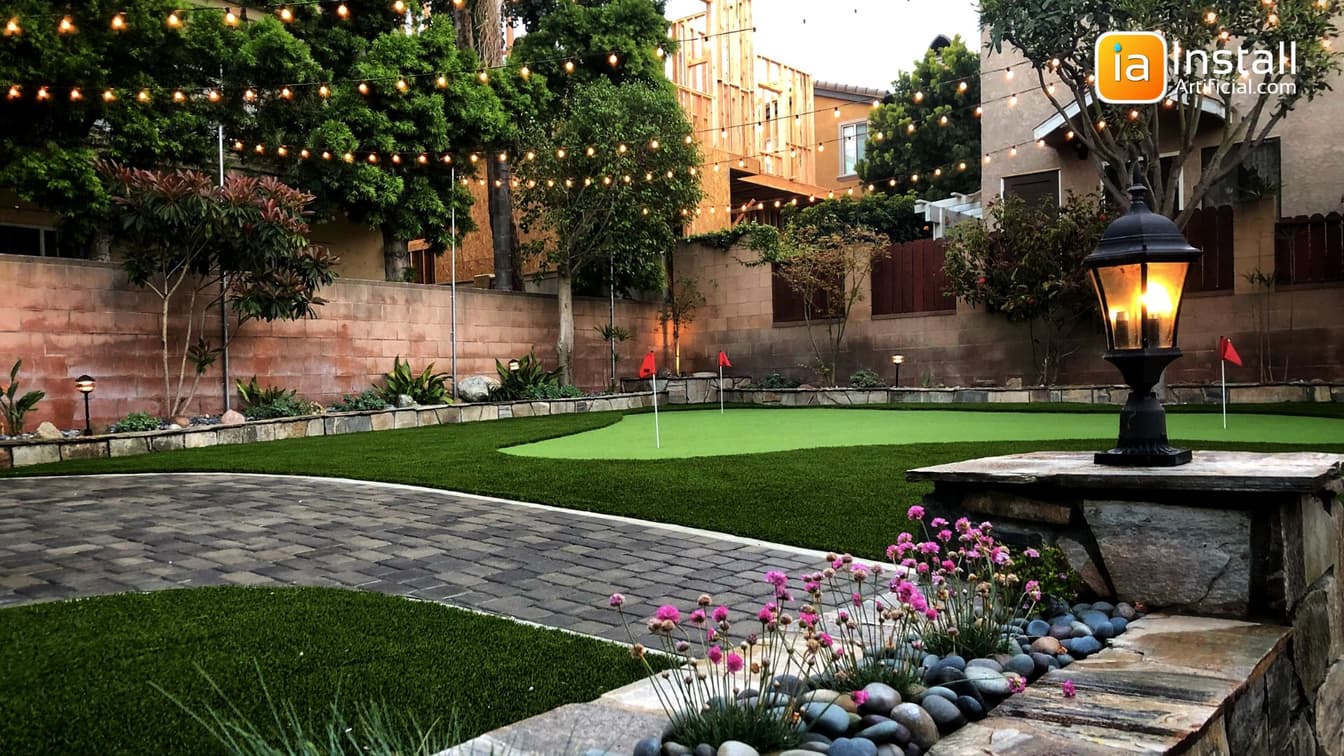 Outdoor Putting Green and Pavers- 1,200 sq. ft.
Project Cost: $24,000
What is next?
Request a Customized Artificial Grass Estimate. We review most estimates on the same day.
See fake grass options with pictures, details, and pricing.
Request turf samples and schedule an appointment for consultation within the proposal.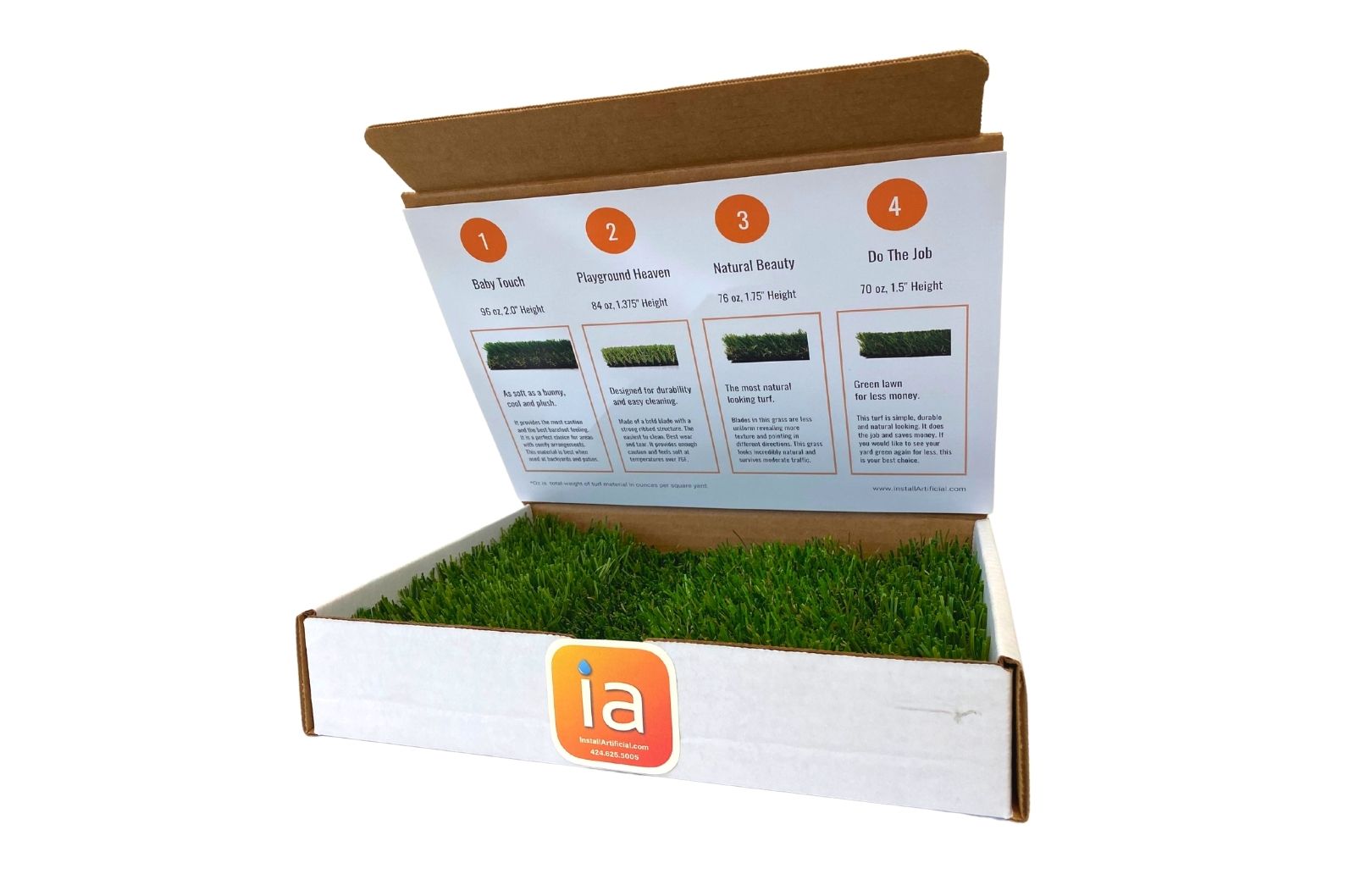 When shall I expect a quote from you?

The fake grass cost calculator generates turf installation quotes right away. You do not have to wait. 6-10 clicks and you have the artificial lawn installation price right away.

If you share your email with us, we will send a copy of the estimate to you.

You can also request our specialist to look at your property online, compare it to the pictures and create a precise binding artificial turf quote.

Most requests will be honored on the same day. If you submit your request for artificial grass installation in the evening, You will receive an interactive quote by noon the next day.

Do you install artificial turf or sell it?

We install artificial grass in California and plan to expand nationwide. Our crews are in-house and professional. We sell artificial grass materials through our network of partners nationwide.

Homeowners buy artificial grass from us when they need dedicated support, professional advice, and proven artificial turf materials. We deliver directly from manufacturers nationwide.

Can I purchase artificial grass from you?

Yes, you can purchase artificial grass from the best suppliers in the US. We will recommend you the turf that fits your project and budget the most.

You will also get an additional discount that we will negotiate with an artificial turf supplier.

Do you provide cleaning and repair services?

Yes, we have s specialized vehicle for cleaning and repairs. Our crew can assist with pet-friendly lawn odor control and repair your turf.

How do you calculate the price for artificial turf installation?

We designed a simple form that calculates the cost of artificial grass installation for pet turf, balcony turf, putting greens, and artificial grass projects.

The artificial grass price calculator takes into account the following aspects of your project:

Square footage

Artificial grass grade

Accessibility

Specific items, such as drainage, putting green cups, and pet-friendly levels

As a result, our visitors can see a pretty accurate estimate in under 1 minute or 6-10 clicks.

Our calculations are updated and kept at a higher end. Our goal is to provide a realistic expectation for quality artificial grass installation, not a low-cost hook.

We hope this will help you!

Why projects under 500 sq.ft. cost more?

Artificial grass installation projects of less than 500 sq.ft. could cost almost double the amount per square foot compared to larger jobs.

The main reason for the higher price is the amount of fixed costs that go into signing, initiating, and completing the job.

For example, it would take just as many estimated trips to approve a smaller turf job as a larger one. The smaller job requires the same or more advanced arrangements as it lasts only 1-2 days.

Some clients prefer to hire local gardeners for smaller projects. However, they will have to get all the proper equipment and learn how to install artificial grass. Often, installers who do not focus on artificial turf deliver mediocre quality.

What are the limits of this artificial turf cost calculator?

Our artificial grass cost calculator is designed to match our estimates in California, US. For some states where labor is less expensive, the price may drop by about 5-10%. However, for the northern states where installation prices could be lower, it takes more to prep wet soil. Overall, the price that you see for California falls into a reasonable expectation of artificial grass costs nationwide.

This turf installation cost calculator is designed to give you an idea of the cost quickly. You can always request a customized estimate for your project.
Find Artificial Grass Installation Cost in Just Minutes!
Ready to lower water usage and make the switch to artificial turf? We've developed this artificial grass cost calculator to help homeowners better understand the cost per square foot to transition from a real grass lawn to synthetic turf. This cost calculator walks you through a series of questions to provide you with an accurate idea of the overall cost of fake grass in just a few clicks! How convenient is that??
What Causes the Price of Artificial Turf Installation to Vary?
When transitioning from natural grass, you'll notice that that the cost of turf installation can differ greatly. Artificial turf installation will start at prices ranging from $8-11 sq. ft. The overall price will vary depending on job size, intended use, add ons, and the need for proper drainage. Add ons include but are not limited to: weed barrier fabric, pet turf systems for odor control, padding layers, premium infills, gopher mesh and more. Artificial turf selection will also affect cost. Factors such as face weight, pile height, and its ability to stand up to heavy traffic will make the cost of your artificial lawn vary.
Labor costs will rise if accessibility makes removing the existing grass more difficult. When installing artificial grass in areas where there are stairs, slopes, narrow passageways, and long distance hauling requirements; expect to see the cost per square feet be higher than usual.
Turf cost may vary between residential and commercial applications. The cost estimate for commercial applications will be higher due to more upfront costs and excess labor required on the job site to keep it safe for heavier traffic and compliant with insurance policies.
How Shady Contractors Can Lower Labor Costs
There are contractors out there who will lower artificial grass costs by cutting corners during installation and then pass savings onto you and package it as a great deal. Stay away from contractors who are offering low labor costs, they're really just skimping on quality. If you see artificial grass installation advertised at $4.99 per square foot, this is a sign that they're not completing the installation per manufacturer guidelines. You're sure to run into problems down the road. A few ways they'll cut corners are: not using class ii road base as the base material, using cheap or refurbished grass that doesn't offer a natural look, not fully removing soil for base gravel, using fewer nails, and allowing visible seams.
Too Pricy? Consider DIY Artificial Grass Installation!
Most homeowners will opt for professional installation because pros have specialty equipment and years of expertise. While installation cost will be higher when you install artificial turf professionally, you can rest assured that you'll have clean artificial grass that's done correctly to last for years. However, don't forget that you can save money and DIY your home improvement project to lower the total cost!
Pro Tip: You'll want to factor in installation waste when considering how much synthetic grass to buy, especially if your area is irregular. It's important that you order enough turf so you don't run into issues when building your synthetic lawn. Check out our article How to Calculate Artificial Turf Roll Lengths for DIY Projects for more tips!
Request a Personalized Quote to Install Artificial Lawn Now!
Want to receive a more custom quote for your specific synthetic grass project? Check out our Quote Me page and fill out a short form to receive a free quote within 24 hours! Receive a quote to install artificial grass, or get a quote that costs of artificial grass materials only (for DIY jobs with local delivery). We can also help with base materials and infill!
Note: For DIY requests, you'll need to know more than just the total square footage of your project size. Artificial grass is manufactured in rolls that are 15 ft. wide and can be up to 100 ft. long. Make sure you know how many rolls you'll need and their dimensions!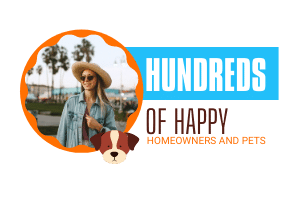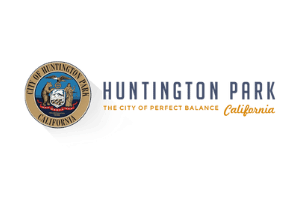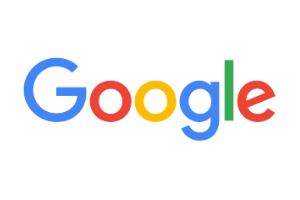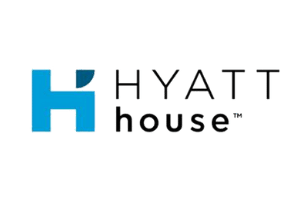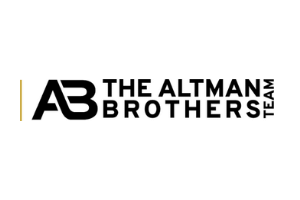 Directly from Google and Yelp