Artificial Turf Recycling Initiative
Sign a petition Supporting Artificial Turf Recycling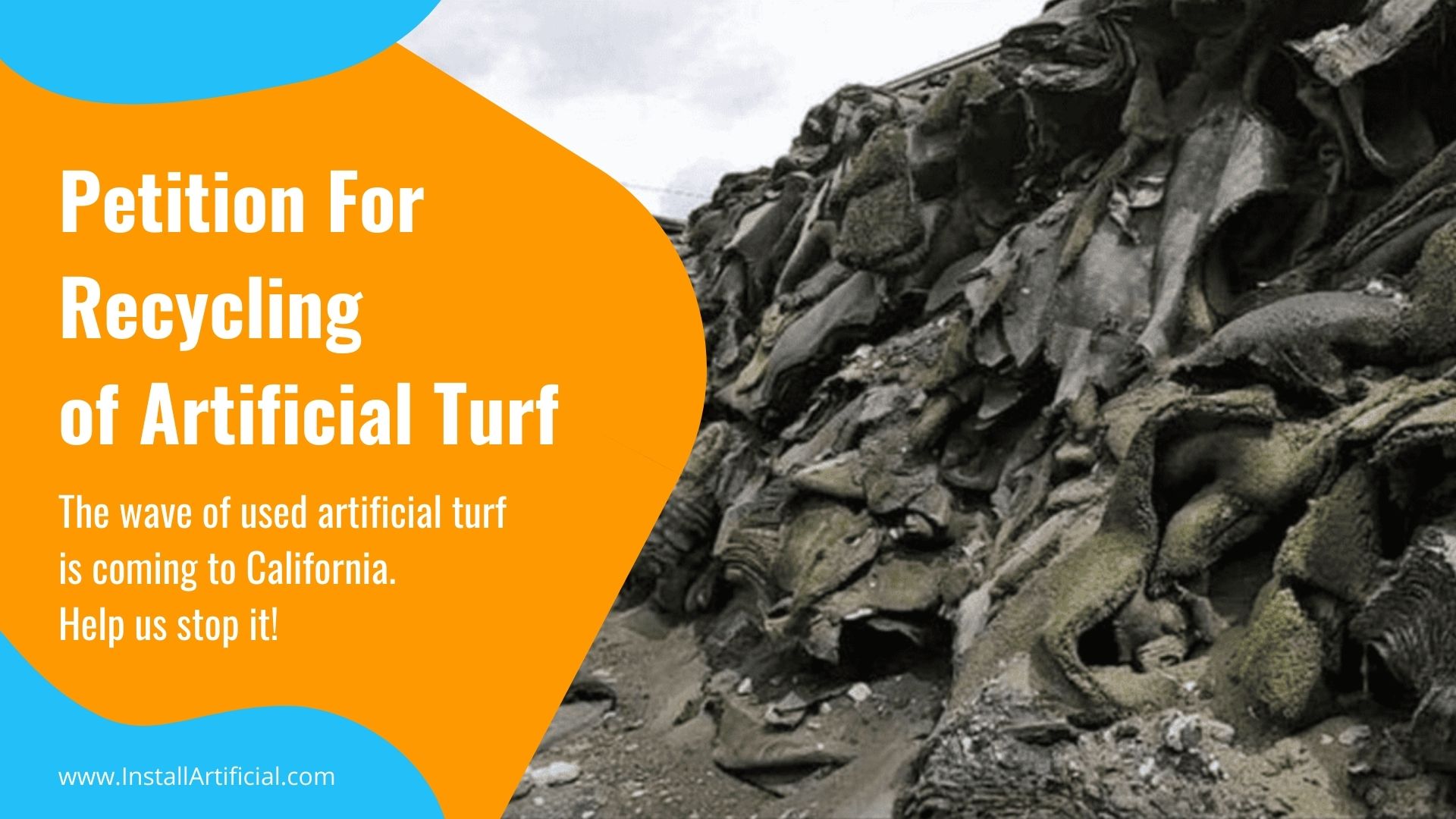 California does not recycle artificial turf
Help us initiate a recycling program.
*Can you believe it? Neither could we.
30 seconds of your time will make a difference
Our Plan:
Sign a petition to knock on the government doors.
Gather data and prepare the package for review.
Create a board to discuss an attainable solution.
Fund and cold start artificial turf recycling initiative.


How Much Waste Comes From Artificial Grass?
An average backyard with artificial grass generates waste equal to 7,000 water bottles. That is 45 years of plastic bottle use!
Supporting data and links.
Turf Waste vs. Plastic Bottle Waste
Plastic Bottle Waste:
According to CRI, more than 60 million plastic water bottles are thrown away in the US daily.
91% of plastic water bottles purchased end up in landfills or the ocean
Turf Waste:
In 2017, STC projects that 750 sports fields will be replaced annually, creating 330 million pounds of waste stemming from sports applications alone. California accounts for 10% of this waste.
We called 100 waste facilities in California and none have artificial grass recycling capabilities. 100% of artificial grass ends up in landfills or is dumped illegally.
These statistics are becoming increasingly more alike
Existing Turf Disposal Practices
There are currently no federal or state regulations regarding the disposal of artificial grass with little effort from the turf industry to develop a solution
Recycling efforts in the US are undeveloped and deemed too expensive according to industry reports

The vast majority of old artificial grass is currently in landfills, ravines, deserts, and empty lots

Turf resale has become more common but provides the same end result of being dumped illegally and in landfills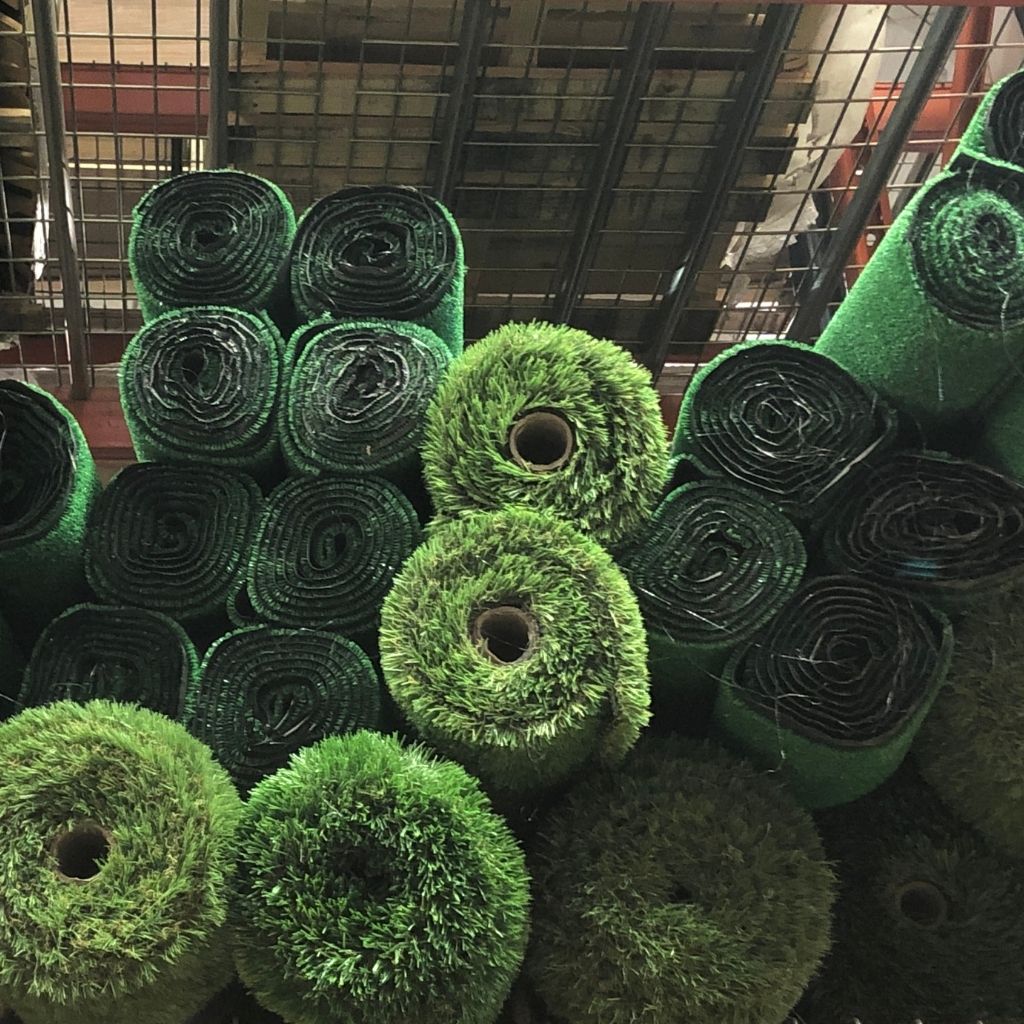 Proposed Recycling Solutions
We Don't Have to Reinvent the Wheel...
For every new tire purchase, there is a state-mandated environmental fee. These fees fund the research and development of recycling and reusing waste tires. Thanks to this recycling initiative, there has been a drastic decline of tires in landfills across the country.
In Los Angeles alone, LASAN estimates that 650 tons of old tires are collected annually. They are then diverted into the following percentages:
20-30% retreaded for resale

60-80% distributed to recyclers for crumb rubber production, ground cover for playgrounds, surface materials for running tracks, etc.

10-20% used as tire-derived fuel
This type of recycling initiative can provide the same drastic results on the high volumes of artificial grass ending up in landfills!
Does artificial turf harm our planet?

The installation of artificial grass helps conserve water, reduces lawn maintenance needs, and lasts many years if taken care of. As technologies advance suppliers have sustainability in mind during the manufacturing process. However, much like tires, artificial grass is not a biodegradable consumer good. Because of this, without recycling initiatives in place, artificial turf will continue to fill up landfills at the end of its life cycle.

How much turf in installed in the US every year?

According to IBIS world report, artificial turf industry is valued at $3 bn dollars. This equals to 8000 football fields of turf installed at $10 per sq.ft. in just 2021. However, this number could be 7 times greater if we calculate total volumes based on the average price of material at $1.5 per sq.ft.

Anyway, you can see artificial turf everywhere now. This is big! That is all we need to know if we want to make a difference to saving our planet.
Artificial Turf Recycling News & Publications