balconies and Rooftop Patios
Artificial grass installation
Install synthetic turf at patios, balconies, and Rooftops.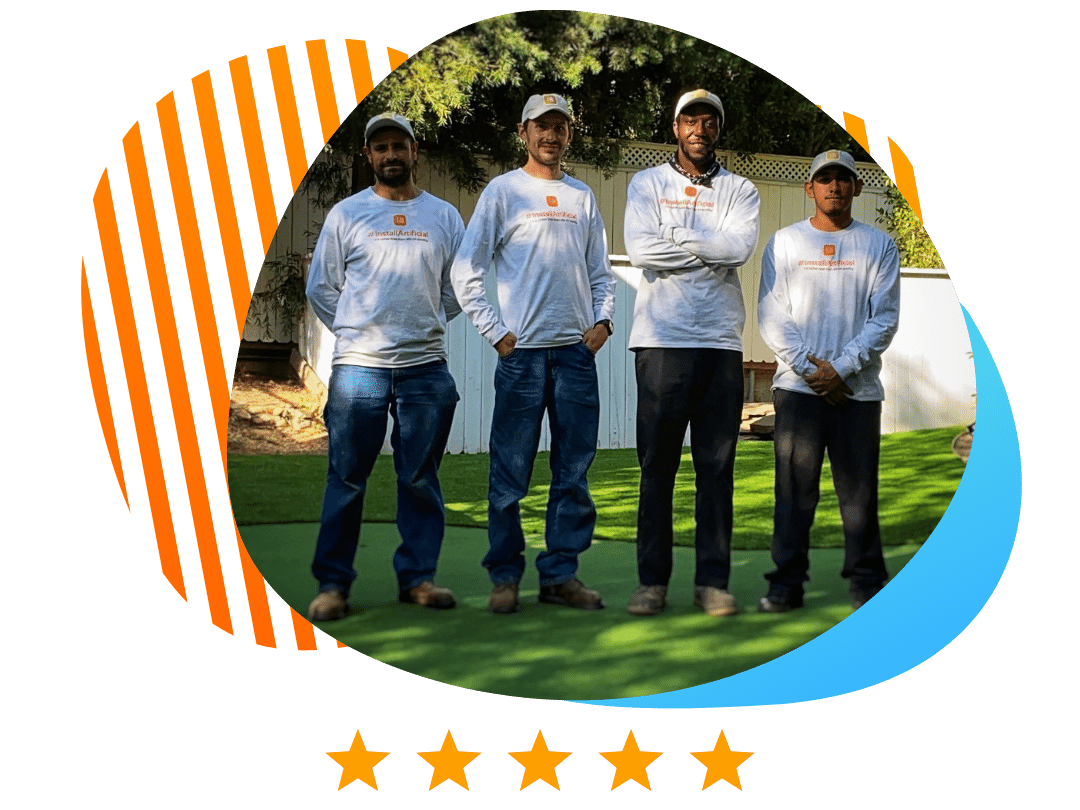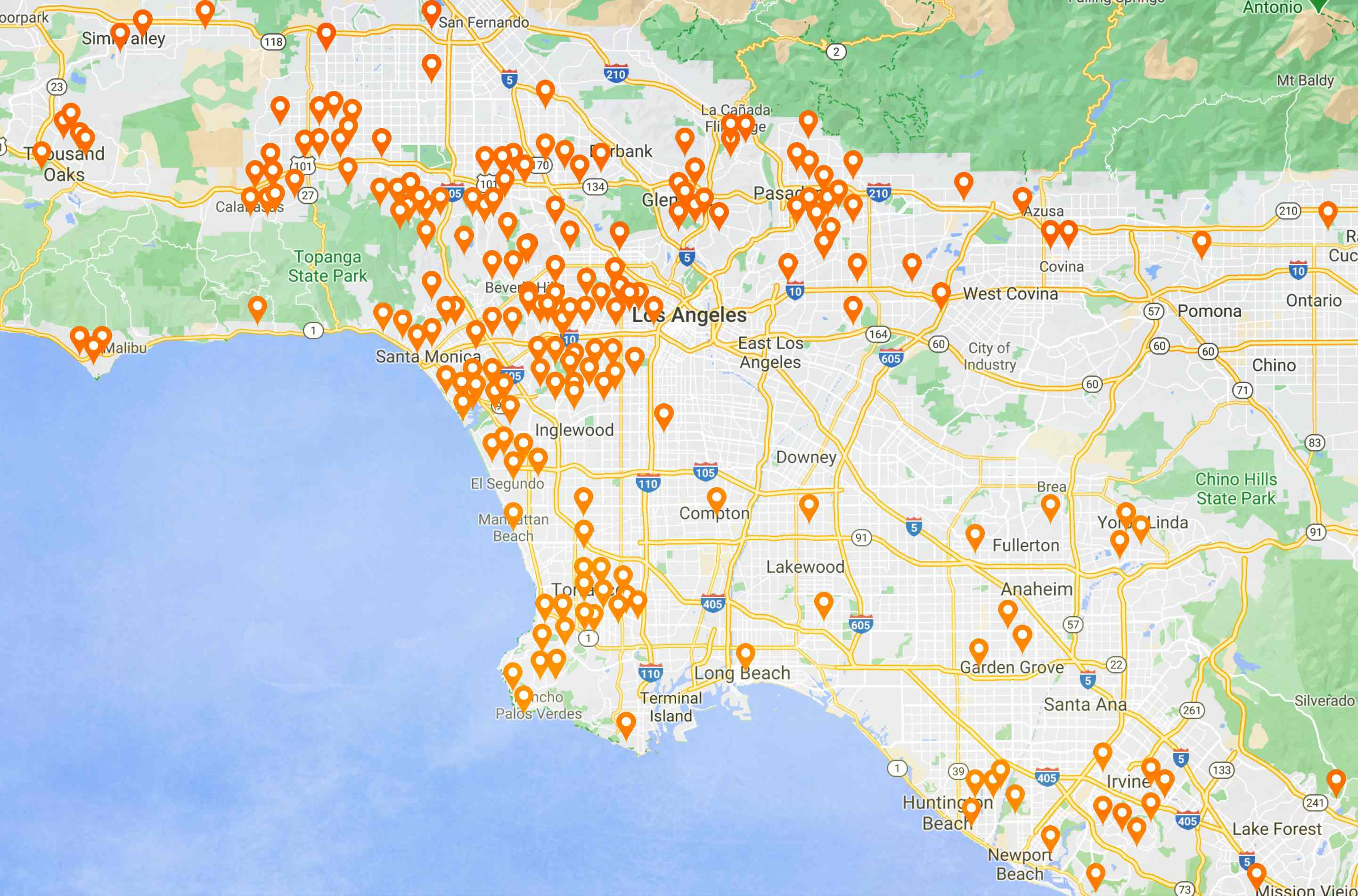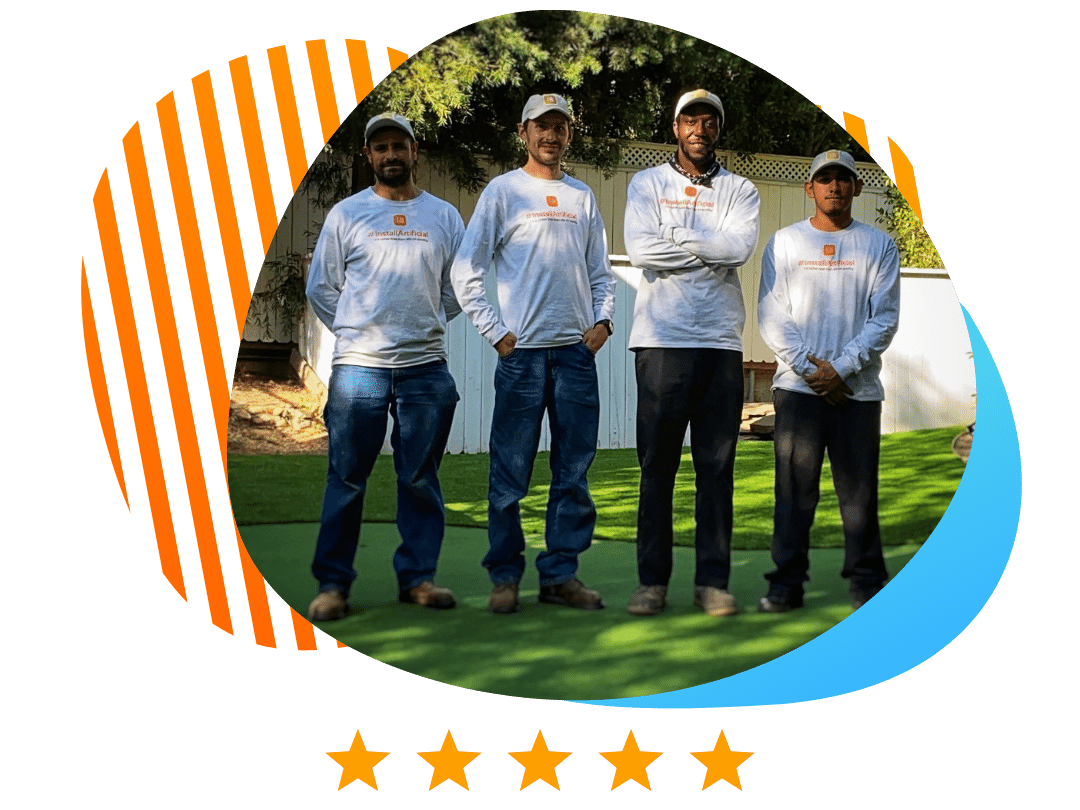 We install turf on commercial and residential patios across entire Los Angeles area
From Woodland Hills to Pasadena, Santa Monica, and Irvine
Dedicated crew for patio installations
Selection of technologies and materials
Fully insured, trained, and quality minded
How is balcony turf different from landscaping?
Installing artificial grass for a rooftop patio or balcony is different from installing artificial grass in landscaping. We treat those projects differently in three major aspects:
Custom Patio Turf Material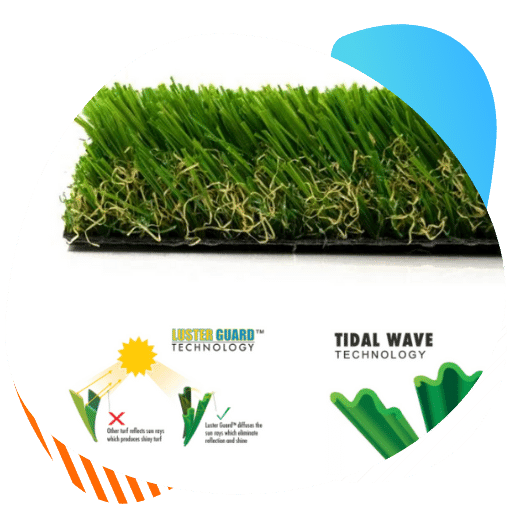 You get to choose from a line of synthetic grass that is different from regular landscaping turf.
Artificial turf material for balconies requires slightly different characteristics. We select denser grasses with thicker thatch to minimize sand application.
Selection of Drain Cores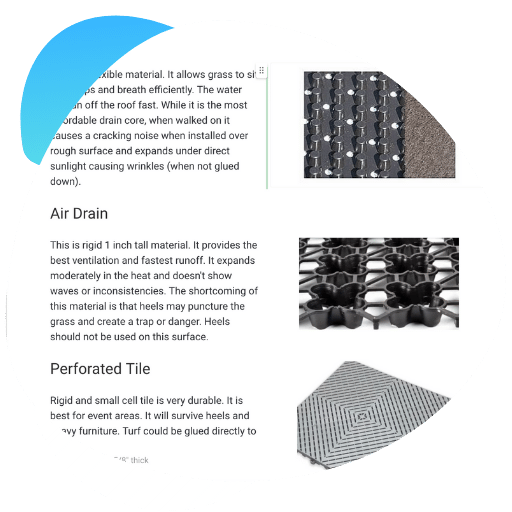 To accelerate drainage and prevent mold, manufacturers recommend installing a layer of drain material. However, all drains are not the same. We have to select the drain that meets your purpose. For example, for party balconies, a more solid drain is preferred. Request an estimate and get all pros and cons.
Rooftop Crew
It is incorrect to send landscapers to work in the environment of narrow corners, stairways and clean floors. Patio projects require a different crew. We trained a team that specializes in hard floor living spaces. They know how to park, haul, lift, cut, and glue artificial grass at rooftops and balconies.
How much does it cost to install turf on a rooftop, balcony, or patio?

The price for synthetic turf installation over the hard surface varies greatly from about $6 to $15 per sq. ft.

It really depends on the following two factors:

1. Type of system. This includes a frame, drain layer, type of attachment (glue or staples).

2. Access. In many cases, installers have to cut turf in pieces and then seam it back together due to restricted access.

You can request a proposal. We will take a look at your pictures and get a better idea of the cost.

Will it damage the roof?

Artificial turf should be installed nail-free without damage to the waterproof surface. When the surface is enclosed (surrounded by walls) we can simply lay turf on top of the drainage. When the sides are exposed (steel fence), we have to glue the frame to the surface and then staple turf on top of it.

Any glue application will leave marks on the floor. However, it should not damage the waterproofing. We use professional glues that work well with turf installation at balconies or patios.

Rooftop projects are tricky and unique. They require knowledge of materials and their behavior.

How can I clean turf on a balcony?

You can vacuum clean or rinse turf. Vacuum cleaning is preferred as it is easy to do without spill off. For more effective cleaning, use a vacuum cleaner with a rotary head. You can also opt for a professional wet vacuum cleaner for better results.

This method works well when the turf is installed without infill. In some cases, infill application is mandatory (uplift prevention or static electricity). In these scenarios we recommend going with taller grass and thicker thatch, this will allow you to vacuum the turf as it will be difficult to pick up sand particles.

In some cases, water is the only option.

For more tips on cleaning, visit our knowledge base.

How do I prevent melting turf from window reflections?

Magnification is the Achilles heel of artificial turf. We never know if it is your case and something you shall worry about. The risk factor for burning turf is the second-floor window that is facing west.

To prevent damage from magnification you can do the following things:

1) Opt for nylon turf. Nylon turf has a high melting temperature level and will survive magnification.

2) Use cover to create shade.

3) Apply a film to the surface. This does not work 100% but would help in most cases.

Remember, windows are not the only surfaces that reflect sunlight and burn artificial turf. Steel grills or chrome bicycles could damage the surface just as easily.

What do people say about turf on balconies?

Our clients just love it. Turf makes a balcony or a patio a cozy and lovely space. Most clients say that they finally started to use the area outside, breathe fresh air and enjoy a coffee or a glass of wine.

Turf on patios works great with homes and rentals. It creates a jewel out of an outdoor space that is often omitted.
Request an estimate for a patio or balcony artificial grass installation. State your question in the comments to get the answer from the project manager.
We will review your project online pretty quickly. You'll receive a preliminary proposal within 24-48 hours.
Or browse our knowledge base to get more tips.
What Will You Expect From InstallArtificial?
Our specialists are trained to keep your property safe by watching corners, wearing clean clothes, and using proper tools.
You can get an idea on the price within minutes or request an estimate. We submit most estimates the same day or the next morning.
We love building you the perfect patio or balcony space! Our goal is to make you happy with a beautiful space that will last you for years to come.
Local and professional. All done by our in-house crew. We do not outsource our projects to other contractors. You get what was intended and designed with a single point of contact.
You get a summary of the most advanced technologies that we learned and tested for you. Our proposal will show your choices and justify the best recommendations.
We are not attached to a single brand or supplier. You can choose among many options of artificial grass materials that are closest to your requirements. All artificial grass materials we keep in our portfolio are tested to provide you with a safe and clean environment.
You will get a link to the online form to help us understand your intentions and grasp an idea of what you have in mind. This helps us customize your installation for you.
At InstallArtificial, we design proposals to help select the right products. We are open with our pricing and help you choose what matters to you. Take control of your budget. Fill out the form and discuss your project with our specialist.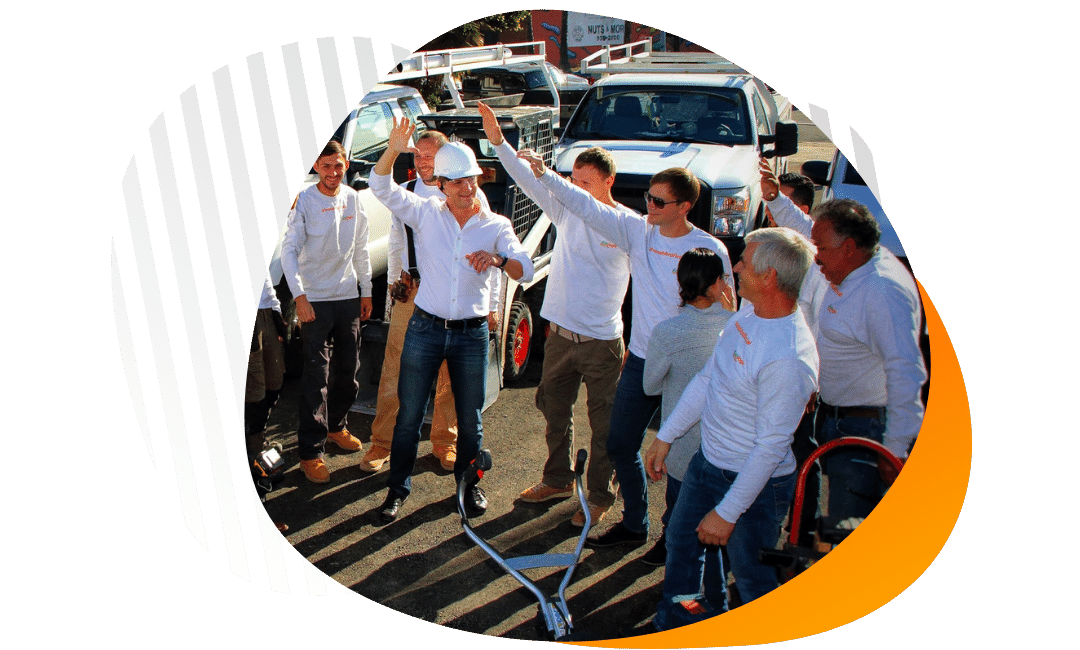 Specialized Crew. Selection of materials.
We love helping you design the perfect patio or balcony space. Very few companies can actually match our skills. You get a choice of the most advanced materials from top suppliers in the United States.
Our projects feature:
Seamless installation and great drainage
Variety of options
A long history of successful projects


Patio and Balcony Turf Disasters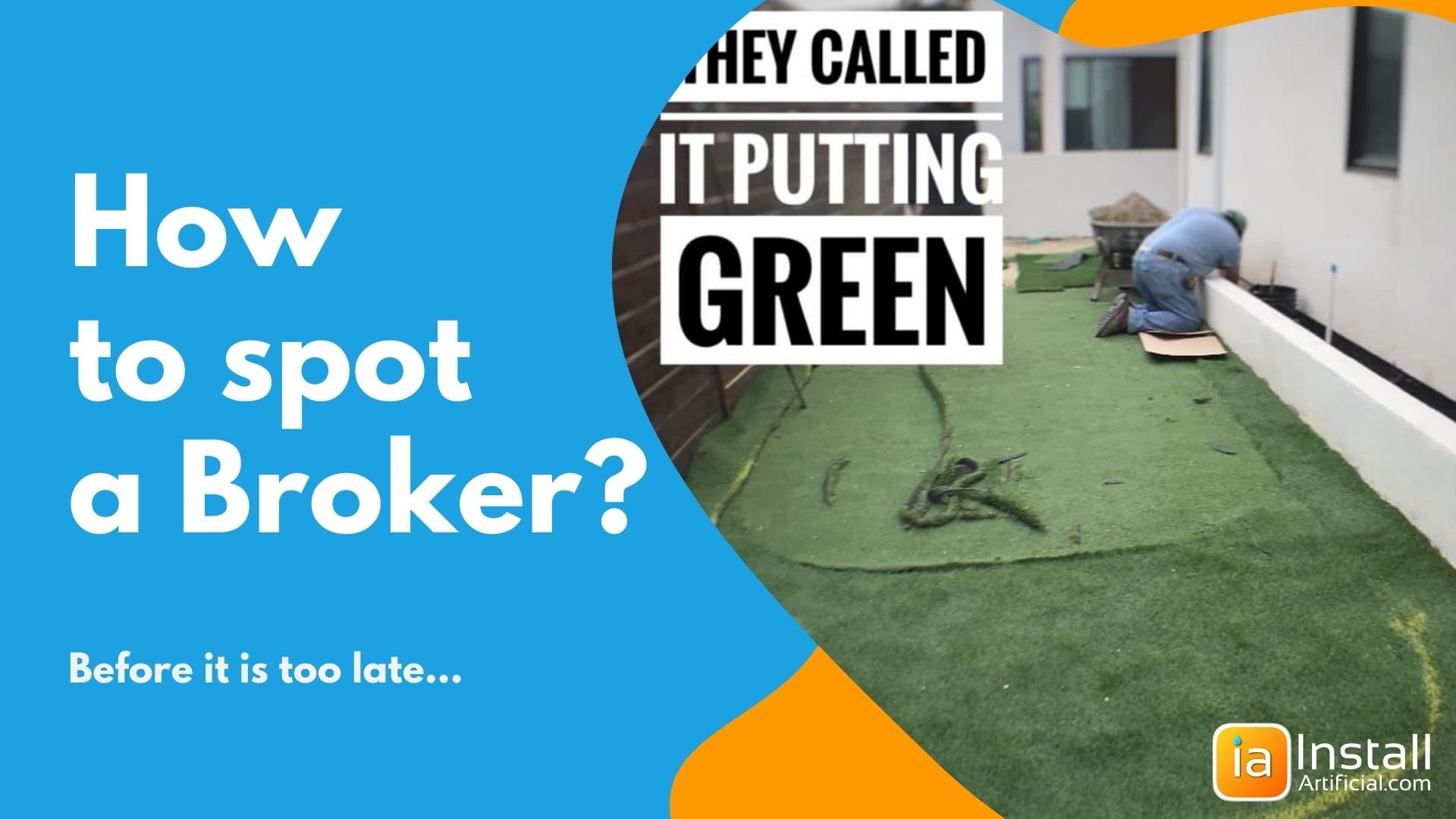 Watch. Learn. Do It Right.
According to our clients, dealing with brokers is one of the most often source of project disasters. However, it is hard to distinguish a broker from a quality oriented company.
We created a guideline that would help you identify brokers and dishonest companies. Fill out a form below to get the file via email.