How to Install Artificial Grass On Balconies, Patios, and Rooftops

A complete guide on how to install artificial grass on balconies, patios, rooftops, and other hard floor spaces. Determine if this is what you need. Learn about the differences between landscape and hard floor artificial grass installation. Find the right materials and approaches for balconies and rooftops. Prevent potential balcony artificial turf installation flaws.
Hear Why People Install Artificial Grass on Balconies, Rooftops, and Patios
Artificial grass is common on balconies because it's soft and looks and feels great. It doesn't have the same care needs as natural grass, so you can install it in many places including balconies and patios. Below are just a few of the many reasons people opt into the installation of artificial grass on balconies, rooftops, and patios!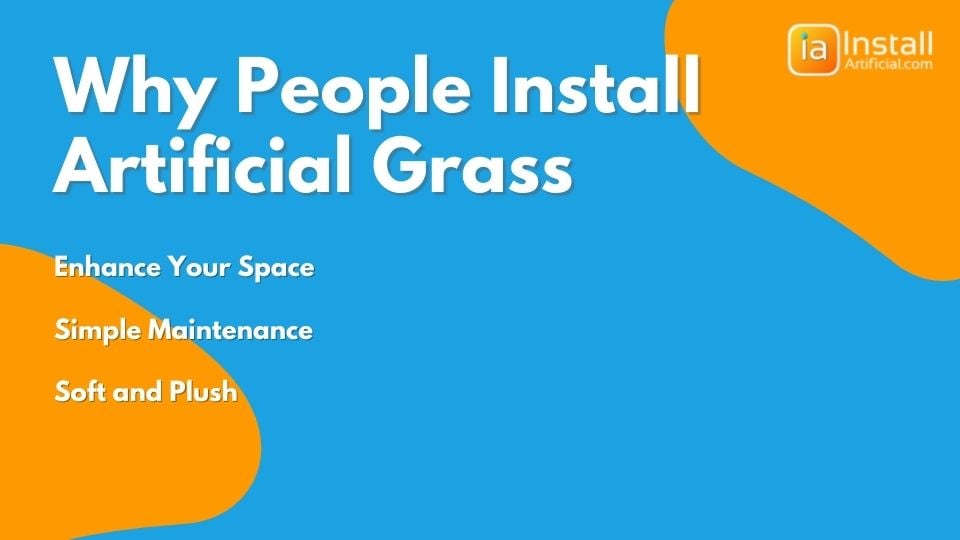 Enhance Your Space
The most obvious reason to install artificial grass on a balcony or patio is to make your space more cosmetically pleasing. It can add more functionality to your most unusable areas. Adding artificial turf to your outdoor areas also improves the value of your property. You can create almost any space you want because the grass can be cut and placed around any obstructions. This also gives you the option to only partially cover your area with artificial grass. The possibilities are endless. Your creativity can create the perfect space to entertain guests or simply have your morning coffee.
Safety Benefits
Installing artificial grass on your balconies, rooftops, and patios also brings a softer and safer surface. Concrete and wood surfaces can become very slippery when wet and pose a dangerous risk. Laying down turf can help avoid mold and mildew growth on your deck as well. Drain core is installed underneath the turf to alleviate the area of moisture quickly. Also, artificial grass is significantly less slippery than concrete or wood when wet. Your new grass will also leave the area bare-foot friendly!
Easy Maintenance
Maintaining your freshly installed grass is quick and simple. Because it's artificial, there is no need to keep it trimmed or watered. How nice does that sound? The turf can be cleaned like most indoor surfaces, it can even be vacuumed - yes you heard that right. For any unwanted leaves or foliage, you can simply pick them up by hand or use a rake to form a pile. For light spills or pet messes, we recommend using water and a cleaning solution to rinse the area. Don't worry, your drainage system will soak up the moisture.
Learn the Difference Between Landscape Artificial Grass and Artificial Grass Used for Balconies and Patios
Not all types of artificial grass are suitable for every surface. So what is the difference between grass used for lawns and grass used for patios? Because we try to eliminate the need for a sand infill, there are fewer options when it comes to installing artificial grass on a balcony, rooftop, or patio. When deciding what grass is best, you want to look for an option that has good dimensional stability and thicker blades. Grass with a thicker thatch is less likely to wrinkle and buckle as temperatures rise.

Determine if Your Balcony, Rooftop, or Patio is a Good Place for Artificial Turf
Open or Enclosed
There is a substantial difference between installing artificial turf in enclosed areas as opposed to open areas. When you have an open balcony, the installation process becomes much more difficult. One reason is that over time wind may pick up the artificial turf causing the edges to flap, or even worse fly off the balcony or rooftop damaging property or injuring someone below. In that case, we have to make sure that we can prevent the artificial turf from flying by either applying weight to the surface or attaching it to the roof. One option is to attach the artificial turf to the balcony or rooftop by gluing planks on the perimeter and then stapling the turf to those planks. Another way to prevent wind damage is to put the weight on it by applying a heavy layer of sand on the turf. However, sand tends to make surfaces warmer and will eliminate the ability to vacuum your artificial grass.
In most cases for smaller balconies, people will just lay turf on top of an existing surface. The turf will sit on stitches and only offer some ventilation. You can easily install artificial turf right on the floor however we always recommend putting a layer of drain core underneath. We discuss the importance of drain core in a separate article, you can find it
here
for convenience.
Magnification on Balconies
Magnification is a commonly known issue with Artificial Grass. Like anything laying in direct sunlight, artificial grass can become warm on high-temperature days. Only nylon turf can fight those severe temperatures and this grass is not visually appealing on top of being double the price. Magnification happens when the sunlight is reflected from the windows, multiplied, and then positioned right on top of the surface of your artificial grass. This leads to the surface burning and melting the material. Most balconies will have another balcony directly above that can block the sun and prevent magnification issues. However, in some cases, there is another window directly above the grass on the second floor with no roof coverage. If that window is facing west, this poses a substantial risk factor and you should keep an eye out for magnification marks on the ground. If you spot any white reflection lines, it is easy to determine if turf would melt in that area. You can simply place a piece of plastic or a plastic bag in the area and observe. Don't leave that plastic bag unattended because in some cases this can cause a fire. If by mid-day the plastic isn't phased, you should be safe. It is very difficult to determine magnification, we recommend having one of our crew members assess the area. There is no guarantee that magnification won't occur.
Before you choose to install artificial grass on your balcony, read through the list below. If the answer is yes to more than one question, please further look into the magnification article before proceeding. This will save you time and money!
Does your outdoor space have no overhead protection?
Do you have a second-level window with no roof coverage? Is it west facing?
Have you seen white stripes on the ground?
Do you have reflective furniture?
Do you use stainless steel appliances outdoors?
Do you have a glass fence with chrome lining?
Do you see reflections from your neighbor's windows?
Do you have a firepit sitting on the ground?

Drainage
Fortunately, most balconies are designed and constructed with water drainage in mind. We do not recommend installing artificial turf in any area that has an issue with water pooling. You don't want your artificial grass retaining water. If water builds up, mold and mildew can occur. Before installation, we must confirm that there is somewhere for rainwater and other liquids to go. Then, a drainage grid will be installed underneath the turf to allow water to escape.
How Your Door Opens
While this is not something most people think to consider when deciding if artificial grass is the right decision, it can affect installation. Most balconies have sliding doors that don't open outward. While this is the best scenario, we know that not all balconies are the same. Doors that open out onto the balcony can have issues going over the artificial grass. If the door can't easily open and close after your turf installation this can quickly become a safety hazard. In this situation, we can either trim the grass to allow the door to open, or install a piece of shorter turf in that area. To prevent any tripping hazards this piece would have to be glued to the surface. If you do have a door that opens out onto the balcony, there must be at least a gap of approximately 1 inch to allow enough space for turf placement.

Furniture Placement
Can you put furniture on artificial grass? Yes. Similar to placing furniture on carpet, as long as your furniture doesn't have any sharp edges or broken pieces it should not tear or damage your turf. One thing to keep in mind is that if your furniture is very heavy it will in time leave an imprint in your artificial grass. For any large pieces of furniture, we recommend moving them around every few months to prevent imprints from occurring. A thick and durable grass is best when planning to fill the space with furniture. Thicker turf will keep your furniture more level.
Artificial grass can be damaged by any hot embers or coals from fire pits and grills. It is not recommended to place these items on artificial grass. However, this can be easily avoided by installing turf in a smaller area to utilize the grassy space while still enjoying those amenities.
Recreation
You should be able to play sports on your installed artificial turf without causing damage. Artificial grass is more durable, with a more consistent appearance than natural grass. Because there is no dirt or soil, it's also a much cleaner environment for children to play in. It's very important to make sure that there are no wrinkles or exposed seams to ensure the safety of anyone doing recreation in this area. Another benefit to recreation on artificial grass is that it's safe to use year-round and you won't have to deal with muddy slippery grass after rain. We would recommend upgrading to a type of grass that is made to handle a lot of foot traffic to make sure it holds strong for years to come.
Pets
While the idea of being able to let your dog do its business right out on your balcony or rooftop sounds convenient, is it safe and sanitary? The answer is no. There are pet turf systems available for front and backyards, but this is not a viable option on balconies and decks. All of your pet's urine will accumulate under your turf and it will begin to smell and become unusable. There will also be bacteria growth over time. Although there is a drainage system, you can't simply flush off the turf and allow that to spill onto other people's property.

Select the Right Drainage for Turf Installation on Balconies, Patios, and Rooftops
When it comes to the drainage system, there are a few options that are considered. Before making a decision it's important to really diagnose which option will work best for you and your space.
No Drainage: Artificial grass sits on stitches and has holes every few inches in every direction. While this is not the best ventilation, water will eventually evaporate where turf is placed in open areas under direct sun. However, the turf will hold water runoff which will lead to the growth of bacteria and a layer of drainage is recommended.
Drain Core: This is a flexible material. It allows grass to sit on bumps and breath efficiently. The water will run off the roof quickly. While it is the most affordable drain grid, when walked on it produces a cracking noise when installed over rough surfaces. This can also expand under direct sunlight causing wrinkles. (when not glued down).
Air Drain: This is a rigid 1-inch tall material. It provides the best ventilation and fastest runoff. It expands moderately in the heat and doesn't show waves or inconsistencies. The shortcoming of this material is that heels may puncture the grass not only damaging the turf but can result in injury. Heels should not be worn on this surface.
Perforated Tile: This rigid and small celled tile is very durable. It is best for event areas. It will survive heels and heavy furniture. Turf is also able to be glued directly to the tile.
Soft Pad: Perfect for kids and low flow drainage. This option is often used in enclosed areas as it improves risks of uplift or must be glued down to the floor.
Without proper drainage, the longevity of your artificial installation will be greatly affected by the build-up of contaminants. Ignoring drainage can be a costly repair because flooding can easily happen. Once flooding on your balcony begins it can easily run into the interior of your home.
Find Which Synthetic Turf Materials are Best Suited for Balconies, Patios, and Rooftops
When installing artificial grass on rooftops there are a few extra things to keep in mind. The first being the current state of your roof. If the roof is in any way damaged we do not recommend applying artificial grass on top of it. The turf itself doesn't provide insulation therefore won't provide any added protection. If at any point after installation there are leaks coming from the roof it becomes significantly harder to pinpoint where the leak is coming from and can become a lot more costly. For this reason, you should never install artificial turf directly to the base of the roof so that it can be removable when the roof needs inspection. Below we'll walk you through the best materials to use during a rooftop project.
Heavyweight: Because we want to eliminate sand infill, we recommend using grass that has a thick thatch to give better dimensional stability. Thicker blades work better for balconies, patios, and rooftops as well. As temperatures rise, you want a more heavyweight option that won't buckle as much and cause wrinkling.

Plush Fibers: A plush fiber turf is an excellent option when it comes to adding artificial grass to your rooftop. The soft grass has a great look and feel and will provide you a bare-foot-friendly space.

Dimensional Stability: This refers to the turf's ability to retain its original size. For these projects, we recommend a heavier material that doesn't expand and contract as much in the sun.
Permeable Backing: This backing usually resembles a cloth. This material is great for drainage. Permeable backing works best in dry areas that are free from food, pets, and bacteria.
Nylon: Nylon is a very strong material with the stiffest blades. It holds its shape under distress, and as mentioned earlier it is the only turf that withstands really high temperatures. Due to its strength and durability, it's the most expensive artificial grass material. Because it's so tough it loses the natural look and feel of real grass. Typically used in putting greens.
Discover Approaches to Installation
Attachment to Frame: Installing a frame around the perimeter allows us to attach the artificial grass to the frame, rather than directly to the ground. This is beneficial because it makes getting underneath it easier in the event that repairs need to be made. It is much more cost-effective to repair a damaged frame than the surface of your balcony, patio, or rooftop.

Laying Down: The grass is rolled out and laid down on the surface with no securing adhesive. This will give you no protection when it comes to wrinkling, uplifting, and other contaminants.

Glue Down: Artificial Turf is glued directly to a base surface. We don't recommend this method. Gluing down directly to the surface will allow pockets of air to form and bacteria will grow. This also allows bugs and water to get into these pockets causing your synthetic grass to basically fall apart. It will also be very difficult to remove and can potentially damage the base it was glued to. Apply this method at your own risk.
Uplift Protection: There are a couple of ways to protect your turf from being pulled up by the wind. The most popular being to use the frame method we went over above. This will make sure your turf is securely attached to prevent buckling on the edges. Another option is to put a heavy layer of sand down on top of the installed artificial grass. While this also helps prevent any uplifting, it restrains your options when cleaning your turf because it eliminates the ability to use a vacuum.
Transitions: If your area is angled we may use a transition piece. We can install an aluminum panel along the transition. This addition can become relatively expensive and will need to be glued down or possibly even screwed depending on the situation. In some cases, this may be recommended however this is typically not necessary.
Combining With Other Surfaces (Wood, Tiles, Decks): The great thing about installing artificial grass is that you can cut it to fit any area. You have control over how much of the space is covered with turf. To have a multifunctional area, you can combine it with other surfaces.
Preventing Issues
Artificial grass is an amazing addition to any home or commercial space. It makes even the most unusable space livable. However, if not installed and maintained correctly you can run into many costly issues. When considering installing artificial grass there are a few main precautions to take to maintain the integrity of your installation.
Priorities (Mold and Water Damage): The best way to prevent water damage is to make sure a proper drainage system is installed. You want to make sure there is air circulation and water flow. With nowhere for the water to go, some of it will naturally evaporate over time but if there is heavy rainfall it can quickly lead to flooding into your home. Also, the same way you wouldn't leave a food spill on your kitchen counter, you shouldn't leave any spilled food or drink on your artificial grass. Regardless of whether the waste is left on natural grass, concrete, or artificial turf, mold will grow when combined with moisture. Regularly removing debris and cleaning up spills as they happen is critical to avoiding mold.
Dealing With Static Electricity: Sometimes we see artificial turf have issues with static electricity which can become very annoying. While it typically goes unnoticeable, there are ways to prevent this from happening. A tip to avoid static electricity is to place an iron under the surface nailed to the ground. This piece of metal will then become a conductor and absorb any electric charge. Copper is usually recommended in this situation. Another simple way to prevent static electricity is to just water your grass. Adding a fabric softener can also be useful.
Preventing Wrinkles (Frame Installation or Apply Sand): In order to prevent wrinkles, we recommend installing a frame around the perimeter of the area where the artificial grass is being installed. The artificial grass will be stretched and stapled to the frame. Another option is applying a layer of sand infill on the surface of your newly installed grass. Remember though, applying sand will eliminate the ability to vacuum your surface.
Most Popular Installation Method (Laydown)
The most popular method to add artificial grass to a balcony or patio is to just simply roll it out and lay it down. While this sounds nice and easy, it won't achieve the desired look and feel. With no adhesive, the artificial grass will begin to buckle and wrinkle along the surface, posing a safety risk as well. Another risk in the laydown method is that your artificial turf can uplift and fly away any time the wind blows...Uh oh. Protect you and your neighbors and secure your turf!
Installing Artificial Grass on a Balcony Yourself? What to Expect
Because there is no soil to remove from your base, it is an easier process to install artificial grass on a balcony or patio. It can however become nasty quickly if you don't follow the correct steps. Here's what to expect during installation:
1. Select the right grass. There are only a few types of grass that are compatible with these projects because you won't be using infill. Soft and heavy artificial turf with improved dimensional stability and antimicrobial technology is usually your best option.
2. Ensure the area is measured properly. Oftentimes people don't purchase enough material. Artificial grass comes in rolls that are 15 ft. wide so make sure you factor that in. In some cases, it may be necessary to cut the grass before bringing it to the residence because the rolls don't fit through most door frames.
3. Plan your manpower. You may be able to lift a lot, but in most cases, it takes at least 3 people to move large pieces of artificial grass. You will need 2 people to carry the grass while a third person navigates and watches the corners to prevent damage. Repairing any scratched or damaged areas is not a cost you want to add on. We recommend wrapping your rolls of grass to keep any sharp edges away from walls. Consider using a moving dolly, chiropractors also tend to be expensive.
4. Measure the artificial grass 7 times, cut it once. You heard it right - there is no room for error. Once the grass is cut, it becomes very difficult to repair small areas especially if you are not gluing.
5. For areas that are over 100 ft: we heavily recommend anyone installing artificial grass in an area larger than 100 sq ft. to install a layer of drain care to the base. This will help prevent any costly issues and give your area an adequate water drainage system.
6. Lay the artificial grass and connect at the seams. This part is crucial. Do your research when it comes to the glue you use. You want to use glue that doesn't expand and still secures the seams. Be very careful when applying the glue. If applied incorrectly glue can damage your floors. Make sure you are not violating any HOA rules when applying your adhesive.
7. Hauling: You may have scraps left over that don't fit in your regular bins. Plan to haul away any excess material.
8. Sit back, relax, and enjoy your new area. You've earned it! After putting in the time and money to enhance your space, it's yours to enjoy.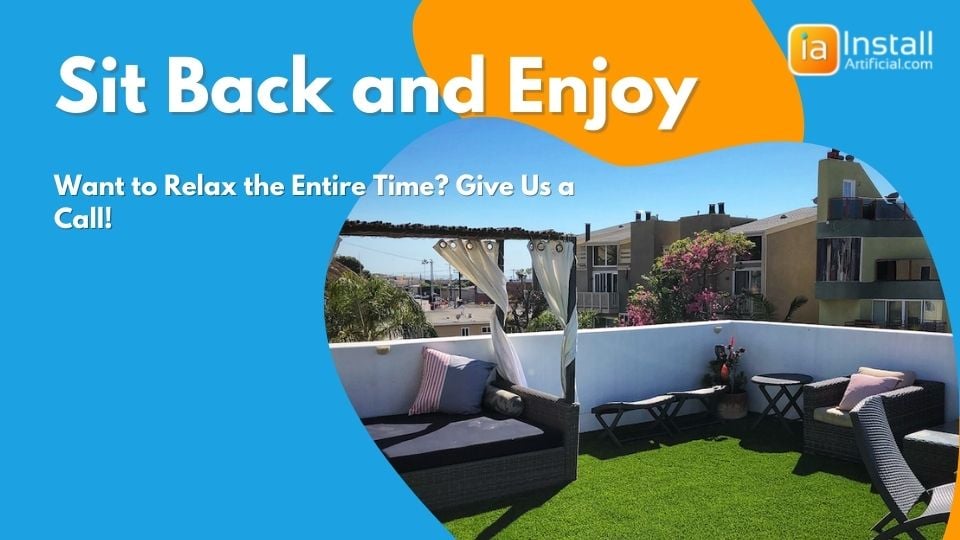 Are you ready to build your cozy outdoor patio? Request an estimate below! Let's do this.