The Ultimate Artificial Grass FAQs
Find the answer to any Question Related to Artificial Grass.
No luck?
How Much Does it Cost to Install Artificial Turf?

On average, artificial turf installation ranges from $7.5 to $10 per sq. ft. The cost of artificial grass installation depends on multiple factors such as parking, elevation, accessibility, condition of soil and irrigation, and of course the material and turf system that you select. You can get a more precise estimate in about 2 minutes online, or request a custom quote and we will prepare it by the end of the day! (Anything submitted after 3 pm may roll over into the next day)

Why Do Homeowners Install Artificial Grass in Los Angeles, California?

Instead of bragging about all the great reasons, we instead asked our clients. Hear what they have to say:

"To keep our lawn alive we have to use so much water that we can't walk on the lawn."


"Our pets track dirt into the house. We spend so much time cleaning everything from floors to rugs to sofas. It is a nightmare."


"Not getting enough sunlight to maintain a natural lawn"


"We are landlords and the tenants don't water it causing the grass to die."


"Our guests can't even walk on the lawn with nice shoes, it's so bumpy and uneven.


"I'm tired of dealing with gardeners and noisy lawn movers. (Explicit words follow)."

Most of our clients simply state that natural grass does not survive the heat and foot traffic. But there are other factors:

Save the Environment

Climate changes. Temperature is rising worldwide. Droughts are becoming more frequent. Water becomes a luxury. Help us save water!

Save Money

With increased rates and water restrictions, your lawn becomes a money-making vehicle. Install artificial turf to significantly cut your water bill. Select the right turf to reduce maintenance. Improve curb appeal. Installing an artificial lawn is a financially viable decision.

Enjoy Nature

True, nothing can replace natural grass. However, too often the only person who even walks around yards is the gardener. Cover the front yard with artificial grass and be provided with a cleaner space to enjoy your time.

Is Artificial Turf Safe for Children and Babies?

Absolutely! We select artificial turf and infills that are lead-free, non-toxic, and low maintenance. They're also made and tested in the United States. In fact, we install commercial playgrounds frequently. A synthetic lawn is an excellent alternative for kids that have grass-related allergies. Choose antibacterial sand and Microban technology to get the most out of the artificial turf surface.

Does Artificial Grass Get Hot?

Synthetic grass does get warmer than a natural lawn when it's out in the direct, mid-day sun. On the flip side, artificial grass doesn't retain heat in the shade or darkness. Be cautious with colored silica sand or black infills as they can get 2 times warmer than the ambient temperature, making it impossible to walk on barefoot. For this reason, we do not carry those infills.

There are warmer and cooler grasses. We select grasses with cooler surfaces and prefer to offer a lighter sand infill. Reference our knowledge base to find how we achieve the lowest temperatures on artificial turf.

How Do You Clean Artificial Grass?

For light cleaning, you can use a leaf blower or stiff-bristled broom and then rinse with water. For lightly soiled areas and pet-friendly areas, we recommend pairing them with a sanitizer.

For best results, use a pressure washer. When power washing your turf, keep your wand nozzle at least one foot away from your artificial grass at all times. It is a best practice to apply sanitizer. For pet-friendly areas, we recommend a series of cleaning procedures. To learn more about cleaning artificial turf used by pets, select K9 Pet Turf and scroll down to the knowledge base.

Most homeowners maintain and clean their turf themselves. When you need a thorough cleaning, we are here to help!

Will Installing Turf Reduce Bugs and Pests?

Yes! The sod is removed from the surface and heavily compacted before road base is applied on top of the soil. The lack of soil and dirt prevents bugs and pests from getting their food source so they migrate elsewhere.

How Long Will Artificial Grass Last?

Most artificial grasses have an expected life span of 15 years. The lifespan of any turf depends on use and cleaning. Shorter artificial grasses with bolder blades survive more traffic and look just as nice. For example, soft plush grass might not be the best option for a side yard with consistent traffic. We help classify materials by use, so you are able to select the material that fits your needs best.

Will Installing Artificial Grass Raise My Property Value?

Absolutely. The improvements in aesthetics alone will be appealing to potential home buyers. The environmental benefits and low maintenance needs are ideal selling points. Increased possibility for recreation is also a very sought out benefit.

How Fast Can I Return My Investment With Artificial Grass?

On average, an artificial grass installation project pays off within 3-5 years. Drastically decreasing water bills will shorten the period. Accompanied by tax benefits, your lawn becomes a money-saving machine. It's like earning a couple of hundred dollars every month.

More often than not, we install artificial turf to cover open soil. Money can't always buy a natural lawn. In this case, we invest in artificial grass simply to get the use of our backyards back.

Can You Help With Design, Pavers, and Retaining Wall Construction?

Artificial grass is our bread and butter. However, we also take on backyard design and renovations. This includes pavers, retaining walls, and woodwork. Simply let us know what you have in mind and we will be happy to walk you through your options, or at the very least recommend a company.

Which Suppliers of Artificial Grass Do You Trust?

We work with a line of trusted artificial turf supply companies. You get the most advanced materials tailored to the specific requirements of your projects. We can help you navigate the forest of artificial turf names and brands. Request an estimate to learn which grasses fit the best with your needs.

Below are a few trusted artificial turf suppliers:
Project Initiation and Completion
What Should I Expect On the First Day?

Safety protocol is top of mind before beginning any artificial turf project. Once the crew arrives, they will first line the perimeter with cones and ensure safety for pedestrians and vehicles on the street. The crew will also protect any surfaces such as concrete, walls, and fences. The crew captain will spend time going over the details and logistics of the project with the homeowner. Only then, the work begins.

How Long Does the Project Take To Complete?

The crew completes 300-500 sq. ft. per day on average

Do I Turn Off the Sprinklers?

Sit back and relax. We will test irrigation before installation. Any existing lines will be capped before preparing the base. In most cases we prefer to cap the entire line, however we will ensure all planters have a water source.

Am I Responsible For Hauling Away Debris?

Absolutely not! We take care of everything. After the soil is removed we will load it into a truck and haul it away. For areas that are harder to access from the street, this may result in additional fees. We will disclose any added fees in the proposal and this is not subject to change during the project.

Will the Crew Be Coming In And Out of My House?

We avoid entering and disrupting the residence as much as possible. It is our mission to make installation seamless and easy for the homeowner. We even utilize our own mobile restrooms so no hiding behind your neighbor's trees.

During certain balcony and rooftop projects, the only access to the area is through the home. In this instance, our crew of professional installers will ensure your property is protected at all times.

Our turf installers are trained and equipped. We do not resell our projects to amateur workers. You get professional installers who know their trade. They are quality-minded, fully insured, and safety-oriented.
Rooftops, Patios, and Balconies
How Much Does it Cost to Install Turf On a Rooftop, Balcony, or Patio?

The price for synthetic turf installation over a hard surface varies greatly from about $6 to $15 per sq. ft.

It really depends on the following two factors:

Type of system: This includes a frame, drain layer, and type of attachment (glue or staples)
Access: In many cases, installers have to cut turf in pieces and then seam it back together due to restricted access.

You can request a proposal and we will assess your pictures to provide you with a more accurate idea of the cost.

What Do People Say About Turf On Balconies?

Our clients just love it. Turf makes a balcony or a patio a cozy and lovely space. Most clients say that it allowed them to finally start using the area outside. Turf on patios works great with residences and expands any living area. It creates a jewel out of an outdoor space that is often omitted. Breathe fresh air and enjoy a cup of coffee or a glass of wine.

Can Turf Damage My Roof?

Artificial turf should be installed nail-free to prevent damage to the waterproof surface. When the surface is enclosed (surrounded by walls) we can simply lay turf on top of the drainage. When the sides are exposed, we have to glue the frame to the surface and then staple the artificial grass on top of it.

Any glue application will leave marks on the ground. However, it should not damage the waterproofing. We use a professional adhesive that works well with turf installation on balconies or patios. Rooftop projects are tricky and unique. They require knowledge of materials and their behavior. For this reason, we recommend hiring professional installers.

How Do I Clean Turf On a Balcony?

You can vacuum clean or rinse the turf. Vacuum cleaning is preferred because it is easy to do without causing spill-off. For more effective cleaning, use a vacuum cleaner with a rotary head. You can also opt for using a professional wet vacuum cleaner for better results. This method works well when the turf is installed without infill. In some cases, infill application is mandatory (uplift prevention or static electricity). In these scenarios, we recommend going with taller grass that has a thicker thatch. This will still allow you to vacuum the turf as it will be difficult to pick up sand particles.

In some cases, water is the only option. For more tips on cleaning, visit our knowledge base.

Will My Grill Or Fire Pit Catch Turf On Fire?

The short answer is no. However, the turf isn't fire retardant. Since it has no flash point it won't burst into flames but it can melt in high temperatures. Hot embers from grills and fire pits can damage the surface of the artificial grass. We recommend placing your grill on a hard solid surface.

How Do I Prevent Window Reflections From Melting Artificial Turf?

Magnification is the Achilles heel of artificial turf. We never know if it's going to happen. The risk factor for burning turf is the second-floor window that is facing west allowing reflection directly onto the artificial grass.

To prevent damage from magnification you can do the following things:

1) Opt for nylon turf. Nylon turf has a high melting temperature level and will survive magnification.

2) Use a cover to create shade.

3) Apply a film to the surface. This does not work 100% but does help in most cases.

Remember, windows are not the only surfaces that reflect sunlight and burn artificial turf. Steel grills or chrome bicycles could damage the surface just as easily.
How Much Does Playground Turf Cost?

Pricing for playground systems depends on the materials used. Typically installation runs about $10 per sq. ft. The rise in price stems from the need for a more traffic-resistant material and antibacterial infill.

If the homeowner selects to add a padding system for a provided safety barrier, that can run anywhere between $2.5-$5 per sq. ft.

Also, we always recommend a nail-free application in areas used by children. This will typically add $2 per sq. ft.

Yes, we know playground turf can get a little pricy, but who can put a price tag on their children's safety?

Does Playground Turf Have High Safety Standards?

Sure. Safety standards have strict specifications and limitations. Manufacturers design systems that meet and exceed those requirements to ensure customer satisfaction. We walk you through the entire process to help you select a solution that fits your request and meets your budget.

Is Artificial Grass Beneficial For Playgrounds?

Yes! It could be argued that artificial turf is safer than natural grass for a few reasons:

No Mud

Let's face it, most kids love to get down and dirty. Installing artificial grass on playgrounds is an excellent and efficient way to remove dirt from their play area. Also, kids are known to put random stuff in their mouths. The cleanliness and lack of bugs are ideal conditions for children.

Easy Cleaning

With children, come messes. Opt for artificial turf and easily hose off any light spills!

Added Padding

With the soft pad installed under the surface of turf on playgrounds, the surface becomes much safer for play.

Can I Place a Swing Set on Artificial Grass?

Yes! The weight of the swing set or playset will cause the grass to lay flat after a period of time. If you want to keep your turf in the best condition, we recommend regularly moving the playground sets or having the grass professionally brushed periodically.

Is The Turf Used For Playgrounds Padded?

You can opt into a padded system. There are few variations of pads and artificial grass materials. We will be happy to recommend the best option for you depending on the area and equipment that you have in place.

How Do You Install Artificial Grass On Playgrounds?

Playgrounds require a nail-free approach, cleaner materials, and certified pads. We have tested technologies from a line of manufacturers to offer you a playground system that will fit your needs and budget - all in one place.

Can Playground Turf Be Installed In My Backyard?

Of course. We can install it in the entire yard, or just a sectioned-out play area. Request an estimate today and get a quote today!

What's Installed Underneath Playground Turf?

Artificial turf playgrounds include a base, drain cells, and padding. Any other additions depend on your project requirements and the specifics of your space.
How Much Does It Cost To Install a K9 Pet-Friendly Turf System?

Installing a pet-friendly turf system will be pricier than a regular installation. The price increase stems from advanced material requirements, infills, drainage, and safety measures. You are looking at at least $9.50 per sq. ft. for a quality pet turf installation.

If your pet is using the restroom on your turf without the proper drainage system and infills, bacteria will grow and the odor will be unmanageable. It will cost you double to remove the existing turf and reinstall a new one.

We would love to be magicians, but we're still working on it. Unless you select a complete pet turf system, we highly recommend sticking to a natural lawn in pet relief areas. We want your business, but we feel your pain.

Is Artificial Grass Safe For My Dog?

Turf is completely safe for dogs, in some cases even more so than natural grass. A common misconception about synthetic grass is that it contains lead and harmful chemicals. Many artificial turf manufacturers have now eliminated lead and other harmful chemicals from their materials.

However, artificial turf can become warm on high-temperature days. Make sure you supervise your furry friends and don't leave them unattended for long periods of time!

What are the Benefits of Installing Pet Turf?

There are multiple reasons why our customers opt for pet-friendly artificial grass installation. These are what we hear most:

Keeps Your House Cleaner

Eliminate the constant cleaning of your floors and surfaces. With no soil to dig into, your dogs won't be running inside with muddy paws!

Keeps Fleas and Ticks Away

The removal and compaction of the soil greatly reduces the probability of bugs latching onto your pet's fur.

Great For Play

Your pet will love the soft sponginess under its paws. The absence of bald patches and brown grass will make for the perfect clean play area for you and your dog to spend your days. This makes the surface excellent for children as well.

Easy Maintenance to Prevent Odor

Get rid of the need to perform back-breaking lawn care. A heavy rinsing with a cleaning agent and water tends to do the trick!

Can My Dog Use the Bathroom on My Pet-Friendly Turf?

Yes! Our K9 pet-friendly turf system is designed with the proper drainage in mind. We install a layer of drain core under the surface to keep the base ventilated while allowing the homeowner to flush the grass often to prevent odor.

This does not guarantee an odor-free lawn, we can only prevent it. You must properly clean and flush the area with water and sanitizer often. Reference our knowledge base for more best practices for pet turf maintenance.

What's the Difference Between Installing Regular Turf and Pet Turf?

In general, the procedure is the same as for artificial grass lawns. We have to remove existing turf, cap sprinklers, and rewire irrigation. Then we need to separate the turf area from planters and haul away excess dirt. We put down about two to three inches of road base, compact it, and proceed with K9 grass installation.

After that, things get a little different. Compared to regular turf, we will have to install a layer for improved drainage, ventilation, and sanitization. Then we would nail or staple turf down and apply pet-friendly infills.

You can find more about various systems and components of artificial turf in our knowledge base.

Does Installing a Pet Turf System Actually Remove Odors?

We will never be able to 100% remove all traces of pet relief. However, we can greatly reduce it. If installed correctly and maintained often, you will absolutely notice a difference. A pet system is a washable solution. The area still must be rinsed and sanitized consistently to control the smell.

How Do You Clean Pet Turf?

We recommend flushing the area with a heavy flow of water paired with a sanitizing agent often(such as 409 cleaner or Wysiwash). This should take care of moderate pet relief and spills. For more thorough cleaning, pressure washers are ideal.

Another great way to keep your area clean is to teach pets to use a localized area for relief. A fake fire hydrant or a mailbox pole is a great way to shrink their pee area. Cleaning is fully automatic with a chlorine-enabled wash system. Relief objects, such as a fake fire hydrant or mailbox will help minimize water use.

Tip: Brush the surface a few times before cleaning. This will disturb the compacted infill and allow the cleanser to really get into the base. If there is a smell that you can't seem to get rid of, mix equal parts vinegar and water and apply to the affected areas.

For the difficult cleanings we're here for you, give us a call.

Can you Install Pet Turf on my Balcony?

We do not recommend allowing your pets to relieve themselves directly on artificial grass on a balcony or rooftop. All of your pet's urine will accumulate under your turf and the area will begin to smell and become unusable. There will also be bacteria growth over time. Although there is a drainage system, you can't flush off the turf and allow that to spill onto other people's property.

Does Pet-Friendly Artificial Grass Get Hot?

Yes, all artificial turf gets hot. K9 turf is made of polyethylene. It absorbs heat and could potentially reach temperatures as high as 120 F. This temperature is not comfortable for most people and their lovely pets. Therefore, most manufacturers try to reduce the heat of the surface as much as physically possible. Some manufacturers coat artificial turf with heat-reflecting layers, others reduce the density of backing material.

We visit hundreds of backyards and pet facilities and look at materials from various suppliers.

In our experience, there are other factors that affect the temperature of the artificial grass surface. We do not guarantee that our statements are 100% proven, just observations.

Here is what makes turf warmer:

The

darker

the turf the warmer it gets.
The

denser

the turf, the more heat it absorbs.
The

flatter

the blade the faster it transfers the heat.
The more

uniform

the turf is, the less wind cools it down.
The

more infill

applied, the warmer it gets.
The flatter

matted turf

, the denser and warmer it gets.

Typically, a hot pet turf system looks dark green, high pile, 90-ounce slim blade, or diamond blade turf with green colored silica sand infill. – Hot as hell, burns the feet right away.

Typically, a cooler pet turf system looks like: lime green, low pile, 60-ounce wide shape, stronger and thinner blades with space in between them stabilized by curly thatch and antibacterial sand or a mix of antibacterial sand and turf deodorizer. – Warm, but bearable.

What Are The Best Artificial Grass Materials For Pet Turf?

This is a difficult question. Some people like it plush, others like it easy to clean. We try to set our priorities based on basic needs and safety requirements.

First, the turf should be washable so that both your pet and you could enjoy the area free from odor and bacteria. Microban technology artificial grass materials help us achieve a cleaner surface.

Second, the turf should be at a comfortable temperature. We try to select turf materials and infill that is the coolest to our knowledge. We constantly monitor the market for new grasses to offer our clients.

Third, the surface should perform well in terms of drainage and traffic. For each project, we try to identify potential landscape shortcomings and address them prior to the installation of artificial turf for dogs.

And finally, we use special tools to make sure the area is fully compacted, and that nails are secure. That seams are hidden and strong once the installation is complete.

The best artificial turf for dogs would be a safer, cleaner, and cooler option.
How Much Does It Cost to Install Putting Greens?

Most putting green projects start at $12 per sq.ft. The exact price will depend on a list of factors including access, parking, sq.ft., the complexity of elements, condition of the soil, materials, number of cups and flags, and many other factors. You can get a pretty good estimate in just 30 seconds by answering a few questions here.

Why Are Artificial Putting Greens Becoming So Popular?

Before artificial turf, maintaining a putting green surface would be like creating a masterpiece. The amount of time and equipment required for a good putt was not a financially viable option for most homeowners. Golf courses and luxury residences were the only places that could afford the upkeep of putting greens. Today, with almost zero services, putting greens flourish in neighborhood backyards.

Are Putting Greens Customizable?

Every single putting green we install is different. We work with you to install the putting green of your dreams that you'll be excited to play on for years to come. You can customize the material, shape, and fill of the field. We can even add undulations, beautiful ponds, and bunkers. Just imagine it and show us the direction. We will put all options in front of you to meet your desires and budget.

What Type of Turf is Best For Putting Greens?

Most golfers prefer a slit-film style. This has shorter trimmed blades that give the effect of a freshly mowed lawn.

There is no straight answer for this one. For putting greens we offer a variety of different kinds of grass. For simplicity, we stick to Pure Putt for the most natural-looking putting green, Tour Putt for the best customization, and Eagle Putt for multi-purpose use. We are constantly learning about new materials and technologies to offer you the most advanced products.

Do Artificial Putting Greens Offer the Same Play Experience As Natural Putting Greens?

In short, yes. Synthetic golf greens simulate the look, feel, and performance of natural green. Practicing on synthetic turf offers a fun and easy way to improve your game. You can customize your putting green by selecting materials, pads, and infills to build your perfect space.

Is My Yard Big Enough For A Putting Green?

Absolutely! Because they are so customizable, we can make an entertaining area with just one or 2 holes. In fact, the average putting green surface is only about 300 sq. ft. Those who desire a more challenging game can purchase sets of obstacles on Amazon. We can also adjust the level of difficulty with undulations and hardscape. Or, you can even play golf-like bowling by scoring targets from a single spot. Imagination has no limit!

What Kind of Maintenance Do Putting Greens Require?

Artificial putting green material makes it so much easier to keep your area clean. Your surface will still need a little bit of maintenance, but you'll be able to blow the leaves away and brush off any dirt with ease. Depending on how often you use this space for recreation purposes, our specialists can arrange a brushing service in order to make sure all edges are upright and looking their best!

When you are concerned about maintenance, we highly recommend choosing more durable commercial-grade materials. Most commercial-grade materials feel a bit harder, but they are easier to maintain.

How Do You Speed Up an Artificial Putting Green?

There are a few ways to improve the speed of the ball on your putting green:

We make sure the infill is evenly spread out using enough to keep it standing on its own, but not too much that will cause excess wear or impact absorption.


Brush off dirt regularly with a soft brush so there isn't a distinctive grain pattern from lack of brushing and make sure the fibers stand upright without being weighted down by excessive amounts of infill material



How Much Does It Cost To Install Sports Turf?

Installing a sports turf will cost approximately $12 per sq. ft. The higher price in comparison to regular artificial grass stems from multiple factors: pet system installation, rubber infill, padding systems.

If the area already has a prepared flat base the glue-down method may be an option. In this scenario, the project pricing may fall around $10 per. sq ft.

It's also very important to understand the drainage system your space has. If any excavating and engineering is needed, pricing will be affected.

Is Sports Turf Today The Same As The Turf I Used To Play Sports on?

The synthetic turf industry has grown a lot since its first introduction, especially the sports turf industry. It's now become safer and more customizable.

What Are The Infill Options For Sports Turf?

There are many options. In general, activity areas use sand infill. Padded exercise areas require no infill. Sports Turf systems require a mixture of infill materials such as rubber and cork.

Does Rubber Infill Cause Cancer?

This is the biggest debate of all time in the sports industry. Articles claiming this are written by companies who are trying to sell natural sod. The average person breathes rubber particles every day. Those particles originate from highways and city streets and far more harmful than touching a rubber field or rubber toy. When you are considering installing sports areas, you can look at rubber alternatives such as cork or antibacterial sand. Combined with a padding system you can achieve comparable performance. Like most technologies, better choices bring a higher price.

Will The Field Get Really Hot When It's Sunny Out?

It can warm up when in direct sunlight, but it won't burn or hurt your athletes. You can opt for cooler infills and turf cool-down systems for select areas.

Does Sports Turf Stay Cleaner Than Natural Grass?

It can be argued that sports turf is cleaner than natural turf because it can be easily rinsed off and any fluids and germs will be rinsed away under the turf. For a more sanitized surface, request material with Microban technology and clean the surface regularly.

In regards to mud stains, absolutely! With the removal of dirt and soil under the surface, you can dive and tackle without ruining your clothes.

Do Synthetic Sports Fields Require A Lot Of Maintenance?

While it's much less maintenance in comparison to natural fields, there is still some maintenance to do to maintain your sports turf for as long as possible. A heavy flow of water combined with a natural sanitizing agent usually does the trick.

What Technologies Do You Use?

Here are a few technologies that we work with:
How Much Does It Cost To Install Turf Stripes Between Concrete Slabs?

On average, it costs about $14 per linear foot to install turf between stripes. The price can vary depending on the access and condition of the surface.

In some cases, concrete extends to the installation area and requires removal. This adds a substantial amount of labor. Resulting in a rise in price.

When you are installing stripes, give us a call. We will walk you through how to supervise the concrete installation process to prevent costly adjustments.

Why Install Turf Instead Of Pebbles?

Many people prefer how the grass looks. Besides appearance, turf makes the area more functional. For example, it is easier to roll a cart or a stroller over turf than pebbles. In backyards, pebbles between concrete slabs are simply unsafe.

What Are The Most Common Issues With Stripes?

There are a few things that we see go wrong during these projects:

Most installers will not maintain a single direction of the material. This makes turf look fake.


It is hard to compact narrow spaces. Most installers use a piece of wood and a hammer to compact decomposed granite. However, it takes just a few rainstorms to wash the base away and ruin the job.


It takes hundreds of nails to hold the turf down. Some installers will try to save money by not adding as many. With fewer nails, sand gets underneath the turf and pulls up the sides, affecting the appearance.
We designed a knowledge base to help you learn about artificial grass installation in depth.
How to Prevent a Disaster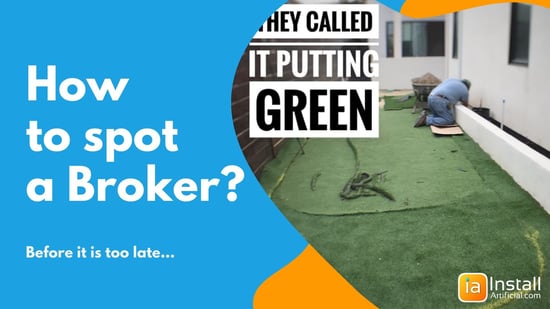 Do it Right the Very First Time.
According to our clients, dealing with brokers is one of the most frequent artificial grass installation project disasters. However, it is hard to distinguish a broker from a professional installer.
Get a guideline that will help you prevent a disaster.