Artificial Grass FAQs
Find the answer to any Question Related to Artificial Grass.
No luck?
How much to install artificial grass on average?

The average cost for artificial turf installation is about $10 per sq. ft. Many installers will charge based on multiple factors including parking, elevation, accessibility, the condition of the soil, and availability of irrigation. And of course, the type and system of turf. Request a custom estimate and fill out a short form to get pricing within 24 hours!

Just browsing? Check out our cost calculators!

Why so many people switch to artificial grass?

Most who turn to artificial turf do not have natural lawns any more. Their grass is yellow dead or soil.

How safe is artificial grass?

Artificial grass is just as safe, or even more safe than a pencil that you hold in your hands. We work with materials that have all the necessary certificates and pass rigorous safety tests.

How hot does artificial grass get

Synthetic turf does get hot. The temperature of artificial grass under the sunlight could get to 130-150 degrees F.

Does artificial grass require maintenance?

Yes. Synthetic turf is not maintenance free.

For light duty, you can use a leaf blower or stiff-bristled broom and then rinse with water. For slightly soiled areas or areas that are pet-friendly, we recommend using a sanitizer on those areas.

For best results, use a pressure washer to remove dirt and stains on your artificial grass. Keep the wand at least a foot away from the surface, as it's a best practice to apply sanitizer before cleaning. Pet-friendly areas require specific cleaning practices. To learn more about cleaning artificial turf used by pets, check out our knowledge base.

While most clients maintain their artificial lawn themselves, we can help with the trickier maintenance!

Does artificial grass reduce bugs and pests?

Absolutely! When natural sod is removed from the surface the remaining soil is heavily compacted with class II road base. with less dirt, there is less food for bugs and pests. They migrate somewhere else.

Does artificial grass last long?

In our experience, most homeowners would like to replace artificial grass in about 8-10 years. Even though it is typical to hear a 15 year warranty. But most lawns will get dirty by that time.

How much value could I add to the property with artificial grass?

For some homes, installing artificial turf is crucial. If your backyard is not useful, you add as much value as building another large living room.

How quickly will artificial grass pay for itself.

This depends on type of application and use. ROI for the event venue would be much higher than that of a regular backyard. Most artificial grass projects pay back in about 5 years. (equal to money spent on water and maintenance)

Can you remodel the backyard?

Yes, we love backyard design and renovation work, including paver installation, retaining wall construction, and woodwork. Simply let us know what you're looking for and we'll be happy to walk you through the process. Or at the very least, we can recommend a product or company that might be able to help you.

Do you supply your own turf?

We work mostly with the best artificial grass suppliers in the area.
Project Initiation and Completion
What happens on the first day on project?

Safety protocol is a top priority before starting any artificial turf project. Crews arrive first to proof the worksite with cones and make sure it's safe for pedestrians and cars. They'll also protect any surfaces, such as concrete, walls, and fences. The crew foreman will go through the details with you before the project starts. As soon as that's done, the work can begin.

How long does it take to install 500 sq.ft. of artificial turf?

Usually, it takes 2 days to complete a 500 sq.ft. artificial grass project.

Shall I turn the sprinklers off?

Yes please, save on water. We will test all sprinklers prior to installation. The line will be capped.

Shall I remove all debris and old turf?

We take care of it all. After we remove the soil, we will load it into a truck and haul it away. Due to the hard-to-reach areas of some properties, there may be added fees. We will disclose these fees in the proposal and they will not change during the project.

Will turf installers go into my house?

No. We do not enter your house. We have the Throne!

We want to make installing turf as easy and seamless as possible for you from start to finish. That's why we use our own portable restrooms to avoid entering the residence.

When we're installing on rooftops or balconies, however, the only way to access the space is by entering the home. In this case, we ensure your property is protected at all times.

Our installers are experienced and have a strong dedication to quality; they're fully insured and safety-oriented.
We designed a knowledge base to help you learn about artificial grass installation in depth.
How to Prevent a Disaster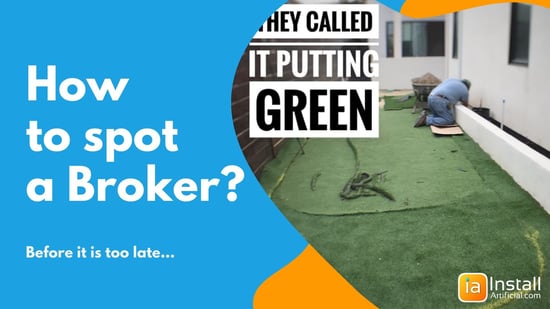 Do it Right the Very First Time.
According to our clients, dealing with brokers is one of the most frequent artificial grass installation project disasters. However, it is hard to distinguish a broker from a professional installer.
Get a guideline that will help you prevent a disaster.