Benefits Of Installing Turf In Unconventional Spaces

Learn why more and more clients are choosing to enhance their unconventional spaces with artificial grass installation. Decide if this is right for the needs of you and your family. Hear the safety benefits of turf installation on hard surfaces.
Artificial grass is a popular alternative to natural grass. It can be cut and fit perfectly in any space, requires little to no maintenance, and stays a stunning emerald color all year round. You can now have an unconventional space that looks beautiful and feels soft because turf blends into many different environments.
Patios
Why not make your patio just as comfortable as your yard? California weather allows you to spend most of your time outdoors, so we want to help you take advantage of it. Thanks to the professional product range, you can use artificial grass in conjunction with pavers or any other decorative element making it an ideal addition to a patio.
However, because foot traffic is heavier on patios, consistent cleaning is necessary. The key to maintaining your synthetic grass is regularly spraying it with water. Quick and Simple. When regularly hosed down, the turf stays clean and maintains its integrity for longer. Because we install adequate drainage layers, the area won't take long to dry.
Rooftops
Installing turf on a rooftop is beneficial for a number of reasons. The main one being aesthetics, enhance your drab space with artificial grass. On top of looks, though, there are other reasons why customers are making the switch. Artificial turf is permeable, so it can assist with water drainage on the roof. Also, it will protect your roof from being exposed to direct sunlight, which is known to damage roofs over time.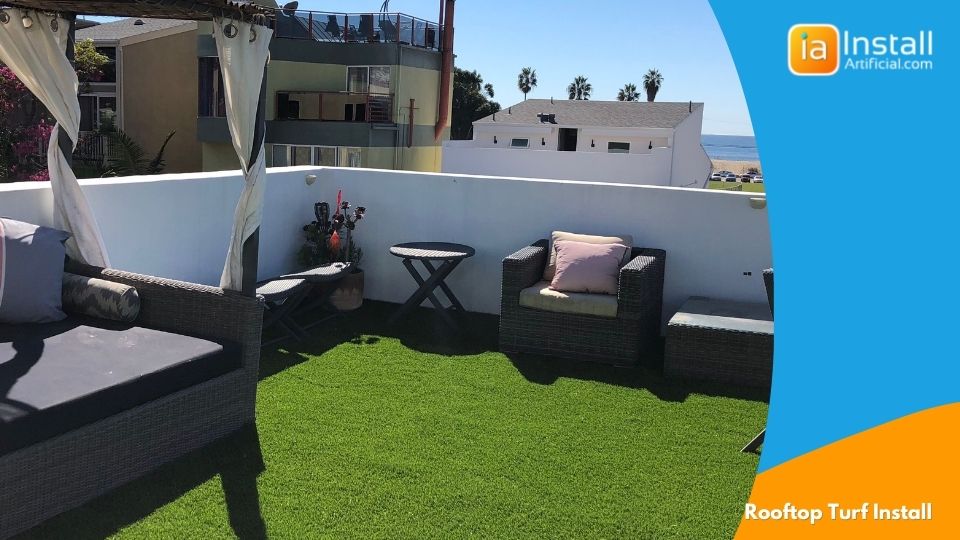 Balconies
Balconies are the perfect candidate for artificial grass installation. Since we can cut the turf in any shape we want, you have to freedom to install grass on the entire surface or just in a small area to make the space multi-use. Installing turf can add more functionality to your most unusable areas.
Concrete and wood surfaces can become very slippery when wet and pose a dangerous risk. The soft plush bare-foot-friendly feel that turf provides can't be beaten. If your balcony is concrete, it can become very hot to the touch on warm days, installing turf will keep the space cooler. Artificial grass also helps avoid mold and mildew growth on your deck because there is a drainage grid installed underneath.
So what do you think? Are you ready to turn your unusable spaces into something you've dreamed of? Check out our portfolio here, and request a free estimate in 2 minutes or less today!