Coolest Turf For Children and Pets

Learn the different factors that affect the temperature of artificial grass. Discover how we assess the temperature of popular grasses under mid-day heat conditions. Hear our findings for the coolest artificial grasses that we'd recommend for people with pets and young children. Receive advice on how to keep your artificial lawn cooler from professional installers!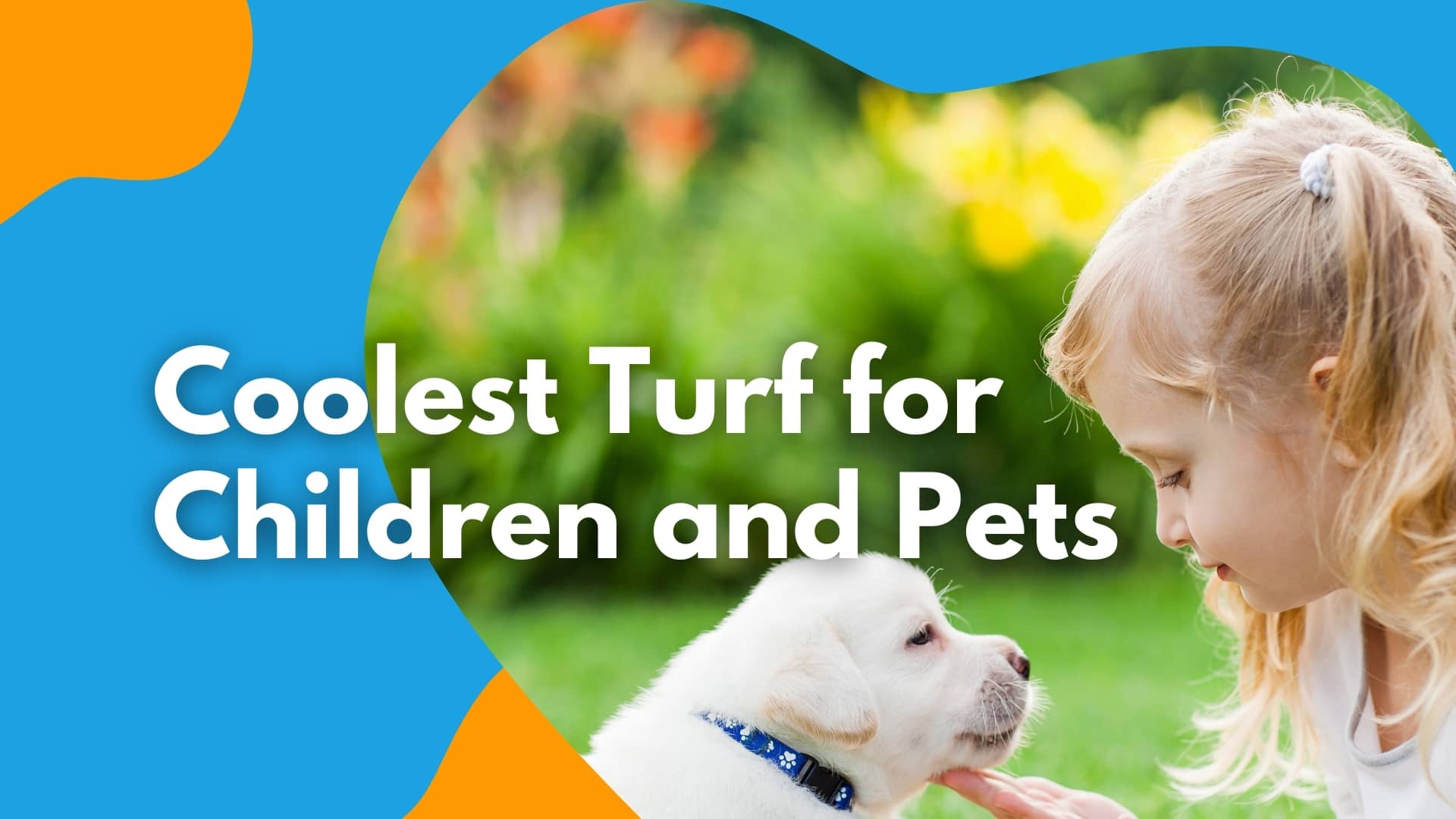 While there are grasses that remain cooler than others, it's important to note that all synthetic grass will become warm on hot days under direct sunlight. There are many factors that will affect the temperature of turf under the sun. Keep reading to learn about our turf lab assessment and our findings, and receive professional advice on ways to keep your new lawn as cool as possible.
The Assessment
In order to remain impartial when providing professional reviews of turf products for sale online, we administered a series of tests on each artificial grass. During each assessment, we compared the grasses to a control item for easier understanding. When testing the temperature of the turf, we also took the temperature of a piece of plastic that was put under the same conditions as a data backup. Each grass was placed under the direct mid-day sunlight with no wind exposure for 30 minutes before their temperatures were measured. Keep reading to learn our findings!
Factors Affecting Temperature
Weight:

As you may have suspected, most often the artificial grasses that weigh more end up being warmer on high-temperature days. As we measured each turf option we found that grasses with a lower face weight didn't rise as high in temperature as those that are heavyweight. However, there were a few occasions where plush grasses remained cooler than we expected.

Density:

Density is another factor that we saw affect the temperatures. Artificial Grasses with compact and curled fibers retain more heat than those that don't have those characteristics. For example, most of the putting green materials that we measured reached temperature heights of nearly 150 degrees due to how compact and dense the material is. This is a perfect example of not all lightweight grasses remaining cool, as putting green materials are typically lightweight in comparison to other turf options.
Color: During our temperature taking we found that dark-colored grasses become hotter under direct sunlight. Anything of a deeper shade of green may become more hot mid-day because it attracts more sun.
Uniformity: We also noticed that turf that appeared to be freshly mowed and very uniform was becoming warmer than those with non-directional blades. Turf that appears more "natural-looking" with less uniformity allows for more airflow.
Just because the turf is lightweight and light in color, doesn't guarantee that it will remain cooler than other grasses. Double-check each turf's product page in our For Sale section to see where its temperature landed to make the best decision for you and your family.
To learn more about the best turf materials for pet owners reference our article here, and check out our results on the coolest artificial grasses for children and pets below!
Coolest Artificial Grasses For Children
Coolest Artificial Grasses For Pets
Warmest Artificial Grasses
We wouldn't recommend using any of the above-listed "warmest grasses" on lawns, patios, or rooftops where children and pets play. Pets are unable to express discomfort in the same way we can, so keep them safe by choosing grass that stays cooler on hot days.
Keeping Your Artificial Turf Cool
Some types of turf are cooler than others, however as mentioned above, all synthetic grass becomes warm under direct sunlight. Most often this isn't warm enough to harm the skin, but it may become uncomfortable to the touch under the mid-day sun. What are a few ways to keep the surface of your new artificial lawn cool and high temp days?
Avoid Rubber Infill:

Rubber infill will increase the chances of your new lawn becoming hot because rubber retains heat. Antibacterial sand infill will keep your surface the coolest. Its granules are coated with a plastic-like substance that helps keep the grass cooler. If applicable, choose a grass that offers cooling technology. The coating that cooling technology reflects the sun and can keep the surface 10-20% cooler!

Hose Down the Turf Periodically:

This is the fastest way to cool your lawn. Simply use a hose or sprinkler and hose down the area to allow water to sit on the surface and cool the temperature. This is also the most cost-effective way to lower temperatures.

Opt for Artificial Grass With Less Drainage: While this seems like a counterintuitive thing to do, buying artificial grass that isn't fully permeable will cause water flow to slow keeping water on the surface longer. While in some scenarios this may not be ideal, water sitting on the surface longer will help keep the temperature cooler.

Provide More Shade:

You can achieve this by planting more trees in your yard that naturally bring shade or installing shade sails. This will keep your grass cool by reducing sun exposure. If you're having a party and want a shady area for your guests, we'd also suggest setting up an open-air tent for guests to sit under. This will keep the grass cool while also keeping your guests comfortable and out of the sun. If you have a back porch or patio area, installing an awning or tent covering permanently over the porch could also be a great option.
Browse the coolest grasses and check out the other categories each product is tested on in our turf lab: softness, cushion, recovery rate, and wear and tear. Let the expert reviews guide you in making the right decision for your family. Ready to make the switch? Request installation or purchase materials below!