Guide to Buy Artificial Grass
So you have decided to finally start pursuing your artificial grass project. But where do you even start? Below, we will walk you through some dos and don'ts when choosing the best artificial grass on the market. Learn the best way to shop for turf and best practices when it comes to purchasing artificial grass.
How to Determine Artificial Turf Roll Size Needed
Finding Artificial Turf That Meets Your Budget
Artificial grass was invented in the 1960s, but there's been a lot of new developments in the last few years. The market has grown to include dozens of companies, each with its own product offerings. Shopping for artificial grass can be overwhelming when faced with so many different options.
The following are our recommendations for buying the best artificial grass on the market. Hear professional tips prior to making the final selection to ensure you're basking in the benefits of installing artificial grass for years to come!
How to Measure Your lawn
Measuring your area is a very important part of the process. You'll want to make sure the dimensions you've measured are accurate before you buy artificial grass or you'll more than likely run into issues during installation. A common mistake that people make is purchasing artificial grass for its exact square footage rather than focusing on the measurements. If you don't pay attention to the dimensions you're purchasing, you'll have to make several cuts and seam the grass together in multiple areas causing the installation to become much more tricky.
If your space is shaped irregularly, use the dimensions from the widest points to ensure you can cover the entire area. Because most turf is manufactured in rolls that are 15 ft. wide, you'll often need to purchase more artificial grass than necessary and cut it to size. On average, you'll want to factor in about 10% of waste material into your budget. Determining roll lengths can be tricky, so take your time before making the purchase!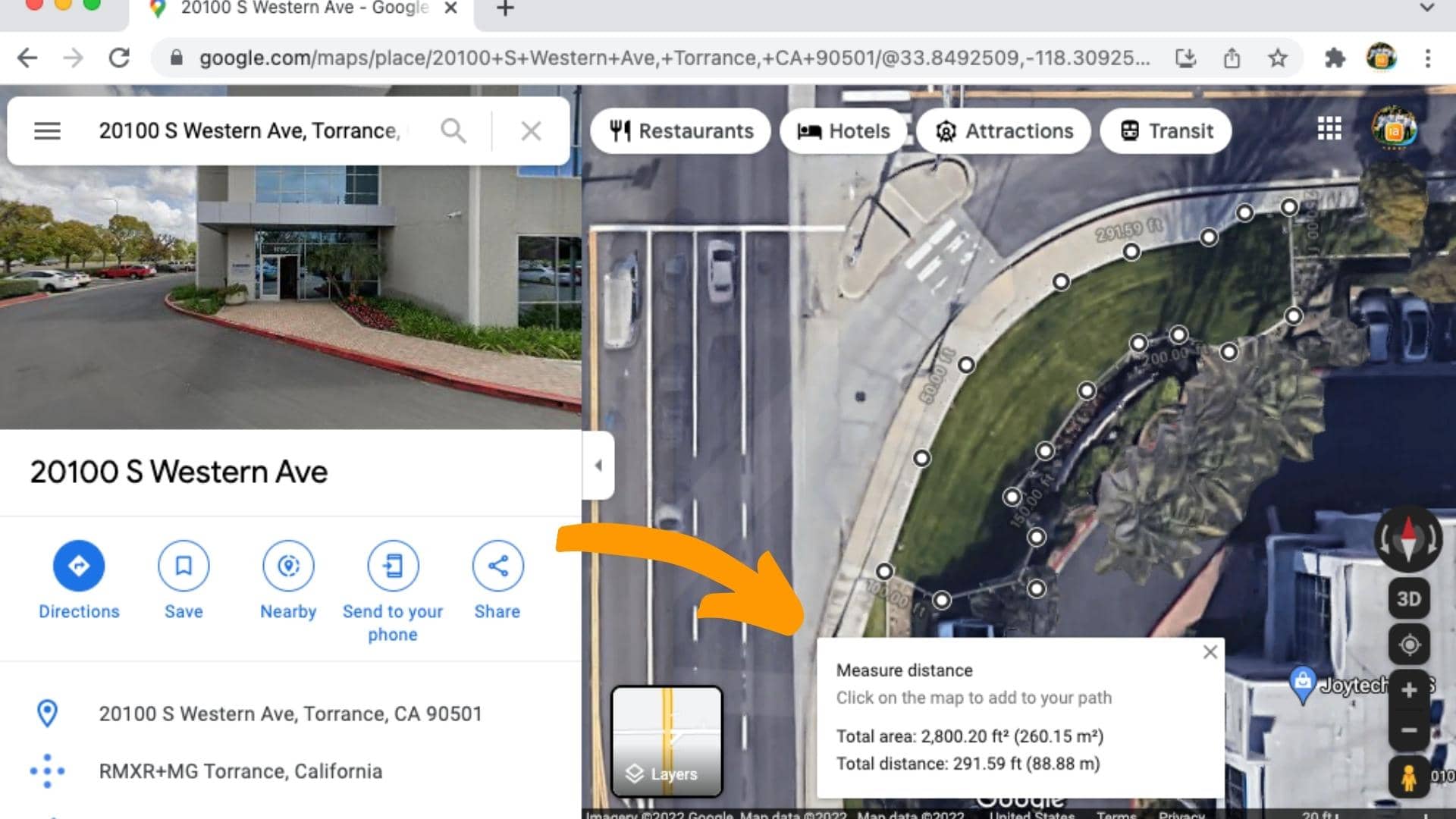 For added accuracy when calculating lot size, you can use the measure tool on google maps to get exact measurements of your space! Keep in mind if there are overhead trees or other obstructions blocking the aerial view on google, this may not be a viable option for measuring.
How to Determine THE artificial Turf Roll Size needed
Determining the artificial turf roll size needed for your project can be one of the trickiest steps of artificial grass installation. Accounting for waste material is very important because you don't want to end up with too little and patch up the corners, this will not provide the finished result you're looking for. Consider the following things when calculating the size of your astro turf rolls.
Order Extra Artificial Grass to Account for Error
You can't always trust your eye when it comes to judging the shape of a space. More times than not, the corners don't meet at perfect 90-degree angles. To avoid any measurement mishaps, add an extra foot to your dimensions to account for errors or awkward angles.
We often see that one edge becomes a bit more smashed than the rest during manufacturing and it can cause a shadow effect at the seams. To prevent this, we recommend cutting away about 5 stitches from the sides that need to be seamed together to create a less visible connection. Otherwise, you may end up with a visible line where the two rolls meet. Ordering extra will also help in this case.
Artificial Grass Rolls are 15 ft. Wide
Turf rolls for sale are typically manufactured at 15 ft. wide, meaning you're unable to buy a cut of artificial grass that's fully custom to the size of your space. For this reason, often you'll have to purchase more than your exact sq. footage and cut the grass to size.
For example, if your area is 23x41 we'd recommend purchasing either 2 rolls of 15x42 or 3 rolls of 24x15. This will offer you at least 1 ft. of buffer on each edge to account for errors. While you'll have less waste material with the second option, it will require more seaming during installation.
You'll Need to Maintain a Single Blade Direction During Turf Installation
When installing artificial turf, it is important to make sure that the grass blades are all facing in the same direction. Otherwise, the turf will look patchy and unfinished. Pay attention to how the grass will be laid when calculating the roll size to ensure a professional-quality installation.
How to Buy Artificial Grass
Buy Artificial Grass In-Store
Many people think that shopping for artificial grass in-store is the best option because you're able to see the product in person and compare them in your hands. Shopping in-store can be beneficial as well because you're able to discuss the project with an expert who can guide you through the browsing process and help you narrow down your options. However, often you'll pay more when shopping for turf in a brick-and-mortar store in comparison to purchasing online. You're also limited to a specific turf brand in-store whereas online you can compare multiple suppliers at once.
Buy Artificial Grass Online
When you buy synthetic grass online from retailers such as InstallArtificial, you're able to compare artificial grass from multiple trusted suppliers under one roof. We have fake grass for sale from six of the most reliable turf providers that ship nationwide. To make sure you get an unbiased professional opinion, we also administer performance tests on every synthetic grass sold to ensure quality. Check out our TurfLab on each product page to see test results for wear and tear resistance, shock absorbance, recovery rate, temperature, and more!
Order Turf Samples online
You can order samples of turf when browsing for fake grass online, and compare your favorites from the comfort of your home! You'll be able to see the differences in shade, texture, thatch, and pile height in your own hands. Many people prefer seeing samples at home rather than in-store because you can compare them to natural lawns to see which provides the best fit for you!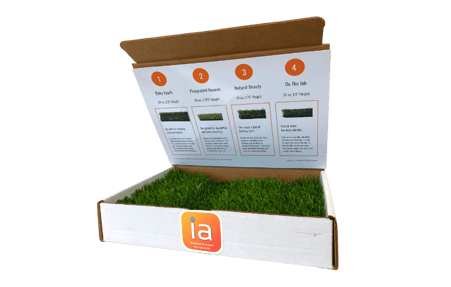 Speak With Professional Turf Installers nearby
Doing a DIY turf project and need assistance from professional installers? We're always here to help! When you submit a request to purchase turf with us, we can help assess the project area and advise on our product recommendations as well as the easiest installation methods. We're here to support you throughout the entire turf installation process!
Because we work with these suppliers daily by submitting a high volume of order requests, we're given extra promotions and reduced pricing that we pass on to you! Saving money to receive the same high-quality turf materials while not having to leave the couch sounds pretty great, right?
Buy Fake Grass From Resellers
These days many are trying to be more environmentally conscious and save a few bucks, and purchasing used fake grass from resellers has become a common trend. While this can provide you with extra savings, it's extremely hard to find a reputable and trusted company. Often, the used synthetic grass they offer is either low-quality or the material has been extremely compromised and won't last nearly as long. We only recommend buying used artificial grass for temporary ground covers.

Buy Synthetic Turf for Your Intended Use
Before you begin comparing artificial turf materials, make sure you know what your intended use for the new artificial lawn space will be. Some popular applications are pet-friendly turf, regular landscaping, playground turf, rooftops/balconies, and putting greens. For different applications, the appropriate artificial turf material will vary. If you're not quite sure what the priority is for your synthetic turf project, ask yourself these few questions:
Is this Turf for a high-traffic area?
If so, quick recovery and durability will be most important.
Is this turf for pet relief?
If your dogs will be going to the restroom on your artificial grass, you'll want to buy artificial grass that's permeable and offers advanced drainage. Opt for an antibacterial infill as well!
What's more important to you; function or feel?
Soft and plush grass that provides a bunch of cushioning may be the most desirable, but it will be trickier to maintain and may mat down quicker. For longevity in high-traffic areas, short low density grass with durable and stiff blades will work best.
Is this turf for a children's play area?
If children will be present, make sure you choose something durable, but soft. You'll also prioritize artificial grass that stays the coolest on hot days so choose something with a lower density!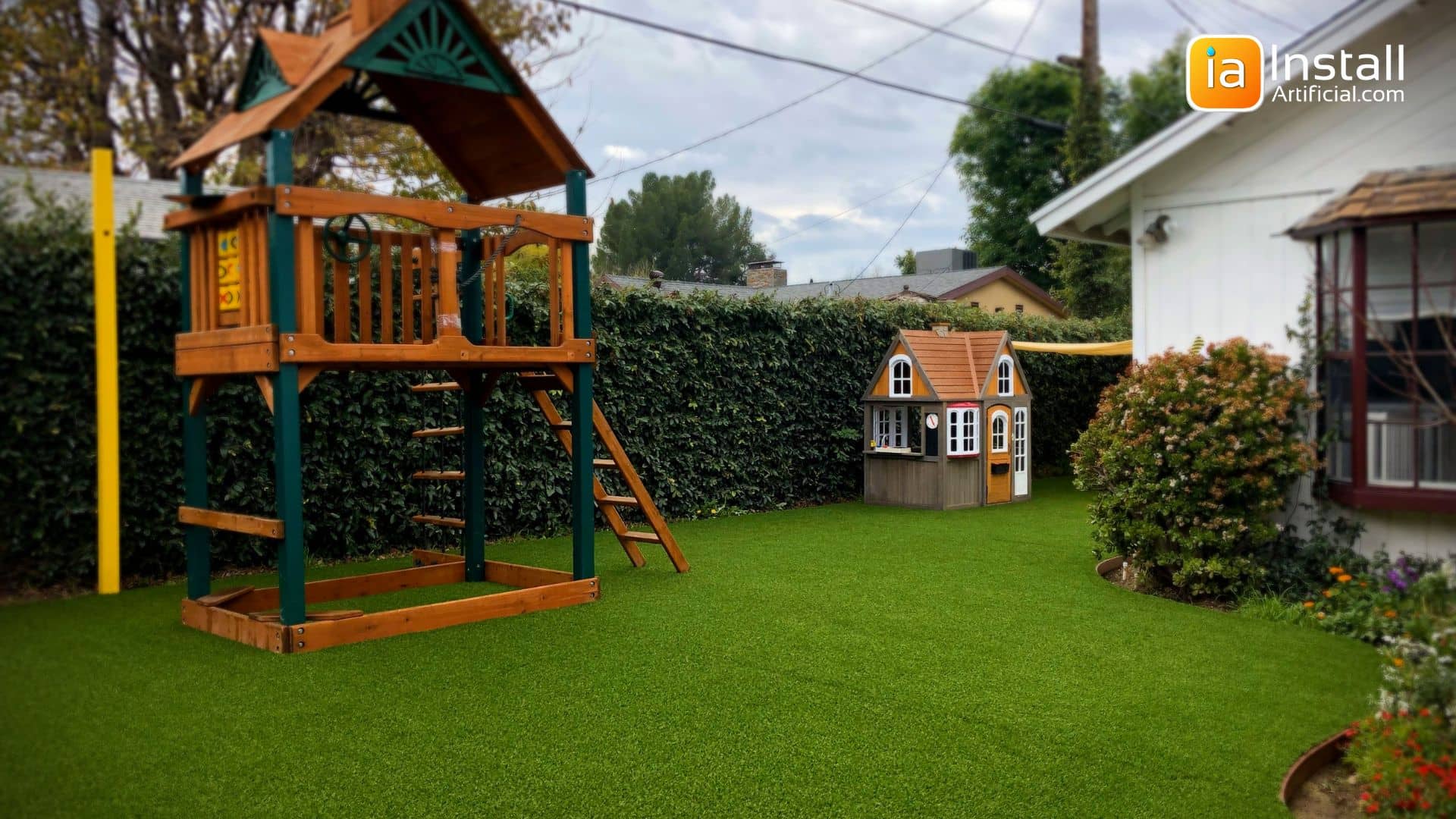 Will this Turf be used for recreation?
If so, we'd recommend opting for synthetic turf with a lower pile height and durable structured blades that will resist wear and tear.
Finding Turf That Meets Your Budget
Cost is always going to be an important factor when considering buying artificial grass. It can be tricky to find the best artificial grass for your needs at a price that meets your budget. Browse our selection online. You'll find affordable turf, premium artificial turf, and everything else in between. We offer a wide variety of fake grass, so you'll be sure to find something that fits your budget.
You will have to look past the sticker price, and compare artificial grass vs. natural grass. Looking at the long-term savings on watering and maintenance—the value is obvious! You'll have less hassle with mowing, weeding, and fertilizing, and you'll increase your home's value!
Ready to Start Shopping For Synthetic Turf ONline?
Now that you understand your budget, your needs, and the amount of artificial turf needed for your project all that's left to do is find your favorites! Start shopping online for artificial grass on our easy-to-use online store that categorizes products by brand, use, and turf assessment results to narrow down your search quickly! Want to sit back and relax while professionals handle the entire installation? Request a custom estimate for artificial grass installation below!