How to Install Putting Greens

Learn what goes into installing putting greens at the backyard. Determine if this is something that will fit your needs. Hear the benefits of installing an artificial putting green in comparison to conventional artificial turf. Discover best practices when it comes to artificial golf installation, cleaning, and maintenance.
Benefits of Artificial Putting Greens Versus Natural Grass Putting Greens
Artificial putting greens have become more and more common among commercial properties for many reasons. But what many people don't realize, is that it's an excellent addition in residential spaces as well. Putting greens in your own backyard may seem like a luxury, but avid golfers will love the convenience. It'll also be a hit with guests. So why are more people opting into artificial putting greens?

Flexibility of Location
Successful use of natural grass depends on the type of soil, the climate where it is being used, and the amount of sunlight it receives. If you don't have a well-drained lawn, it won't be a success. Synthetic turf can be installed almost anywhere and can look its best in any shade. This means that you can install your golf green even in shady areas, in a yard that doesn't get much sun, or in a section of your yard that doesn't provide healthy soil.
The durability of Putting Greens
Artificial putting greens will not experience broken blades or a stepped-on look after moderate traffic. There will be no dead or bare areas from too much activity. The above mentioned easily become problems with natural grass. Also, natural grass tends to become quickly damaged by putters during play. After putting time and money into new putting green, the last thing you want to worry about is damaging the surface with one swing.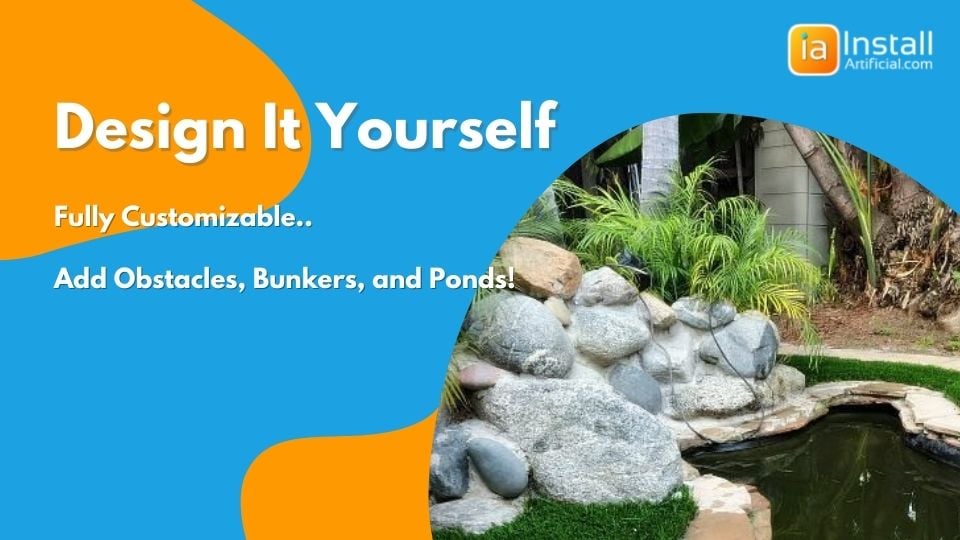 Customization
Your freshly installed putting green does not have to be flat and boring. We offer a variety of customizations that can improve your game. The area can be designed to create a challenging course that is fun to play with your friends and family. We can strategically place cups, shelves, undulations, dry creeks, and bunkers to give you an authentic-looking game. Because your artificial putting green won't have bumps and divots that are inevitable with natural grass, the area will be a lot more visually appealing as well.
Safety
Artificial turf will provide an even and consistent playing surface without holes, divots, or clumps. Natural grass is more often than not bumpy and it can be hard to maintain a uniform surface. This can be due to wear, pet relief, environmental changes, or simply the way that natural grass grows. Because of this, artificial putting greens are considered the safer option in regards to the risk of tripping.
Maintenance
Installing conventional grass comes with a long list of maintenance duties. Watering, weeding, fertilizing, edging, and mowing to just name a few. When maintaining a putting green, this upkeep is even more important because it will affect the gameplay. Artificial grass is a low-maintenance option that requires little work and always looks its best.
Selecting the Correct Materials
The design and size of your putting green is completely up to you. You can keep it simple or include practice elements such as hitting mats, large boxes, ponds, or a creek bed. You can also practice off the green with grass bunkers and sand berm bunkers.
When installing putting green lawns, it is important to select the correct grass materials. A longer pile system is typically chosen by avid golfers who want to adjust the speed of their course. Longer piles also offer a closer comparison to a natural green. Lower piles offer consistency, but less flexibility. Most are designed to provide consistent ball roll and natural reaction. We use materials with proven technology and consistent performance. Putt pads support longer shots, helps deaden the ball, and serve great for chipping.
Below are the grasses we offer:
Sports Putt: Sports Putt is a very resilient option. It was designed for sports and putting greens. With a higher pile, it provides improved traction and caution. It is an ideal choice for building multifunctional spaces.
Nature Putt: Nature Putt is designed specifically for putting greens. It provides a natural look and outstanding multidirectional roll performance. The speed and spin are adjustable to the client's specifications.
Fast Putt: Fast Putt is designed for larger fields and a higher level of customization. It allows the client to customize the speed and spin with precision. This choice is best for golf courses and resorts.
Project Preparation
Soil Removal: The first step to the installation is the removal of soil in the area where we're laying the putting green. For backyards, this can be as simple as cutting a few inches of sod. In larger projects, tree removal and the construction of retaining walls may be necessary.
Compaction: Once the land has been cleared and leveled, a compacting machine is used to level the ground or build contours around the edges. We apply approximately 2 inches of class II road base before moving on. A layer of decomposed granite is also added to the base. It's during this step that we can build additional contours and shapes into your putting green.
Cup Installation: We can install as many, or as few plastic cups as you'd like depending on the size of your putting green. These are installed directly into the concrete base to ensure they stay put. It is critical that these cups are level for proper flag placement.
Installation Best Practices
Once the area is compacted, we can now move onto the installation. While it seems that the hard part is over, there are still precautions to take to maintain the integrity of your putting green installation. We cut the turf and shape it to the area before joining the pieces with adhesive. The turf is then stretched and secured to the base with nails every 2 inches on the border, and every 2 feet throughout the surface. Below are a few best practices when it comes to installation:
Nail-Free Installation: We offer the option to make your putting green installation fully nail-free. In this scenario, we install a frame around the perimeter of the base. Rather than nail the turf directly to the base, we staple it to the frame. This is the best way to prevent nail removal over time. While we always recommend this in commercial projects, it's a great idea to keep children and pets safe in residential backyards as well.
Use Professional Stretchers: The most common defect in putting greens is the surface wrinkling and buckling over time. It is very important that the putting green turf material is stretched tightly across the perimeter before being secured to prevent this from happening. It's not enough to stretch with your hands, you won't be able to apply enough pressure. We use professional stretching machines to pull in every direction before securing the turf to the base.
Avoid Visible Seams: When installing putting greens, you want to make sure the seams aren't visible. Visible seams can over time damage the surface and become a safety risk. After we cut and shape the turf, we use a zipper effect to create an optical illusion to the eye. This will create a seamless look. Correctly seaming the turf is critical especially on warmer days, because the turf will want to expand.
Sand Infill: Applying a proper layer of sand infill to your putting green is very important. The weight of the infill will help prevent wrinkling. We make sure the infill is evenly spread out using enough to keep it standing on its own, but not too much that will cause excess wear or impact absorption. The sand should fill the voids in the fibers without creating an uneven surface for the ball.
For more information on the installation process, you can reference our article on How to Install Artificial Grass here.
Cleaning And Maintenance of Putting Greens
We would be lying if we said that there is no maintenance required for putting greens and artificial grass. The surface still needs to be cleaned and brushed periodically. However, it's still much simpler to maintain than conventional grass. You'll be able to blow the leaves away and brush off any dirt with ease. Depending on how often you use this space for recreation purposes, our specialists can arrange a brushing service in order to make sure all edges are upright and looking their best! When you are concerned about maintenance, we highly recommend choosing more durable commercial-grade materials. Most commercial-grade materials feel a bit harder, but they are easier to maintain.
Ready To Play?
Putting green systems are some of the most popular artificial surfaces we install. Whether you're looking to create a small training station or a league-sized space, we can put together an attractive, full-service artificial putting green system that's sure to please golfers of all skill levels. Let us take care of everything, request an estimate today!