Artificial Turf for Sled Workouts

Artificial sports turf is perfect for high-impact workouts. However, not all sports turf will work for every activity. When shopping for artificial grass for sled workouts, there are a few key things to keep in mind to ensure a long-lasting installation. Keep reading to learn how to find the best performing sports turf for sled workouts as well as best practices for turf installation and maintenance.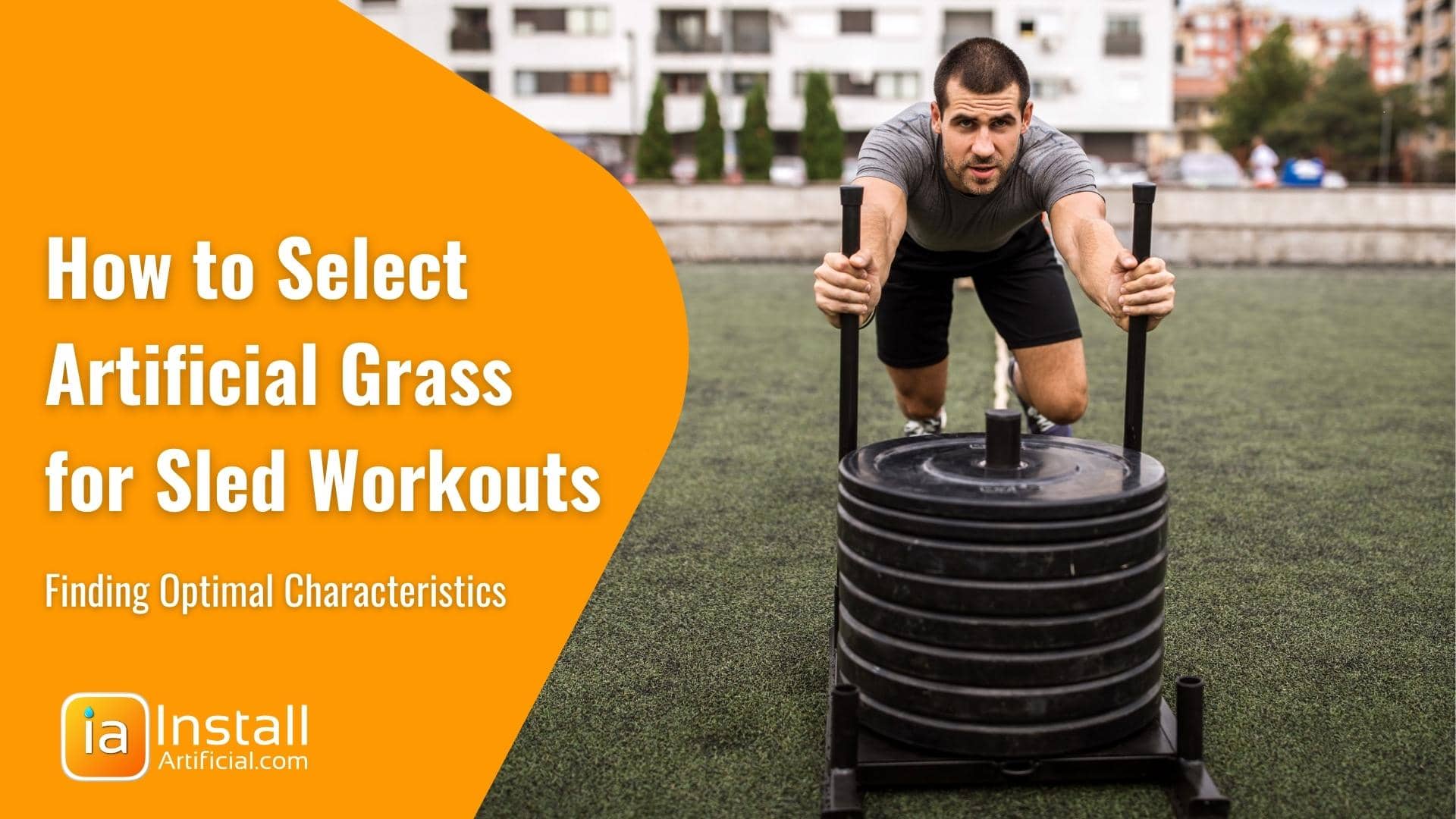 ---
---
Whether you're doing cardio, CrossFit, or lifting weights, sports turf is a great addition to any indoor or outdoor facility. With its shock-absorbing properties, artificial grass is a perfect flooring alternative that will help protect your joints during high-impact workouts. Also, the ease of installation over hard surfaces makes sports turf even more desirable.
When browsing for sports turf for DIY installation, you need to pinpoint your intended use because there are multiple types of agility turf and some will be more suited for certain workouts than others.

---
What Type of Turf is Most Optimal for Pulling Sleds?
Nylon Sports Turf
For high-impact sports activities and workouts we'd always recommend sports turf made of nylon. Nylon is a very durable material that can withstand heavy use and equipment. Cheap artificial turf materials will fall apart and mat down much quicker than a quality product made of nylon. While opting for premium synthetic turf for sled workouts will cost more initially, you'll save money in the long run with the longevity of its life.
Padded Sports Turf
Sports turf with a 5 mm pad is best for sled workouts, CrossFit, or any other high-impact activity. This will provide more shock absorption and stability. For even more cushion, there are turf padding underlayments you can use in addition to the padded sports turf. Check it out here: BrockPad
Dense and Compact Turf
You'll want to make sure you avoid sports turf that has a higher pile height or feels spongy. While this type of sports turf may be ideal for certain recreation, sled workouts will require a more compact surface so the sled can glide along the surface with ease.
If you're installing turf for sled workouts in an outdoor space, the following are a few things we'd avoid when shopping:
---
What to Avoid When Buying Sports Turf for Outdoor Gyms
Bright Colored Sports Turf
While bright-colored sports turf can make your outdoor gym or workout space feel more inviting and fun, we wouldn't recommend it in areas that are under direct sunlight. When exposed to the sun bright-colored sports turf can fade quickly and appear worn.
Cheap Sports Turf Material
You get what you pay for. For better performance and long-lasting results, you'll want to make sure you're placing a high-quality sports turf in spaces where the sunlight hits. Cheap artificial turf materials will not last under UV rays. Cheap artificial grass will also struggle to resist wear and tear from gym equipment.
Rubber Turf Material
Sports turf materials made of rubber are not recommended out in the sun. Over time UV rays will cause the rubber to fall apart. While rubber offers a good bounce, it also retains heat and will be much warmer to the touch than other sports turf materials.

---
Installing Sports Turf Over Hard Surfaces
We'd recommend using Pu1k turf adhesive to secure sports turf to concrete and other hard surfaces. Note that this adhesive is a strong glue and may leave stains on the surface upon removal down the line. For indoor areas, typically just gluing around the perimeter will suffice and be enough to keep the sports turf secure. If you're laying sports turf for sled workouts outside, we'd also recommend "spot gluing" throughout the surface as well to ensure that the artificial grass doesn't begin to buckle or wrinkle in the sunlight.
Make sure the base surface is clean and prepped prior to gluing down. In some cases, a floor sealant may be required before securing sports turf. The floor has to be dry. Most glues will not adhere to wet surfaces. Before gluing the turf down, try to use glue to see how it behaves. Some turf adhesives can expand dramatically, causing bubbles and inconsistencies. Roll the turf onto the surface after applying the adhesive for the best results.
Note that this glue is commercial grade and strong. Adhesives may penetrate the concrete or hard surface and require abrasive cleaning upon removal.
---
Maintaining Artificial Turf for Sled Workouts
The beauty of installing artificial turf in your space is that it is fairly self-sufficient. There's not much maintenance required! When opting for padded artificial turf for sled workouts, you remove the need for sand infill. This allows you to simply vacuum the surface whenever there's debris or messes. Because sports turf is made with durable materials and often features a low pile height, it can hold up to a lot of foot traffic without requiring consistent brushing.
---
Now that you know the desired characteristics of sports turf for sled workouts, you can start shopping! Check out our online synthetic turf store to browse leading artificial grass from multiple suppliers. Because we aren't held down by one brand you're sure to find the right sports turf for your needs and budget. Reference the turf lab on every product page to see how each grass holds up to wear-and-tear, high temperatures, and more!
Want to sit back and have professional installers take care of the indoor sports turf installation? Request a custom estimate below and receive a presentation showing pricing and materials within 24 hours! We can't wait to get started.