What's the Price of Artificial Grass in Pomona?

Learn how much artificial turf in Pomona costs and what factors affect pricing.
>> Request a Custom Proposal for Your Specific Project in Just a Few Clicks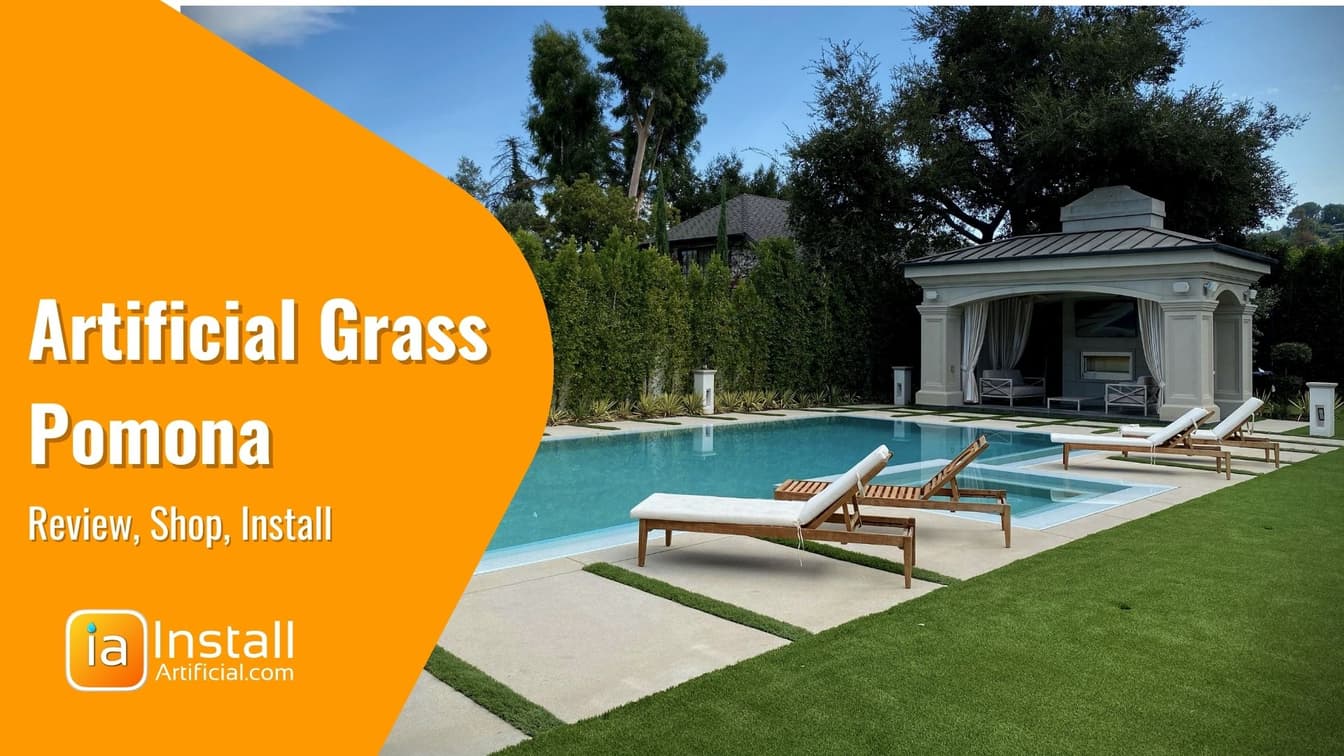 The cost of artificial turf materials in Pomona ranges from $1.35-$6.40 per sq. ft., while the cost of artificial turf installation in Pomona ranges from $8.55-$17 per sq. ft. (varying based on scope of work, size, and intended use).
Keep scrolling to learn more about the factors that affect the cost of artificial turf materials in Pomona!

Amount of Turf Ordered
The amount of turf ordered can sometimes play a role in the cost. If you're looking to save on your artificial grass purchase, buying in bulk is a great way to do it! You'll sometimes receive a better rate and larger discounts when buying higher volumes of product. We occasionally see suppliers offering additional deals on amounts larger than 1,000 sq. ft. So if you're planning on using artificial grass for multiple DIY turf projects, consider buying in bulk to take advantage of extra savings and avoid extra fees for delivery!
Weight & Density
Weight plays a major role in the cost of artificial grass, as heavier turf requires more material, making it more expensive. For those seeking a comfortable surface that feels soft and cushy underfoot, heavyweight and plush varieties are usually the best option. But there are cases where lighter-weight turf might be preferable - such as pet turf or areas that are subject to frequent cleaning - due to its easier maintenance and quicker drainage capabilities.
Pile Height
Blade height also plays an important role in terms of cost. Although a higher blade height offers a luxurious feel and attractive look, it often comes at an expensive price. Additionally, taller blades tend to become matted or bent due to regular foot traffic. Therefore, individuals who are seeking greater durability and less maintenance should opt for shorter blades instead. However, those selecting taller grass should make sure to brush the artificial turf regularly so that the fibers remain standing tall.
Intended Use of Fake Turf
The cost of installing artificial grass can differ significantly depending on the purpose. For example, when using artificial turf for pet use, you may need to select a material that is highly durable and permeable in order to ensure quick drainage. Additionally, it is wise to consider investing in antimicrobial technology-infused turf which will also add to the expense. Furthermore, for optimal results with pet turf systems there may be additional requirements such as drainage layers and anti-bacterial sand infill which will influence the total price.
Alternatively, if you need to buy artificial grass for temporary use such as an event, this type of artificial grass ground cover can start at as low as $0.99/sq. ft.
Durability
Choosing synthetic grass that is both cost-effective and long-lasting can be a challenge. While turf made for heavy use tends to be more expensive, it also has greater durability. To ensure ultimate resilience and recoverability, look for grass with ribbed blades instead of flat surfaces. Blades with some flexibility are great for cushioning your feet, but don't stand up to foot traffic as well as ribbed ones do.
Utilize our Artificial Grass Turf Lab on each product page to compare each artificial grass we sell and see how it holds up in terms of recovery rate, wear and tear resistance, and more!
inding the perfect artificial grass for your home or business in Pomona can be a daunting process. With a vast array of products and prices, it's not always easy to make an informed decision. That's why we've put together this guide - to help you figure out exactly what kind of turf is right for you. By understanding your needs and preferences ahead of time, you'll be able to shop around with confidence and make sure that the synthetic grass you choose meets all of your requirements. Our experts are also here to provide additional support - simply click the button below to connect with one of them now.