5 Best Artificial Grass Wholesalers in the US 2023
Synthetic grass is a great alternative to natural grass, providing a multi-purpose solution for dead lawns. However, purchasing cheap wholesale artificial turf material from overseas could turn into a huge mess. Avoid a disaster by sticking with the best artificial turf wholesalers in the US.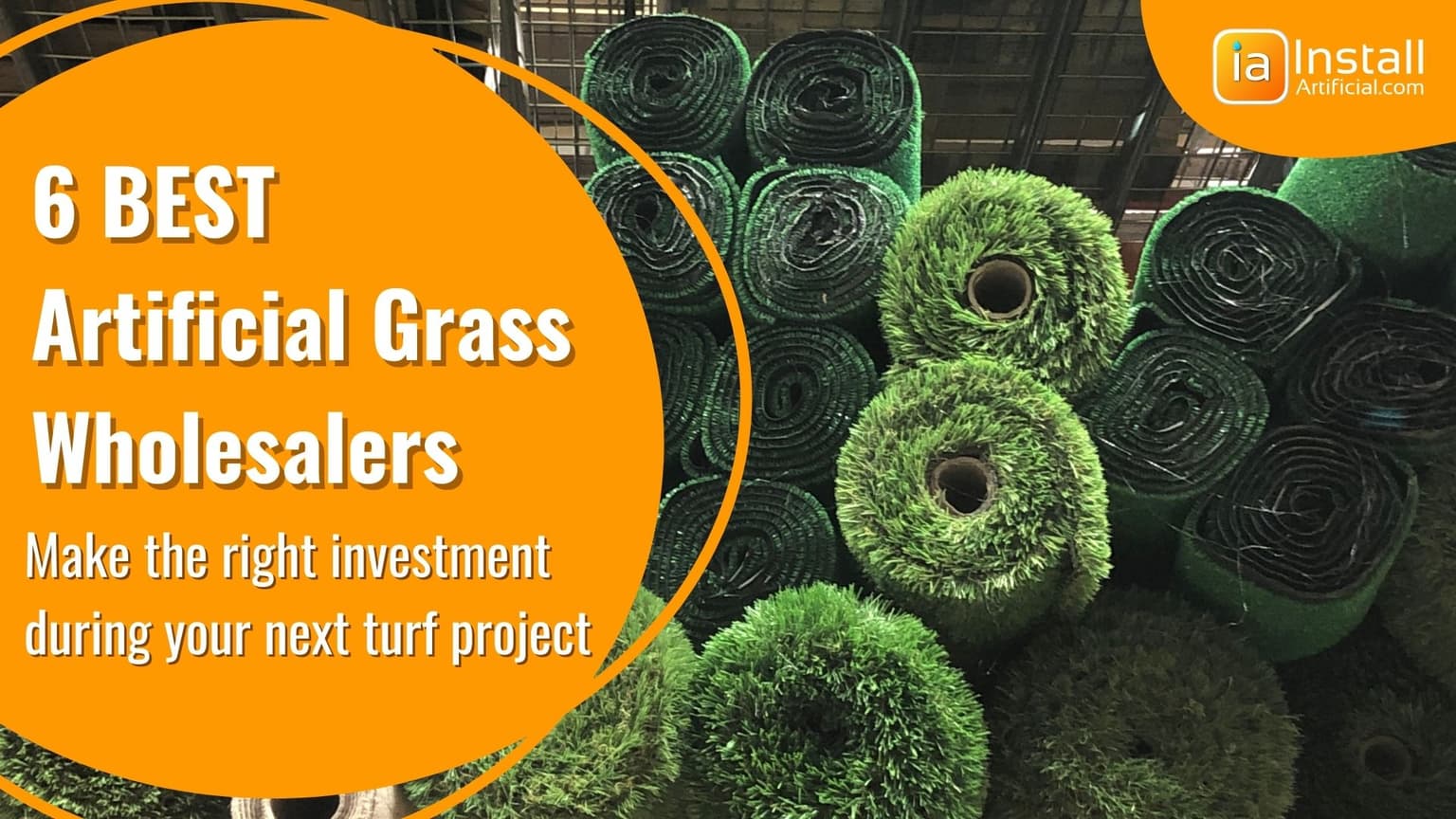 As the leading provider of safe, long-lasting and first-rate products, Synthetic Grass Warehouse has become a reliable source of wholesale turf for contractors, professional installers, and homeowners alike. Operating out of multiple locations all over the U.S., customers can be sure to receive superior merchandise with expedient shipping times.
One of the advantages of doing business with SGW is their association with TenCate Grass; this makes it possible for them to offer competitive pricing on significant quality products. Additionally, SGW's passionate customer service team based in Anaheim, California ensures consistent service throughout America. Additionally, there is an assortment of 45 Artificial Grass choices that are covered by a 15 year warranty - one of the longest lifespan warranties in the artificial turf industry.
Best Known For:
Synthetic Grass Warehouse is best known for their wide selection of artificial turf supplies. Their turf product line features top of the line durable and high-traffic artificial grass. Many of SGW's products also feature a "just mowed" and uniform look.
Artificial Turf Supply Locations:
Synthetic Grass Warehouse has supply locations across America with over 40 stockrooms, offering convenience for those in rural areas. Check out their warehouse locations to find an SGW near you!

---

Smart Turf offers a superb artificial grass product made right here in the USA and supports it with a guaranteed 15-year manufacturer warranty. With an exclusive partnership, Smart Turf is the only company to engineer their artificial turf with advanced Microban® antimicrobial technology which prevents bacteria, mold, and mildew growth for a cleaner and odor-free yard.
Additionally, their in-house customer service team provides friendly advice on best practices when selecting and installing grass products. Smart Turf takes great pride in providing exceptional service along with top of the line artificial grass accessories for sale.
Best Known For:
Smart Turf is best known for it's antimicrobial technologies. Being the only artificial grass wholesaler that features Microban technology in their products has set them apart from other suppliers. With this added layer of protection, Smart Turf artificial grass is perfect for pet turf areas, playgrounds, and residential lawns!
Artificial Turf Supply Locations:
Smart Turf has warehouses in Southern California, Arizona, Texas, and Georgia. Not in your area? Don't worry! Smart Turf offers direct nationwide shipping when buying artificial grass.

---

---

At the core of their business, it is no secret that at Imperial Synthetic Turf contractors are highly valued. As a result, they have created numerous branches and showrooms dedicated to helping contractors excel in the landscape industry.
IST makes it clear that they do not provide installation services and wants each contractor to feel secure knowing they are not competitors- they are simply a distributor providing top of the line products. From customer service to installation assistance, you can be confident that when you purchase from them you will be getting the best experience possible.
Best Known For:
Imperial Synthetic Turf is best known for its relationships with independent contractors. What sets them apart from others who wholesale artificial grass, is that they offer products directly to landscapers rather than catering to the end user (homeowners). The benefit of this is that often these grasses come with a discount for contractors and they may be able to pass a bit of these savings onto you!
Artificial Turf Supply Locations:
Imperial Synthetic turf is a synthetic grass wholesaler based In California with multiple locations along the coast, stretching from Northern California to SoCal. This fake turf supply company is smaller than some of the others on this list, but offers high quality artificial turf products at a competitive price. If you're a contractor and looking for artificial grass wholesale Los Angeles or any surrounding areas, this supplier is worth checking out.

---

Shawgrass is swiftly becoming a major player in artificial turf today, excelling in products for residential/commercial landscape applications, pets, recreation and artificial putting greens. Their ability to provide natural-like grass and performance characteristics for long lasting use makes them stand out from competitors. Not only that, but their innovative technologies such as HydroChill also grants users relief from intense heat.
Best Known For:
Shawgrass is known for their innovation in the recent years, offering high quality synthetic turf for any intended use. Utilizing cooling HydroChill infill with their products has been known to drastically drop temperatures which is a common issue with fake grass products. They've also coined Creaturf, which comes in 21 different colors and offers unlimited branding opportunities for businesses and sports teams with clear graphics.
Artificial Turf Supply Locations:
There are 25 warehouse locations nationwide that provide Shawgrass artificial turf products. Find your nearest artificial grass warehouse by checking out their dealer locator! If you're wondering where to buy wholesale artificial grass, look no further!

---

Global Syn-Turf is committed to ensuring customer satisfaction and provides a variety of artificial grass products. Annually, they manufacture more than 150 million square feet of this synthetic grass and their certified production plants in the U.S. as well as overseas are responsible for producing it for use in lawns, sports fields, putting greens, playgrounds, traffic medians & rooftops alike. GST also boasts the largest inventory of wholesale synthetic turf found within the US.
Best Known For:
Global Syn Turf is a known brand within the artificial grass industry, and with several locations across the US, they're a trusted turf manufacturer that's available in many cities and focus on high volume orders for larger projects. With many turf applications to choose from, this brand is ideal for those who may not reside in a highly populated city because with more warehouses comes larger service areas with less delivery fees.
Artificial Turf Supply Locations:
GST has 20+ locations across the US with several warehouses in California, Texas, and Florida. They also offer same-day curbside shipping anywhere in the US.

---
How to Compare Artificial Turf Wholesalers Online
With our online synthetic turf store and turf lab, it's never been simpler to compare wholesale fake grass from industry leading suppliers. We've broken our product lines down by brand, intended use, and specification to offer easy-to-navigate shopping from the comfort of your home.
Compare Fake Grass Performance Results
If you're on the hunt to buy the best artificial turf for your next outdoor project, look no further! Each of the fake grasses that we sell will feature turf lab results on their product page. We know that each customer has a different intended use and their priorities may be different, so we ran a number of performance tests on each turf sample for easy comparison. Performance tests include softness, cushion, recovery rate, wear and tear resistance, and more! This means you can easily differentiate your favorites and make an informed decision from your couch.
Order Turf Samples Online
Once you've narrowed down the many options to a few favorites using our easy-to-read turf lab results, simply order artificial grass samples shipped directly to your door. After understanding how they hold up to different situations you'll be able to feel and see them up close before committing to the purchase. You'll have high-quality wholesale fake grass shipped curbside in no time!
Pro Tip

: compare turf samples to natural lawns throughout your neighborhood to see just how much they really do mimic the look of real grass. Take a few steps back and view the samples from different angles to get a better picture of how it will look fully installed.
---
FAQ Section
What company makes the most realistic artificial grass?
The following companies make the best and most realistic artificial grass in our professional opinion!
How can you tell good quality artificial grass?
There are a few different ways to tell if artificial grass is low quality. You'll want to avoid luster, so stay away from anything shiny. A high quality artificial grass will feature thatch blades, which are curly grass fibers beneath the straight blades to look more natural. Good quality artificial grass should also either be permeable or have holes bunched throughout the backing to provide adequate drainage. Make sure the blades have a structured shape and are not flimsy, flat blades are prone to matting.
How do I find the best artificial grass?
Find the best artificial grass by using our turf lab at InstallArtificial.com. You'll be able to see how each fake grass stands up to a number of performance tests such as recovery rate and wear and tear resistance. Shop by brand and intended use while comparing test results to find the right turf products for your specific project!
What thickness of artificial grass is best?
The best thickness for artificial grass will depend on your intended use and personal preferences. Typically for residential applications, 1.5-2.0" blade height is the ideal to offer a natural-looking fake lawn. On the other end, gym turf applications and artificial putting greens will ideally feature much shorter blade heights, between 0.25-1.0".
---