What's the Price of Artificial Grass in Huntington Beach

Learn how much artificial grass in Huntington Beach costs and what factors affect pricing.
>> Request a Custom Proposal for Your Specific Project in Just a Few Clicks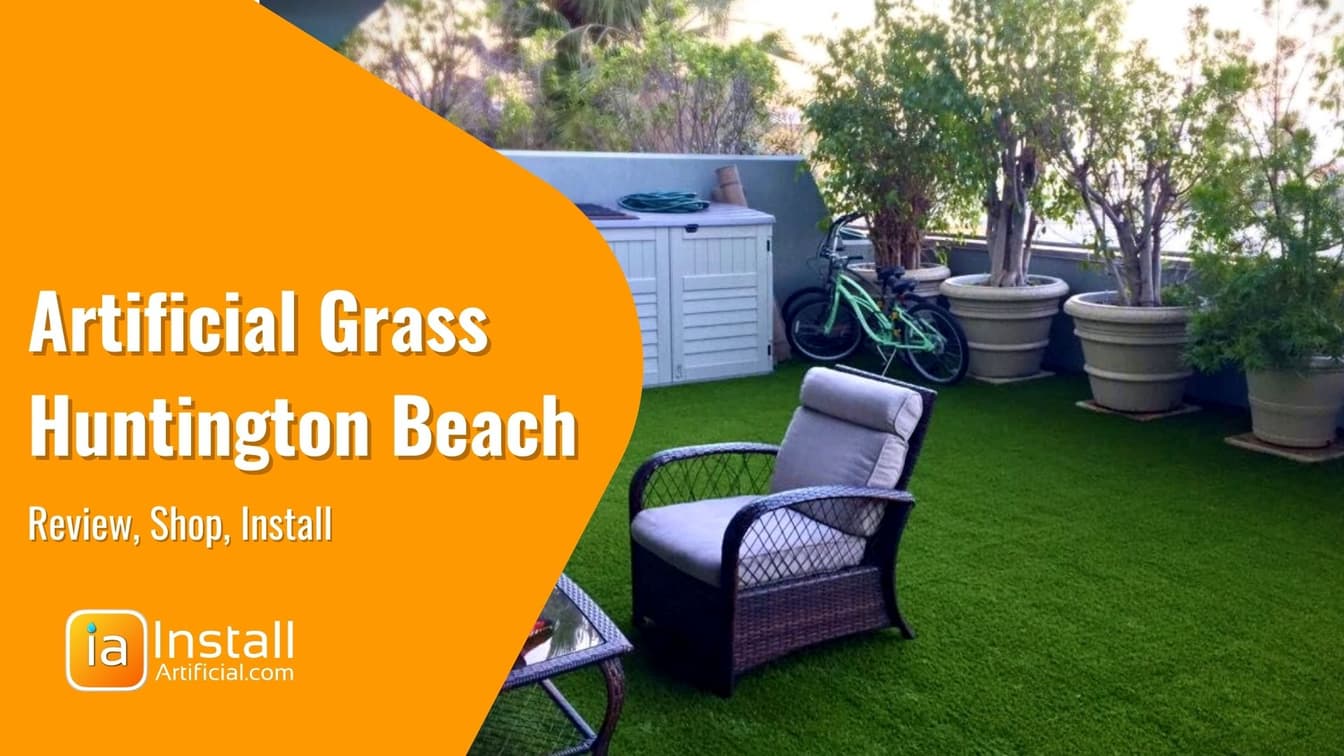 The cost of artificial turf materials in Huntington Beach ranges from $1.55-$6.50 per sq. ft., while the cost of artificial turf installation in Huntington Beach ranges from $8.35-$17 per sq. ft. (varying based on scope of work, size, and intended use).
Keep scrolling to learn more about the factors that affect the cost of artificial turf materials in Huntington Beach!

Amount of Turf Ordered
When it comes to buying artificial grass, purchasing in bulk is always a smart move. Not only does it save you money on delivery fees, but many suppliers offer discounts on larger purchases. So take advantage of these savings and stock up on artificial grass for all your future DIY projects.
Weight & Density
The cost of artificial grass is heavily influenced by weight. Typically, turf that is denser and heavier will be pricier because it requires more material to produce. Luxurious and plush fake grass surfaces are especially popular due to their soft cushioning feel, but in places where regular cleaning or pet use is necessary, a lighter-weight option could be better suited for easier maintenance and faster drainage.
Pile Height
When choosing artificial turf, it is essential to consider the height of the grass. A taller grass will create a more lavish feel, but this typically comes with a higher cost. Additionally, bear in mind that longer blades will make the turf heavier and therefore more prone to bending or becoming matted when walked on. For areas with high foot-traffic, selecting a shorter length of grass is ideal for lasting durability. To ensure long-term results from a taller grass height selection, regular brushing sessions are recommended to keep the blades standing upright.
Intended Use
The cost of having artificial grass installed can vary greatly depending on the purpose for which you are using it. For instance, installing turf for pets necessitates selecting a product that is especially tough and completely permeable to ensure rapid water drainage. Furthermore, an antibacterial component should to be integrated into the material in order to protect against bacteria growth. All these details add to the overall expense of the project. Additionally, pet turf systems may require specific accessories such as drainage layers and antibacterial sand infill in order to produce optimal results.
On the other end, you can find carpet like turf for events or temporary ground cover for as little as $0.95/sq. ft.
Durability
When shopping for synthetic turf, it's important to take into account the various types and their durability levels. The durability of your chosen grass will have a direct impact on the cost and its performance levels. For instance, tough varieties designed for heavy traffic areas are pricier than pliable models that flex easily. Structured or ribbed blades grant improved wear-and-tear resistance and help them recover faster in comparison to synthetic grass with flat blades.
You can check our Turf Lab on every product page to see how each artificial grass performs in tests for softness, cushion, recovery rate, and more!
We know that the range of prices of turf in Huntington Beach can be confusing, so it helps to have a better idea of what you need and what features are important. Before making any purchase decisions, consider your desired use and specifications. When unsure, reach out to one of our experts by clicking the button below - they'll be more than happy to point you in the right direction!