Artificial Turf Stores Near Me

When you google "artificial turf stores near me", you'll find all kinds of results. But how do you determine who's trustworthy? Below we'll discuss buying artificial turf in-store vs. online and help you navigate google search results to find high-quality artificial grass materials at a fair price.
Shopping for artificial grass in-store vs. ONLINE
When looking up "Artificial grass for sale nearby", the results will be a mixture of physical brick and mortar locations and online retailers. People often think that the best way to buy artificial grass is in person, so they can compare products and get advice from an expert. You're able to feel the grasses and see their differences in your hands.
However, you usually end up paying more if you buy turf at a brick-and-mortar store instead of online. Also, physical turf stores will often feature products from one or two suppliers and will be biased toward certain manufacturers. By shopping online with retailers such as InstallArtificial, you're able to compare popular artificial grasses from multiple suppliers to find the best fit for you. Browse by brand and intended use and order samples to make the right decision for your project. You get access to quality turf, expert advice,
Navigating Google Search Results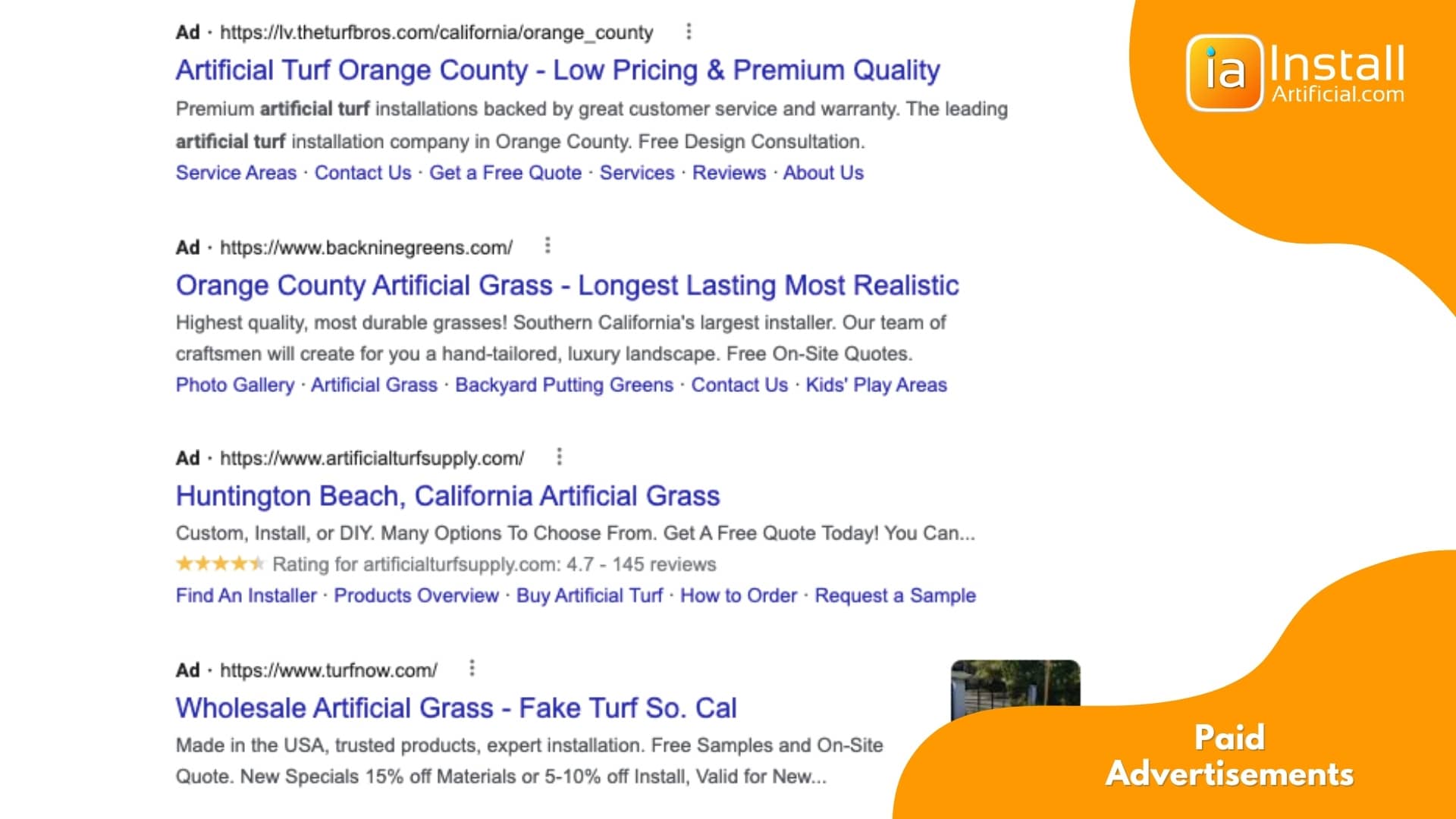 Advertisements
The first three-four items are ads and will specify so in the left corner of the listing. Because anyone can pay for these slots, you'll see all types of turf companies here. Companies in this section are not necessarily top-rated or reputable, so make sure to do your research into customer satisfaction and warranties offered before buying artificial grass with one of these artificial grass suppliers.
3rd Party Selling Services
When buying artificial grass through a retailer that offers products from 3rd party sellers, such as Amazon or eBay, it's important to remember that the quality is not guaranteed. Any company can sign up for an Amazon selling account and sell products through this platform. Rely on customer reviews and research the company to ensure their turf products come with legitimate warranties. Often cheap and bright artificial grass that's made overseas will be sold on these types of retail sites.
large artificial grass suppliers
Large turf suppliers with multiple locations nationwide, such as Synthetic Grass Warehouse or Smart Turf, are trustworthy and typically offer American-made products with fair warranties. The downfall of these companies is that they prefer to deal with local companies or individual contractors when selling turf materials rather than the general public. These companies are trickier to get in contact with unless you're working with an installer or purchasing artificial grass in large amounts.
The best way to buy products from these types of sellers is to work with companies like InstallArtificial, who partner with industry-leading turf manufacturers by buying high volumes of their products at a discounted rate to pass the savings onto homeowners and DIYers. You get the same top-quality artificial grass for less!
Home Improvement Stores
You can usually find artificial grass at stores like Home Depot or Lowes. We'd recommend going this route when needing to purchase a small amount less than 100 sq. ft. because local pick-up is usually available and delivery fees aren't always cost-effective when purchasing a small amount of artificial grass. Artificial grass from places like this is typically less premium and is better suited in spaces that are decorative or that receive little foot traffic.
Finding Trustworthy Turf Companies: What to Look For
Supplier Information Available
Make sure that the company you buy artificial grass from offers information about the suppliers by which their artificial grass products are manufactured. InstallArtificial partners with five industry-leading turf suppliers that are shown clearly on our product pages. Check out each supplier to learn more about their products and warranties to be assured your new artificial lawn will be long-lasting.
Clear Pricing and Return Policies
A trustworthy artificial turf seller will be clear about their purchasing process. The cost of materials and shipping fees will be evident prior to payment. Because artificial grass is heavy and shipped in large amounts, expect a shipping and delivery fee. Typically artificial grass is sold in 15 ft. wide sheets because that is how they're manufactured. If a company is offering fully customizable sizing this may be a red flag that you're being scammed. Most often artificial grass is only refundable if there is a product defect, so make sure to look into this and order samples prior to making any final purchases!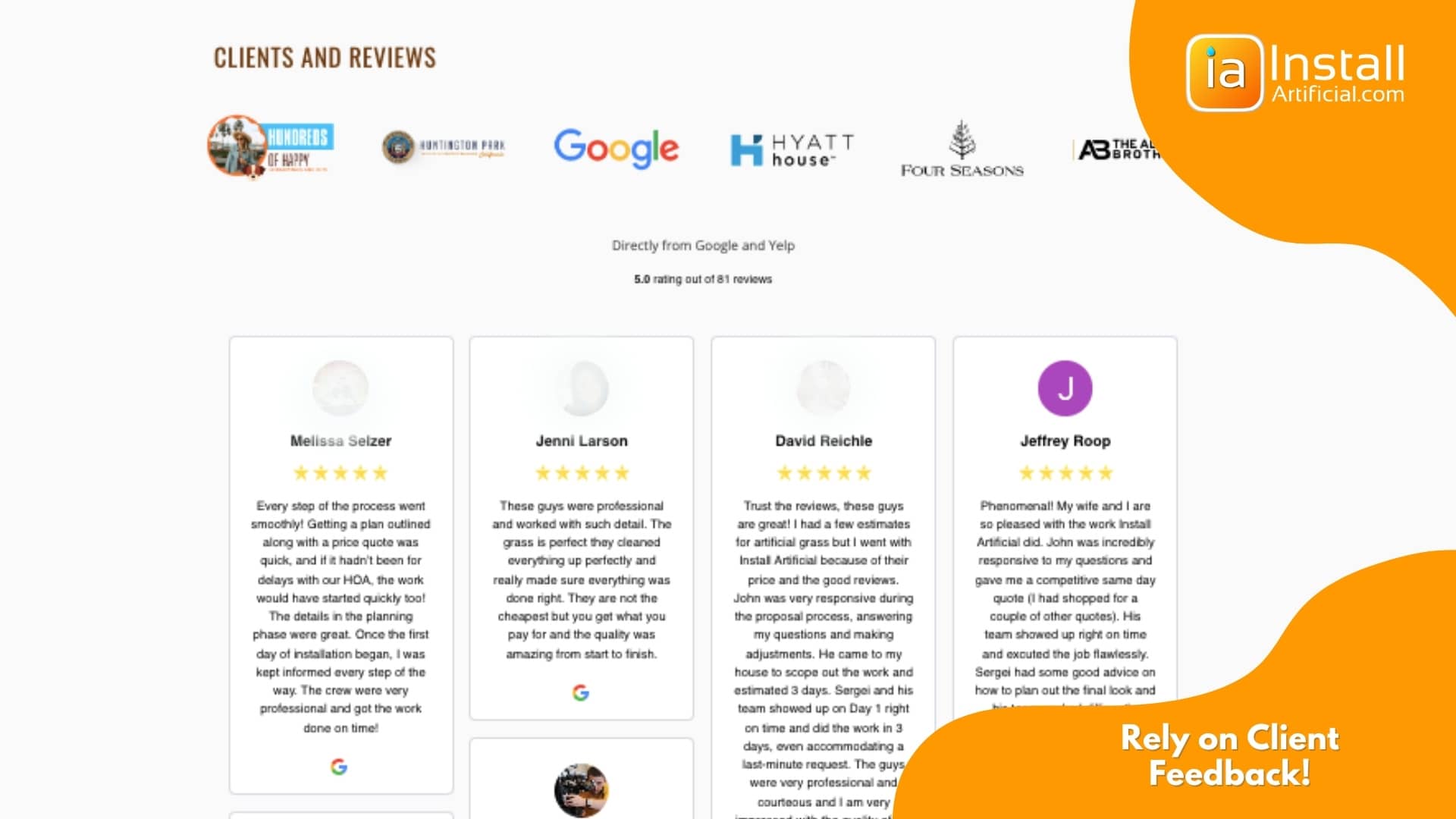 Client Reviews
Never buy artificial grass materials online from a company that has no customer reviews or bad customer reviews. These reviews are the easiest way to gauge a turf company's legitimacy. Look for client feedback in terms of customer service, shipping lead time, and product quality. Often you'll be able to find customer uploaded photos as well to assess whether or not the products come looking as they do online.
We hope this helps you navigate search results when shopping around for the best company at a fair price. Always do your research prior to buying artificial grass online. To receive a custom quote from InstallArtificial, fill out the short form below to get started!