What's the Price of Artificial Grass in San Francisco?

Learn how much artificial grass in San Francisco costs and what factors affect pricing.
>> Receive a Custom Proposal for Your Specific Project in Just a Few Clicks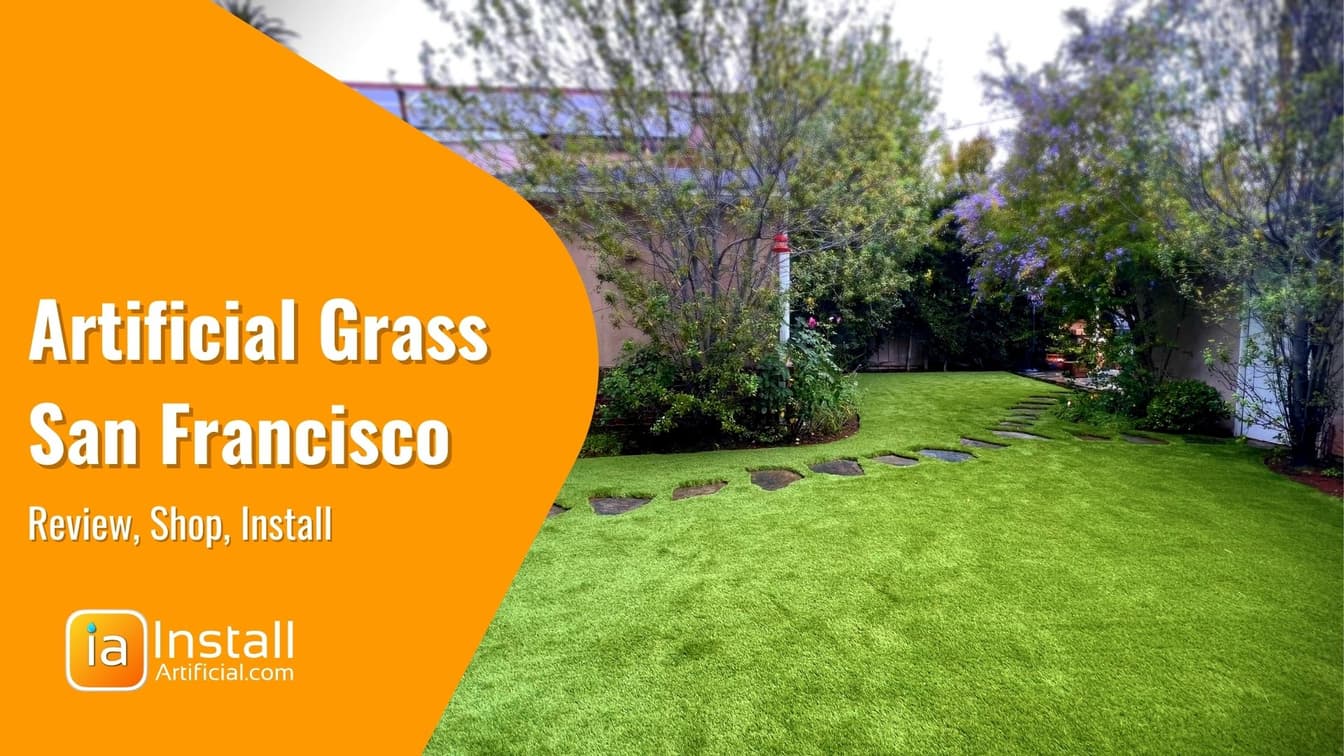 The cost of artificial turf materials in San Francisco range from $1.46-$6.55 per sq. ft., while the cost of artificial turf installation in San Francisco can range from $8.20-$15.25 per sq. ft. (varying based on scope of work, size, and intended use).
Keep scrolling to learn more about the factors that affect the cost of artificial grass materials in San Francisco!

Amount of Artificial Turf Ordered
Buying in bulk can save you money. When it comes to artificial grass, you'll usually get a better rate and larger discounts when buying higher quantities. Suppliers often offer additional deals on amounts greater than 1,000 square feet. So, if you're planning on using artificial grass for multiple DIY turf projects, buy it all at once instead of paying per-item to avoid extra costs and delivery fees.
Weight & Density
There are a lot of factors that influence the price of turf, but one of the biggest is weight. The heavier artificial grass is, the more material it requires to make it and therefore the higher cost it'll have. Generally speaking, heavyweight or plush options are usually popular because they create a soft and cushioned surface for your household pets to play on or relax on within your garden. However, in places where intensive pet use and frequent cleaning is required, lighter-weight turf may be preferable as this will be easier to maintain and drain quickly following any spills.
Pile Height
Another important factor when buying artificial grass is the height of the blades. A taller grass will feel more luxurious, but it'll also be heavier and harder to keep standing upright past a certain point. For high-traffic areas, shorter and durable artificial grass will hold up better over time. You'll often find that tall grass is more expensive than short turf. This is because tall grass is less durable and doesn't last as long as short turf. However, durable short turf, such as pet turf, can be more expensive because it offers a longer lifespan.
Intended Use
Artificial grass installation prices can differ depending on what the turf will be used for. For example, a more durable and 100% permeable turf is needed for pets so that there is accelerated drainage. In addition, the turf should be manufactured with antimicrobial technologies to help with bacteria prevention. All of these factors will raise the price. For the best results, pet turf systems may also require additional turf accessories such as drainage layers and antibacterial sand infill.
Alternatively, if you're looking to buy artificial turf for an event or temporary use, there are many cheap options. Similar to a carpet, this type of fake grass can cost as low as $0.98/sq. ft. before taxes.
Durability
Artificial grass is a great way to improve the look of your home without having to deal with the hassle of natural grass. There are many different types of synthetic grass, each designed for different purposes. The type of synthetic grass you choose will affect both the price and the performance. For example, synthetic grass made for high-traffic areas will cost more than synthetic grass which is more pliable and bends easily. Synthetic grass with a structured or ribbed blade will be more wear-and-tear resistant and have a quicker recovery rate in comparison to synthetic grass with flat blades.
Use our Artificial Turf Lab on each product page to see how each product performs in terms of cushion, recovery rate, wear and tear resistance, and more!
When it comes to the price of artificial grass in San Francisco, there can be a big difference depending on what you're using it for. Before you start shopping around, it's important to understand your needs and what you're hoping to get out of the purchase. Not sure where to start? Click the button below to speak with one of our experts. They'll be happy to help you figure out what kind of artificial turf is right for you.