What's the Price of Artificial Grass in New York City?

Learn the price of artificial turf in New York City and see what factors can affect the cost.
>> Get a Custom Quote for Your Specific Project in Just a Few Clicks
Or see our list of the best artificial turf installers in NYC.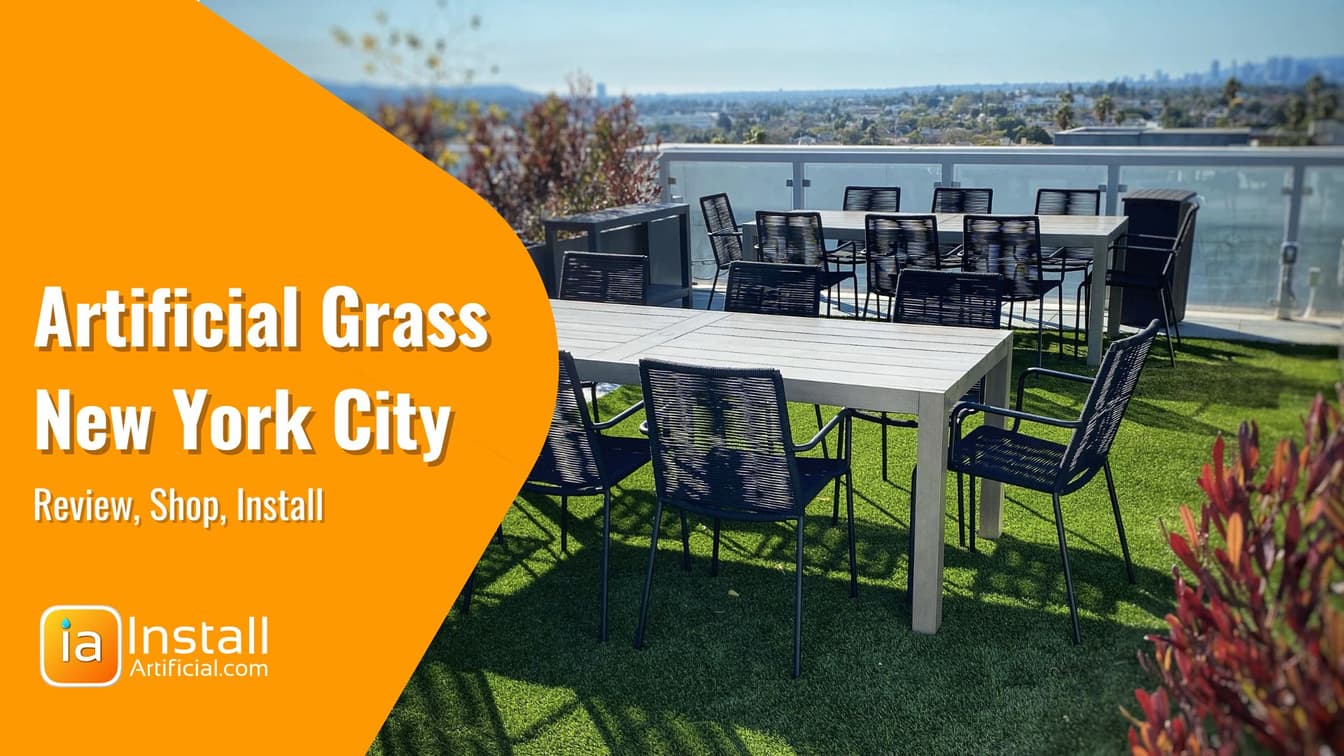 The cost of artificial turf materials in New York City ranges from $1.55-$6.85 per sq. ft., while the cost of artificial turf installation in New York City ranges from $8-$15 per sq. ft. (varying based on scope of work, size, and intended use).
Keep scrolling to learn more about the factors that affect the cost of artificial turf materials in New York!!

Amount of Turf Ordered
Looking to save some money on your artificial grass purchase? Well, here's a brilliant idea - buy in bulk! Not only will you enjoy better rates and bigger discounts, but suppliers often throw in additional deals for orders of 1,000 square feet or more. So, whether you have multiple DIY projects in mind or simply want to take advantage of extra savings, buying in bulk is an opportunity you shouldn't miss out on!
Weight & Density
Weight is a crucial factor to consider when purchasing artificial grass, especially for those seeking a low-maintenance lawn. While heavier artificial turf may come with a higher price tag, it is often preferred by individuals who prioritize a plush and comfortable surface. On the other hand, if you're looking for artificial grass for pets or areas that require frequent cleaning, opting for lighter-weight turf is a wise choice. Not only is it easier to maintain, but it also drains more quickly, ensuring a hassle-free experience.
Pile Height
When it comes to choosing the best artificial turf in New York City, pile height is a crucial factor to consider. Not only does it impact the overall cost, but it also affects the feel of the grass. Opting for a taller blade height will give you a more luxurious experience, but it does come with a higher price tag and requires extra maintenance to keep it looking upright. On the other hand, if you're looking for durability in high-traffic areas, a shorter pile height is often the smarter choice in the long run.
Intended Use
The cost of artificial grass installation can vary based on the intended use. For instance, if you're looking to install pet turf systems, you may need additional accessories like drainage layers and antibacterial sand infill to achieve the best results.
On the other hand, if you're purchasing artificial grass for a temporary event or short-term use, there are more affordable options available. Similar to carpeting or low pile ground cover, this type of artificial grass can cost as little as $1.05 per square foot.
Durability
There is a wide variety of synthetic grass available, each offering its own unique advantages and disadvantages. When selecting the perfect blade structure for your needs, it is essential to consider both the cost and performance. For instance, synthetic turf specifically designed for high-traffic areas may come at a higher price compared to more pliable turf that easily bends. However, opting for a more durable type of artificial grass not only ensures resistance to wear and tear but also guarantees a quicker recovery rate.
To explore the different options available, take a look at our comprehensive Turf List. This list allows you to browse through each product page and discover how each artificial grass performs in various tests, including softness, cushioning, recovery rate, and more!
Artificial turf prices can vary significantly depending on various factors, as you've discovered above. Before embarking on your search for artificial turf in New York City, it's crucial to understand your specific needs and desired specifications. This knowledge will enable you to narrow down your choices and select the perfect product for your requirements. Feeling unsure about where to begin? Our team of experts is ready to assist you. Simply click the button below to get started on your journey.