What's the Price of Artificial Grass in Garden Grove?

Learn how much artificial grass in Garden Grove costs and what variables affect pricing.
>> Request a Custom Proposal for Your Specific Project in Just a Few Clicks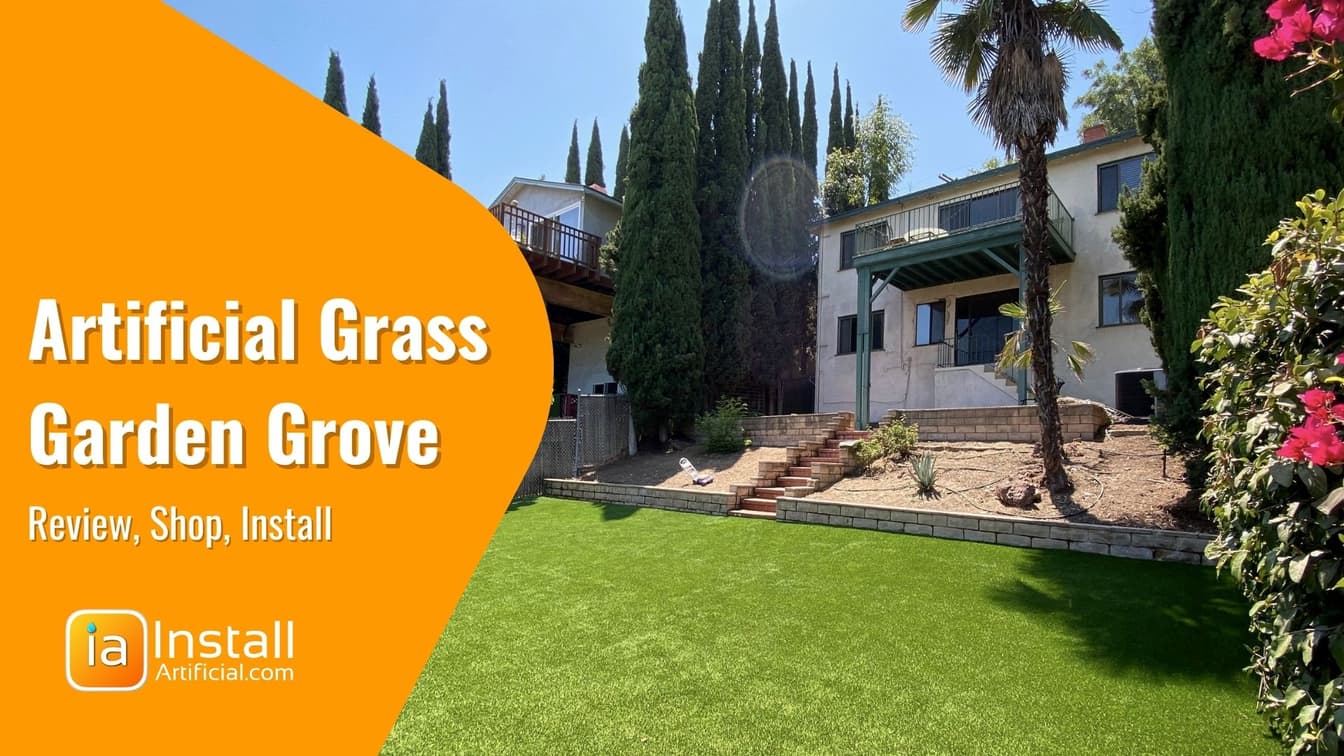 The cost of artificial turf materials in Garden Grove ranges from $1.65-$6.70 per sq. ft., while the cost of artificial turf installation in Garden Grove ranges from $8.85-$18 per sq. ft. (varying based on scope of work, size, and intended use).
Keep scrolling to learn more about the factors that affect the cost of artificial turf materials in Garden Grove!

Amount of Synthetic Turf Ordered
When it comes to purchasing artificial turf, quantity can make a difference. To save money on your purchase, buying in larger amounts is a great option! Often, suppliers will offer better rates and more significant discounts when you buy greater volumes of product. On occasion, they may even provide extra deals for orders over 1,000 sq. ft. So, whether you're using synthetic grass for one DIY project or many, purchasing in bulk is an easy way to save money and avoid paying extra delivery fees!
Weight & Density of Grass Purchase
Price of artificial grass in Garden Grove often depends on the weight of the turf. Generally, heavier products tend to be more expensive due to needing a larger quantity of materials. Plush and heavyweight varieties are commonly chosen because they provide a soft and comfortable surface area. On the other hand, lighter-weight turf may be preferable in homes with pets or those requiring regular cleaning; this type of synthetic grass makes upkeep simpler while enabling quicker drainage processes.
Fake Grass Pile Height
Finding the ideal synthetic grass for your space can be a difficult decision, but one factor that should be taken into consideration is blade height. Taller blades create a plush, luxurious look and feel, but they also come with a more expensive price tag. Additionally, these blades may become flattened or matted down more easily under foot traffic, so lower heights might better suit areas with heavy use. However, those who don't mind the extra maintenance requirements may still opt for taller blades - just make sure to brush them regularly to keep the fibers standing straight!
Intended Use of Lawn
The cost of artificial grass installation depends largely on its purpose. For instance, pet owners may need to invest in a sturdier and fully permeable option to facilitate better drainage. This type of turf should also be designed with anti-bacterial features for hygiene reasons. All this would certainly come with an additional price tag. On top of that, additional components such as drainage layers and antibacterial sand infill could be necessary to obtain the best results.
On the opposite end, if you're looking for a low pile ground cover for temporary use or need cheap artificial turf for events, this can be purchased for as little as $0.95/ sq. ft.
Synthetic Turf Durability
Finding the right synthetic grass for your outdoor space can be a challenge. However, there are options that offer both affordability and long-lasting durability. For instance, turf designed for high-traffic areas is usually more expensive but also more resistant to wear and tear. Additionally, look for turf with ribbed blades to ensure resilience and maximum "bounce back" capability. While sheathed blades provide cushioning on hard surfaces, they may not stand up well to prolonged use.
Use the turf lab at installartificial.com to learn more about each artificial grass sold. See performance results for tests on recovery rate, cushion, and more! Browse the turf list now.
Shopping for artificial grass in Garden Grove can be a daunting task with such a wide range of prices available. Before you start comparing options, it's vital to understand your requirements and what you hope to achieve from the turf. This article will provide helpful insight on how to begin your search. Not sure where to start? Click the button below and speak with one of our experienced specialists - they'll be more than happy to help you find the perfect turf solution!