How Much Does it Cost to Install Putting Greens in Laguna Niguel?

Learn the cost of artificial putting green installation in Laguna Niguel and see what factors can affect pricing.
>>>Request a custom quote for backyard putting green installation in just a few clicks
The cost of putting green turf materials in Laguna Niguel will range from $2.35-$4.75 per sq. ft., while the cost of putting green installation in Laguna Niguel ranges from $15-$29 per sq. ft. (varying based on scope of work, size, and customization).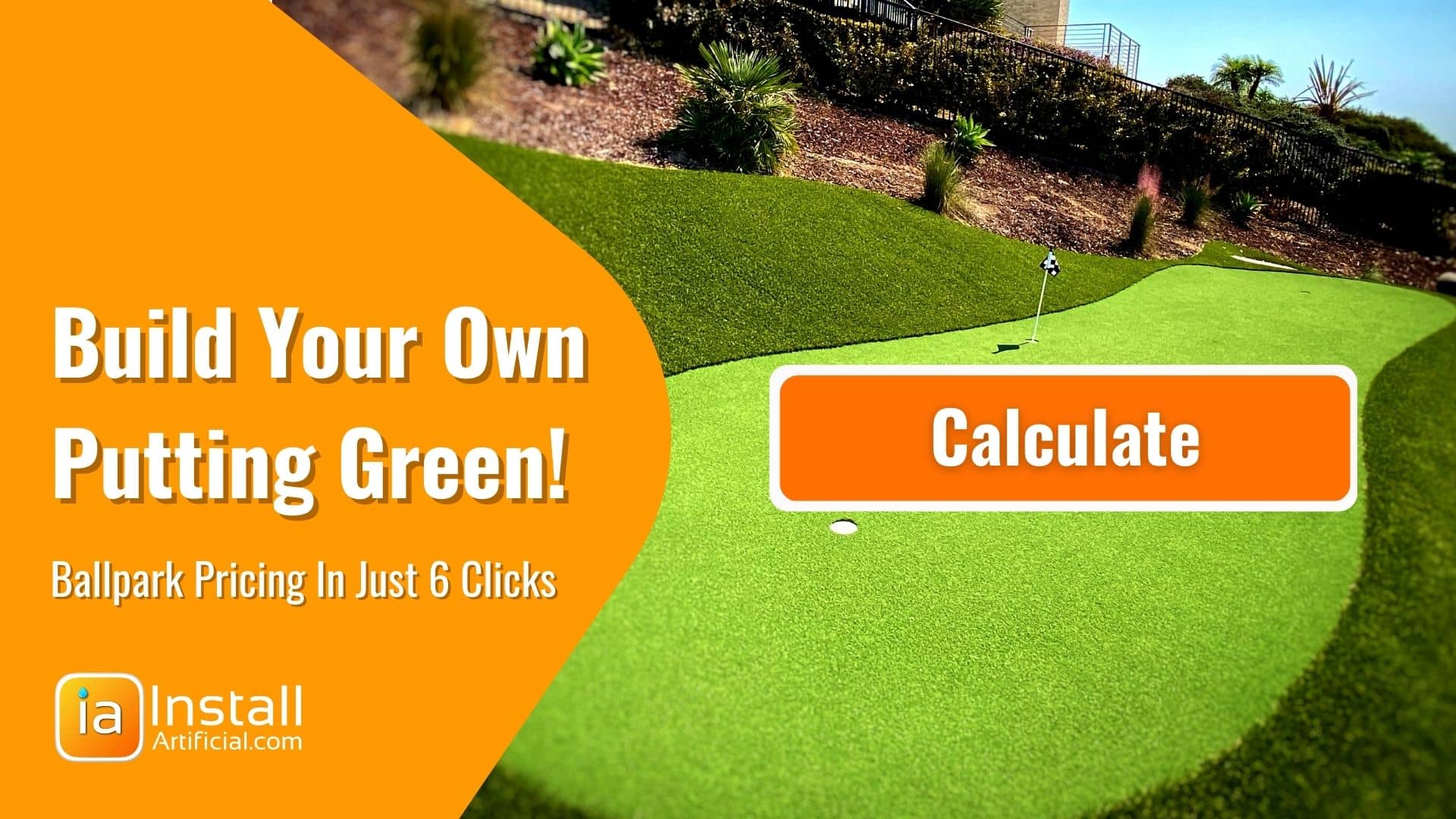 The cost of installation for an artificial putting green is usually higher than that of a regular artificial grass installation. This is because additional work is required for leveling, grading, cutting, and seaming. Furthermore, the expertise needed to create a custom and challenging green that matches each client's game play adds to the overall price. Continue reading below to learn more about the factors affecting the cost of backyard putting greens in Laguna Niguel!
Size of Synthetic Putting Green INstallation
The cost of installing artificial turf per sq. ft. will be higher for small areas, due to fixed costs that remain the same regardless of project size. Hauling, delivery, dumpsters, road base, and other materials all contribute to the fixed costs that must be covered in order to remain profitable. Therefore, raising the price per square foot is necessary to complete small synthetic putting green projects profitably.
Average cost breakdown of backyard putting greens in Laguna Niguel:
| | |
| --- | --- |
| Putting Green Project Size | Price of Putting Green per sq. ft. |
| <200 sq. ft. | $24-29 |
| 200-400 sq. ft. | $20 |
| 400-600 sq. ft. | $16 |
| 600-1200 sq. ft. | $15 |
| 1200+ sq. ft. | $14.50 |
(Note: This pricing is before any add-ons, infills, edging, and other customizations)
Accessibility to Area
Building a putting green in your backyard can be a great way to improve your game. However, it is important to keep in mind that costs can vary depending on a number of factors, including accessibility and terrain. For example, a project located in a difficult-to-access area will likely be more expensive than one that is easy to get to. This is because heavy materials and equipment are required for proper installation, and elevation or distance challenges can add to those costs.
Putting Green Material Type
There are a few factors that will affect how much an outdoor putting green will cost. One is what material you choose. Both poly and nylon have different benefits. There are also many different heights and textures to choose from that can affect game play. In general, nylon putting greens will cost more because they are more durable. Another factor that can affect cost is whether you choose to infill with premium sand or use heavy duty edging.
Complexity of Project
As you might expect, the level of customization will have a big impact on the cost of synthetic putting greens. More advanced players often prefer to include additional customizations, like hills and undulations, obstacles, or sand bunkers, to keep the game interesting and challenging. However, you can save some money by buying removable obstacles online that you can use during gameplay.
As we've talked about above, the cost of outdoor putting greens in Laguna Niguel can vary depending on a few different factors. The type of grass, the size of the green, and the complexity of the design are all things that can impact price. However, one of the great things about artificial turf is that you have complete control over how simple or elaborate your putting green is. You can customize it to fit your preferences perfectly! Having your own backyard golf green is not only convenient, but it provides a space for the whole family to enjoy and is a great way to entertain guests.
Want to get some ideas for your next artificial grass project? Browse our putting green gallery. Eager to build an artificial putting green that matches your gameplay? Request a tailored and custom quote below and we'll send an in-depth proposal same day!