How Much Does it Cost to Install Putting Greens in Pacific Palisades?

Learn the cost of artificial putting green installation in Pacific Palisades and see what factors can affect pricing.
>>>Request a custom quote for backyard putting green installation in just a few clicks
The cost of putting green turf materials in Pacific Palisades will range from $2.30-$4.75 per sq. ft., while the cost of putting green installation in Pacific Palisades ranges from $14-$29 per sq. ft. (varying based on scope of work, size, and customization).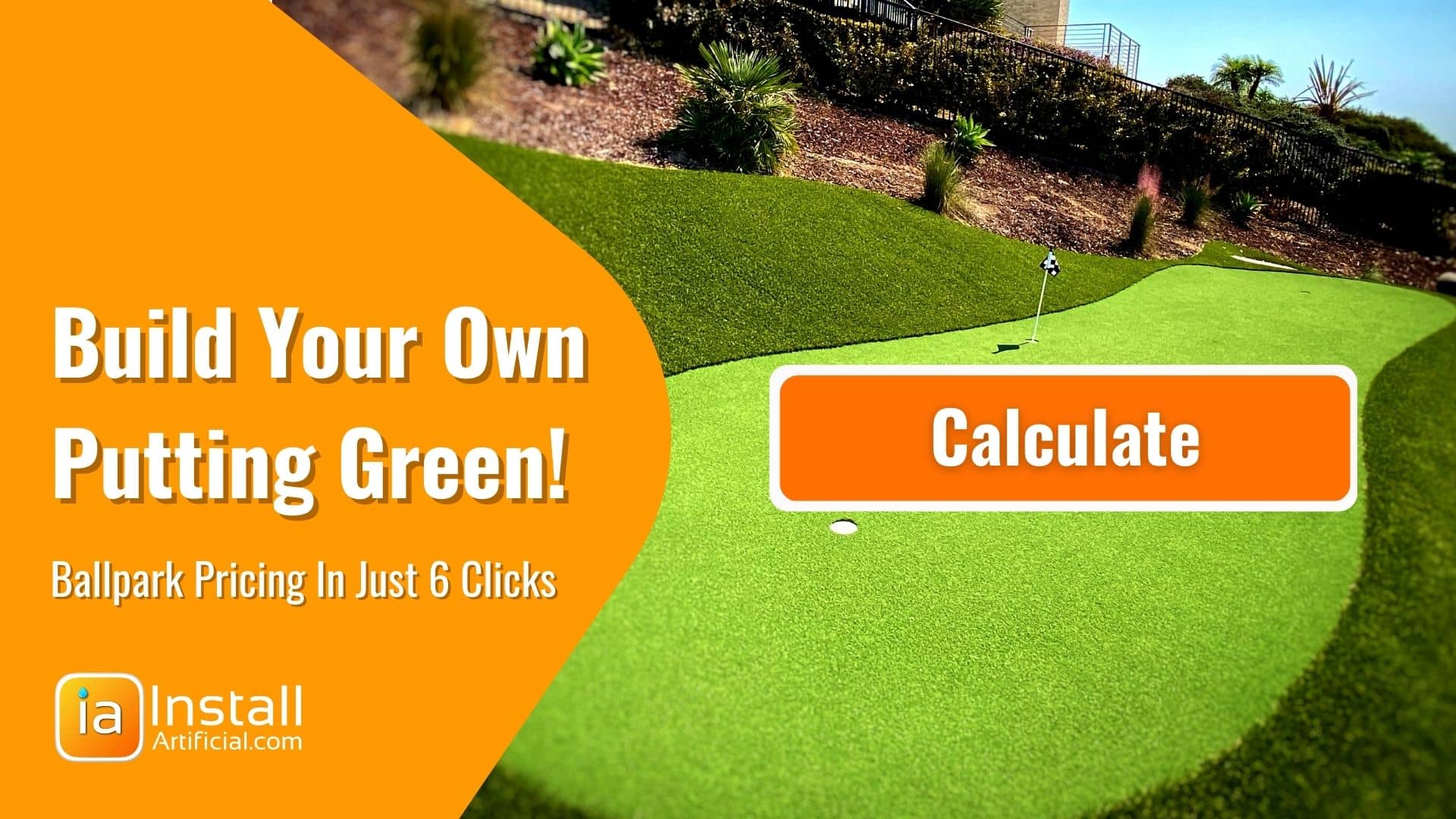 Installing artificial putting greens can be a more involved process than your typical artificial grass installation, resulting in a higher price tag. This is due to the extra work required for leveling, grading, cutting, and seaming, as well as the expertise needed to create a custom and challenging green that matches each client's game play. Keep reading below to learn more about the contributing factors that will affect the overall price of backyard putting greens in Pacific Palisades!
Putting Green Project Size
The price per square foot for artificial putting green installation will be higher for small areas, just like with any other artificial grass project. This is because regardless of project size, there are many fixed costs for backyard turf contractors that remain the same. These include hauling, delivery, dumpsters, road base, and other materials. To remain profitable on small projects, they must raise the cost to help cover these fixed costs.
Average cost breakdown of backyard putting greens in Pacific Palisades:
| | |
| --- | --- |
| Putting Green Project Size | Price of Putting Green per sq. ft. |
| <200 sq. ft. | $25-29 |
| 200-400 sq. ft. | $20 |
| 400-600 sq. ft. | $15.50 |
| 600-1200 sq. ft. | $15 |
| 1200+ sq. ft. | $14 |
(Note: This pricing is before any add-ons, infills, edging, and other customizations)
Project Accessibility
Designing a custom backyard putting green can be costly depending on how difficult it is to access the project location. Many heavy materials and pieces of equipment are needed to properly execute such a project. Elevation, long-distance hauling, and fencing that gets in the way of accessibility can all drive up installation costs.
Putting Green Materials Chosen
When it comes to outdoor putting greens, cost is largely determined by material quality. Poly and nylon are both popular choices, each with its own set of benefits. Different textures and heights can also impact gameplay, so there are plenty of factors to consider. In general, nylon greens will cost more because they're incredibly durable. Other ways to drive up price include opting for premium sand infill or heavy-duty edging.
Backyard Putting Green Customization Level
The cost of synthetic putting greens vary greatly depending on the level of customization. More advanced players often prefer to incorporate additional customizations, such as hills and undulations, obstacles, or sand bunkers, to keep the game more challenging. However, these features also raise the price. To save money, you can purchase removable obstacles online that can be used during gameplay.
We hope this article has helped you better understand the variance in price for putting green installation. The cost of artificial turf putting greens can vary greatly depending on a number of factors. The type and quality of the turf, the size of the green, and the complexity of the design are just a few of the things that can impact price. However, one of the great things about artificial turf is that it is highly customizable. You can choose whatever design you want for your green, no matter how simple or complex. This allows you to create a space that is perfect for your needs and budget.
Want to find inspiration for your very own backyard green? Check out our portfolio of completed projects. Ready to design an artificial putting green that matches your game? Fill out the form below and we'll send an in-depth proposal within 24 hours!