How Much Does it Cost to Install Putting Greens in Beverly Hills?

Learn the cost of artificial putting green installation in Beverly Hills and see what factors can affect pricing.
>>>Request a custom quote for backyard putting green installation in just a few clicks
The cost of putting green turf materials in Beverly Hills will range from $2.20-$4.85 per sq. ft., while the cost of putting green installation in Beverly Hills ranges from $15-28 per sq. ft. (varying based on scope of work, size, and customization).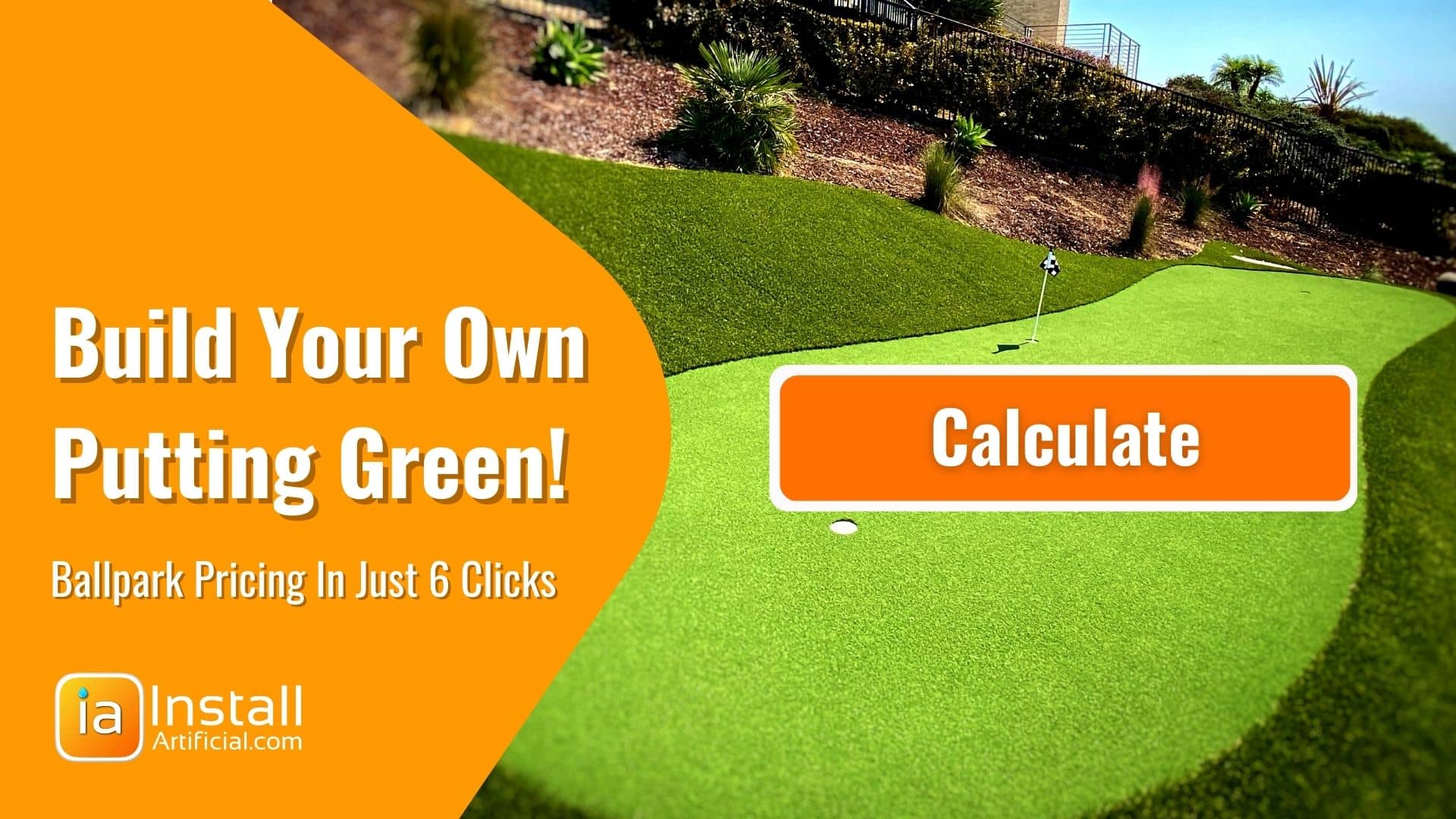 The average cost of an artificial putting green is significantly higher than a regular artificial turf installation. This is due to the increased complexity of the project, which typically requires leveling, grading, cutting, and seaming. In addition, custom greens that match each client's game play can be very challenging to create. Keep reading below to learn more about the contributing factors that will affect the overall price of backyard putting greens in Beverly Hills!
Size of Your Backyard Putting Green
The cost per sq. ft. when installing synthetic putting greens will be higher for small areas. This is because there are many fixed costs for backyard turf contractors, regardless of project size. Whether they're installing a massive community putting green or a small backyard green, the cost of hauling, delivery, dumpsters, road base, and other materials all remain the same. To remain profitable on small artificial grass projects, contractors must raise the price per square foot.
Average cost breakdown of backyard putting greens in Beverly Hills:
| | |
| --- | --- |
| Putting Green Project Size | Price of Putting Green per sq. ft. |
| <200 sq. ft. | $24-28 |
| 200-400 sq. ft. | $21 |
| 400-600 sq. ft. | $15.50 |
| 600-1200 sq. ft. | $15 |
| 1200+ sq. ft. | $14.50 |
(Note: This pricing is before any add-ons, infills, edging, and other customizations)
Accessibility to the Project Area
Designing and building a backyard putting green in Beverly Hills can be a great addition to any home, but there are a few things to keep in mind that will affect price. First, consider how easy it is to access the project location. Many heavy materials and equipment are required for a putting green install, so elevation, long distance hauling, and fencing that obstructs accessibility will all raise costs. Keep these things in mind when budgeting for your new putting green!
Turf Materials Used for Outdoor Golf green
When it comes to cost, outdoor putting greens made from different materials can vary widely. Poly and nylon are two popular choices, each with its own advantages. Additionally, there are many different heights and textures to choose from that can affect game play. In general, nylon putting greens tend to be more expensive because they're extremely durable. However, opting for premium sand infill or heavy duty edging will also result in a higher project price.
How Customized you Make the Putting Green
The cost of synthetic putting greens will largely depend on the level of customization. More advanced players often prefer to incorporate additional customizations, such as hills and undulations, obstacles, or sand bunkers, to keep the game challenging and fun. However, these features will also raise the price. To save money, you can buy removable obstacles online that can be used during gameplay.
Creating your own backyard golf green is a fun and convenient way to entertain guests and enjoy some friendly competition with family and friends. There are many factors that will affect the cost of your artificial putting green, including the size and complexity of the design, but with some careful planning you can create a beautiful space that fits your budget. Thanks for reading and best of luck with your project!
Want to get a few ideas for your next project? Check out our putting green portfolio. Are you excited and ready to design a synthetic putting green that matches your gameplay? Request an estimate below and we'll send an in-depth quote within 24 hours!