Best Event Turf for Venues

Event turf materials are ready to ship nationwide! Browse our five fake grass options for events that will elevate any venue. To purchase event turf online nationwide visit Event Turf for Venues in our store.
Why is Artificial Turf Ideal for Event Venues?
Weddings, family get-togethers, business functions, and music concerts all seem to feel more luxurious when there is green grass under your feet and a starry sky overhead. In this competitive industry, it's important to stand out from the crowd. A good way to do that is to find your niche and use it as a promotional tool.
The aesthetic of green floor covering is unmatchable in comparison to concrete and other bland hard surfaces. It's also true that these days maintaining a natural lawn is expensive and fraught with problems. Problems that can diminish the beauty of your property, and cut into your revenue. But there's good news: you don't have to sacrifice your outdoor space because of these issues! Your event space can be beautiful and profitable by utilizing astroturf for events and venues.
Purchasing vs. renting event Turf
While turf rental sounds like a more cost-effective option, often it actually costs less to roll new turf for events in comparison to renting artificial grass. Let's consider the pros and cons of renting artificial grass:
Pros:
The material itself will cost less for temporary use.

Typically pick up and removal is included.
Cons:
The turf will not match your exact dimensions.

You may be charged for any damage that occurs.

The material will look used and may not meet your standards.
Compare the cost. A significant portion of the cost of event turf is in the installation and removal. In many cases, renting is comparable in price to installing new turf at your event or party.
Weigh all the risks. It depends on the venue type, longevity of use, and exclusivity of your event. Often a new cheap event turf will look far better than used dense material.
Be creative. Many trade show organizers will sell used turf or donate it to trade show participants. This saves money on handling and hauling, which amounts to almost half of event turf installation costs.
---
Soft & Bouncy Event Turf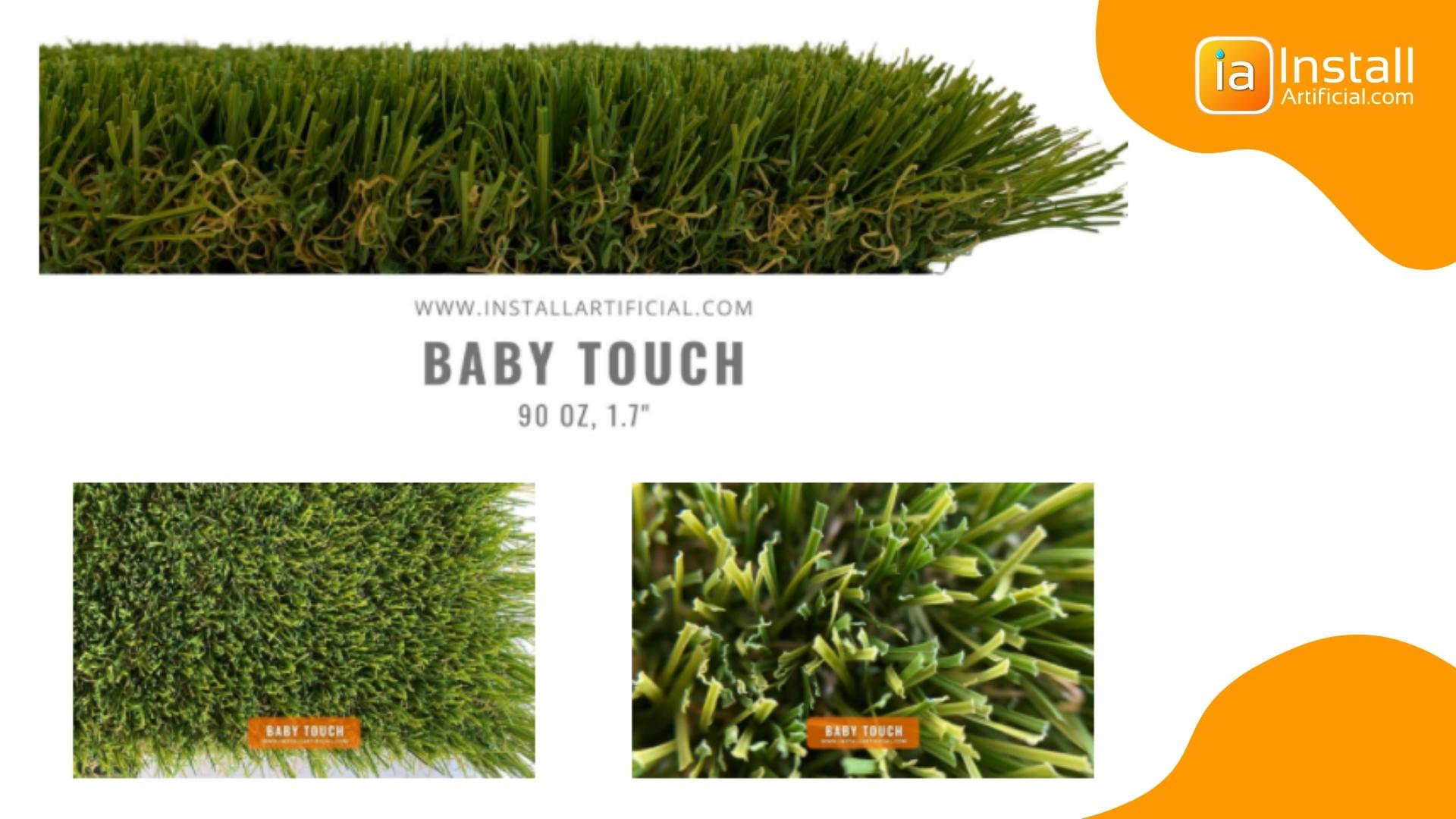 Providing Great Feel & Function:
This astroturf provides the best feeling and survives moderate traffic. The Baby Touch material is most popular in backyards but will work great as a permanent ground cover for event venues. This grass will provide the plushest surface for events, making it ideal for children. Baby Touch will require more upkeep than the other event options because of its pile height and density.
Feels soft day and night.
Provides a great cushion.
Makes a cozy entertaining space.
---
Recreational Event Turf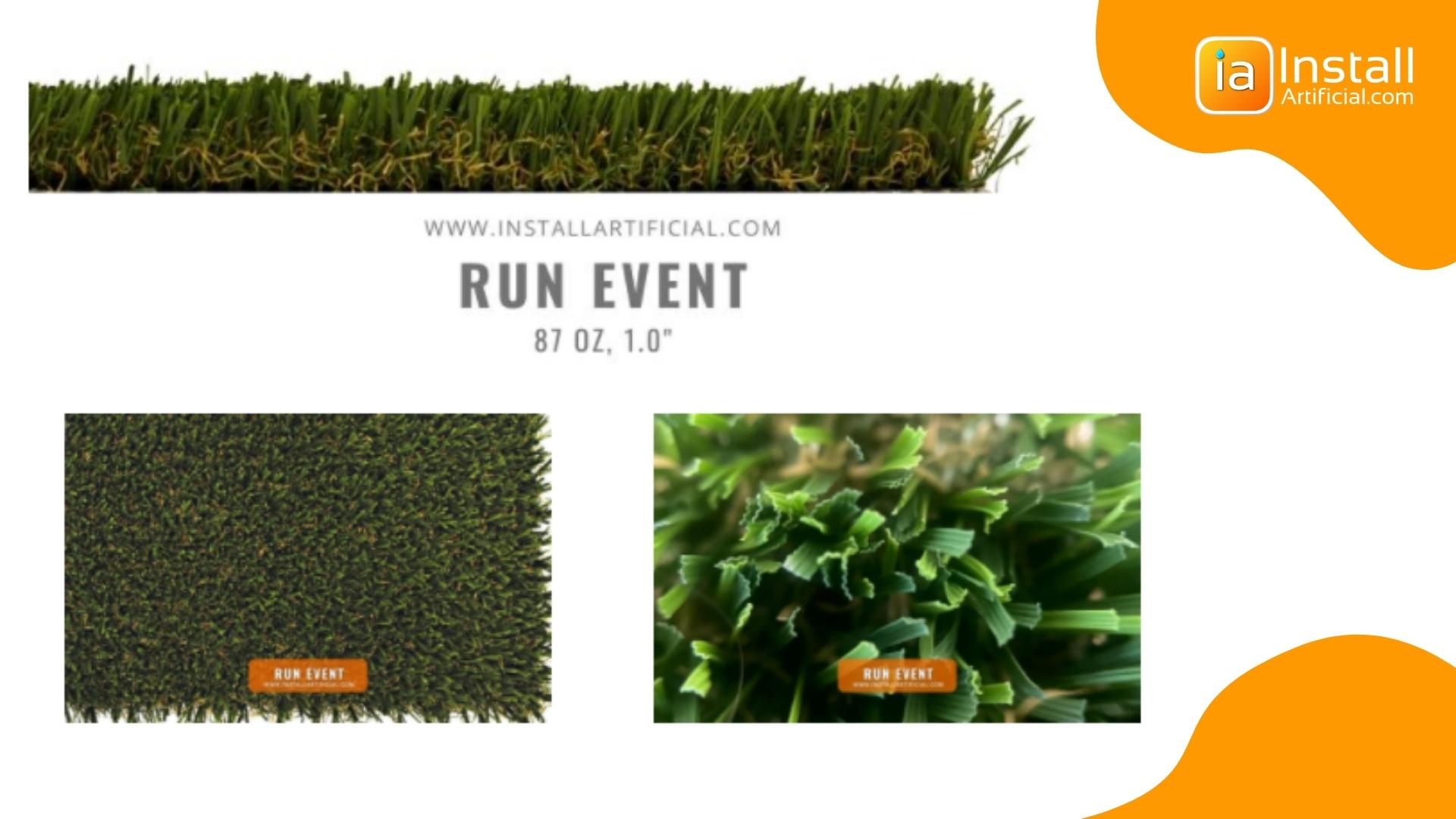 Durable and Easy to Maintain:
This artificial grass provides stiff durable blades and survives more traffic. Run Event Turf requires less brushing and maintenance to keep blades upright because it appears freshly mowed and uniform. Perfect permanent floor covering for sporting events. This turf is not as soft to the touch as other artificial grasses for events.
Easy to clean.
Survives high foot traffic.
Great for Recreation Events.
---
Natural-Looking Event Turf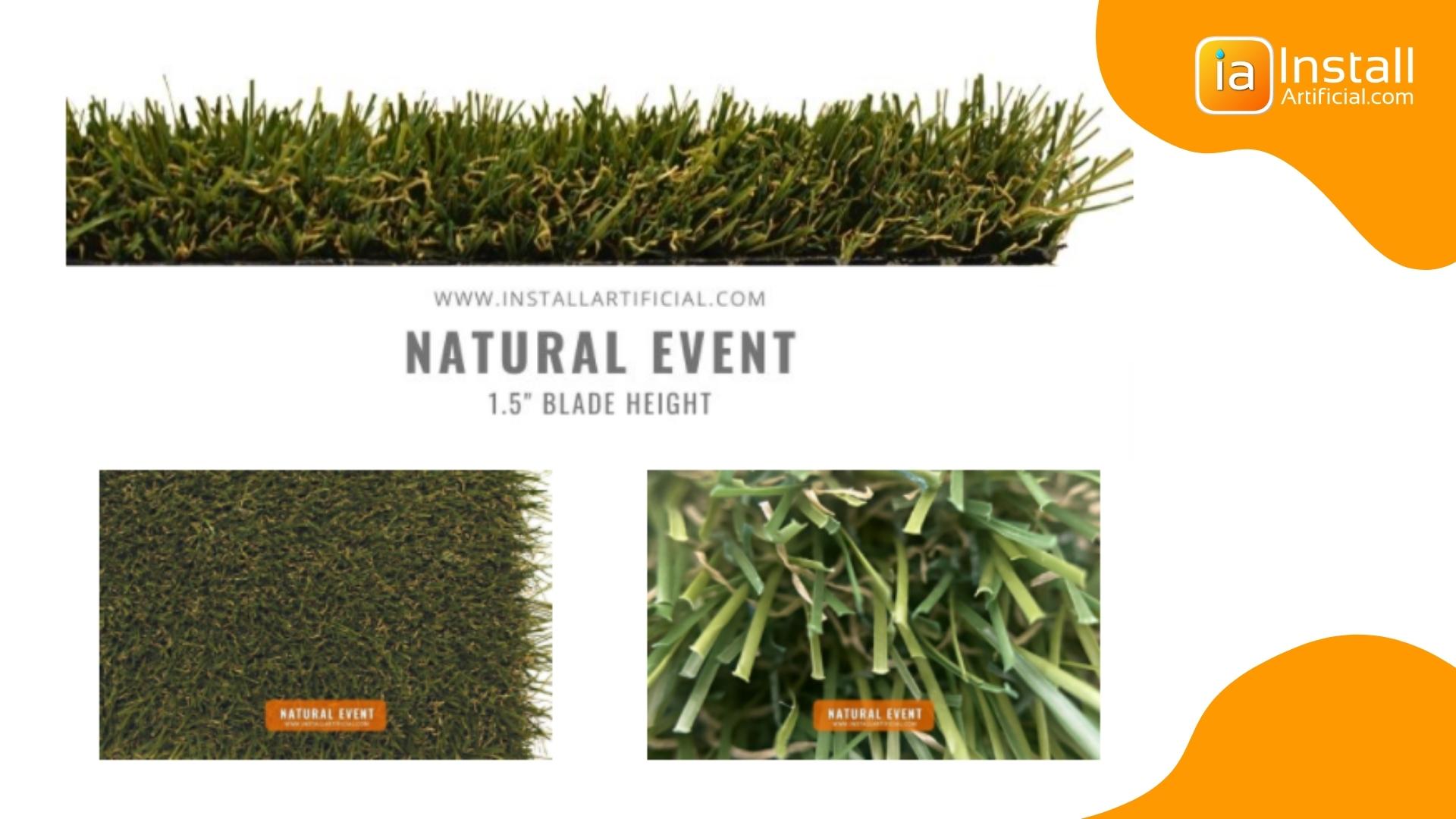 Soft & Realistic:
This artificial event grass roll provides a natural look and feel with its non-uniform blades. This fake grass is soft to the touch and is perfect for any venue. While Natural Event Turf is considered a temporary ground covering, it will offer significantly more cushion than cheaper event turf options.
Feels soft day and night.
Provides moderate cushion.
Premium temporary ground covering.
---
Budget Event Turf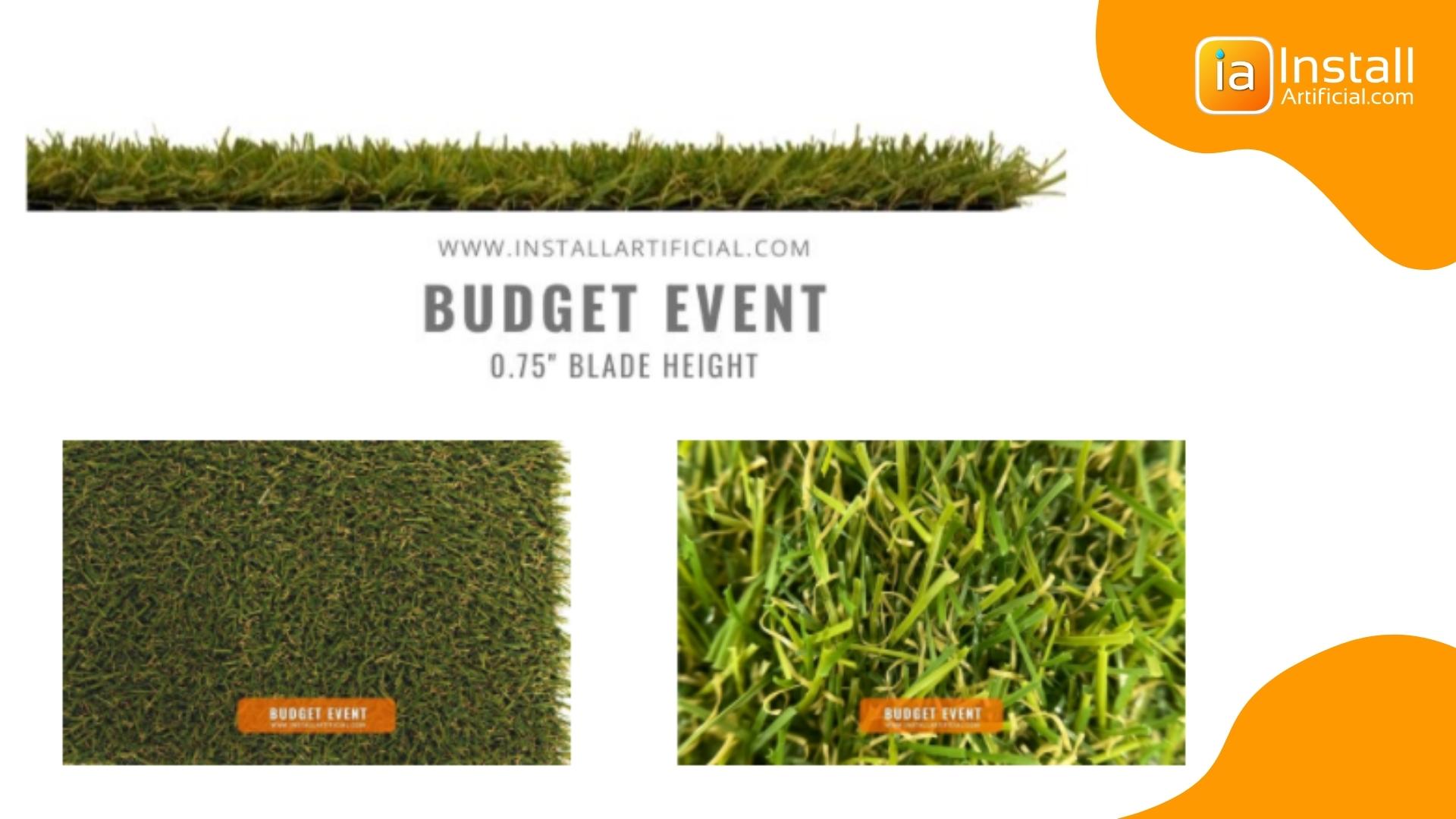 Affordable & Appealing:
This artificial grass for event venues offers a great price with a lighter green shade. Features a mixture of brown blades throughout to appear more natural-looking. Budget Event Turf offers little cushion but has soft and pliable blades. Serves best as a temporary ground cover for events.
Spring green shade.
Short pile height for simpler cleaning.
Affordable temporary ground covering.
---
Simple & LOW-COST Turf Rug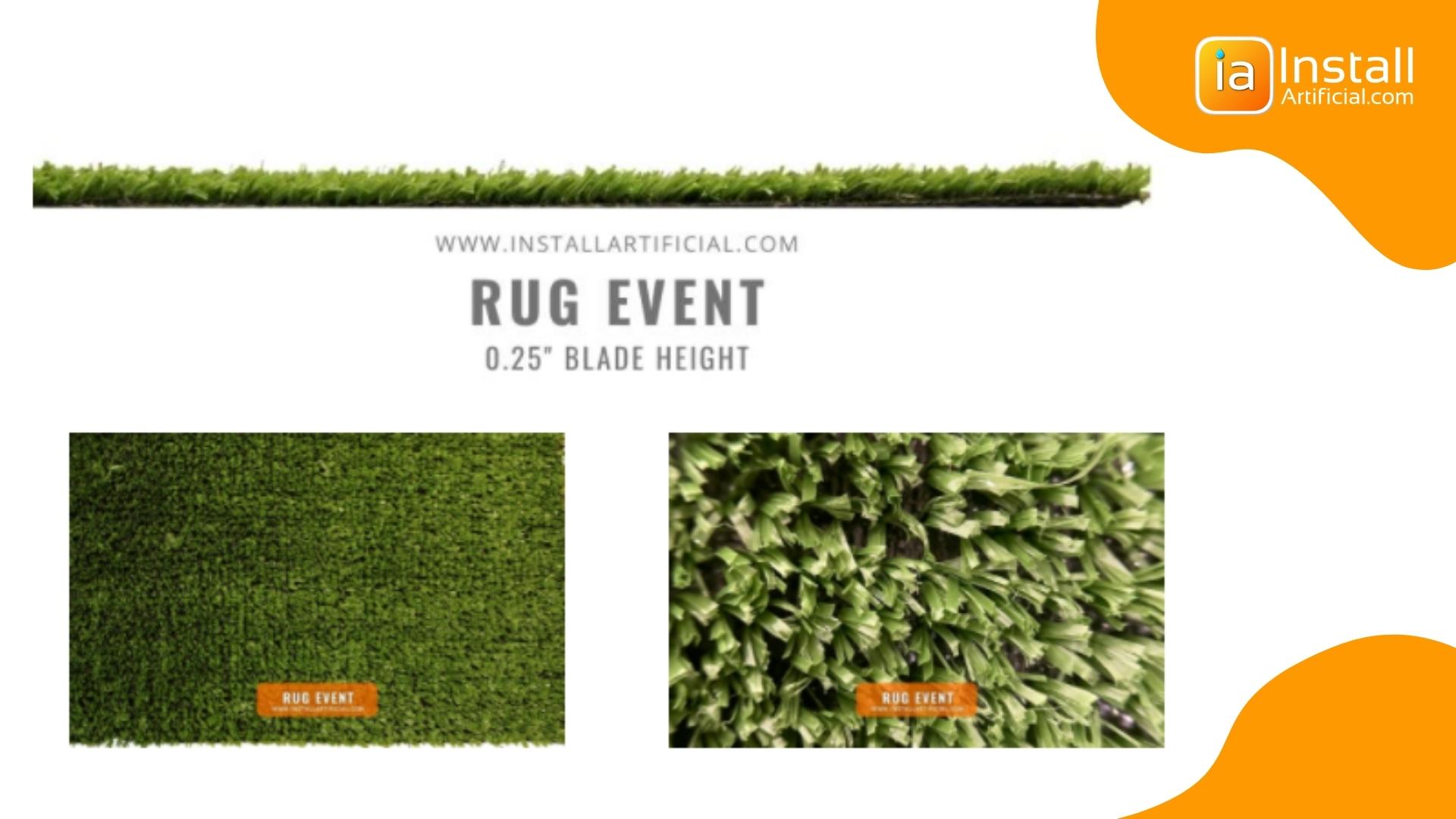 Achieve Green Flooring for Less:
This artificial grass provides a green ground covering for events at a value price. Rug Event Turf is most popular as a temporary covering for both indoor and outdoor event venues. Because of its low pile height, clean-up and removal is simple with this turf carpet!
Simple event turf rug.
Best price point we offer.
Recommended for one-time use.
---
Purchase Event Turf Rolls online
To purchase event turf online and have it shipped nationwide directly to you, check out our Event Turf for Venues page on our Online Turf Store!