What's the Price of Artificial Grass in Tampa?

Learn how much artificial grass in Tampa costs and what factors affect pricing.
>> Get a Custom Quote for Your Specific Project in Just a Few Clicks
Or see our list of the best artificial turf installers in Tampa.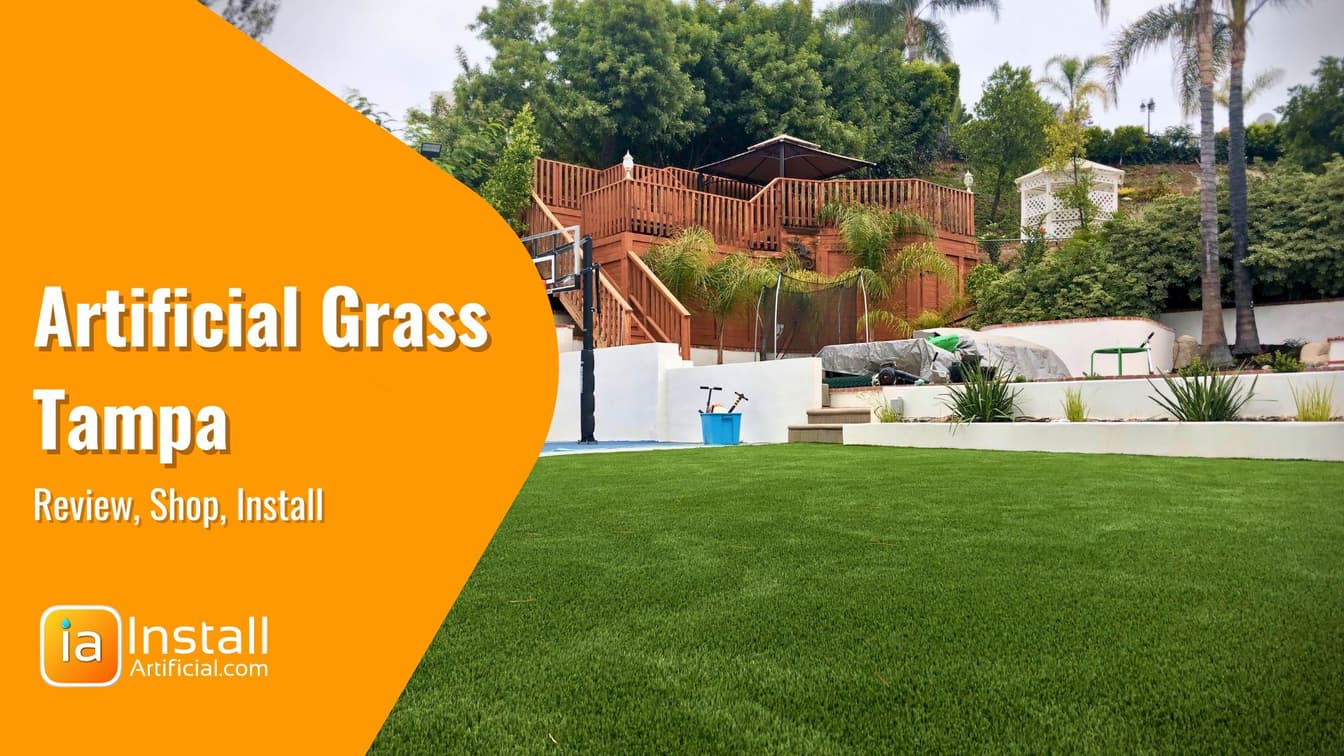 The cost of artificial turf materials in Tampa range from $1.65-$6.45 per sq. ft., while the cost of artificial turf installation in Tampa ranges from $8.25-$14.80 per sq. ft. (varying based on scope of work, size, and intended use).
Keep scrolling to learn more about the variables that affect the cost of artificial turf materials in Tampa!

Amount of Synthetic Turf Ordered
To maximize your savings on artificial grass, take advantage of purchasing in bulk! Buying larger quantities not only reduces the overall cost, but it also opens up opportunities for better rates and more significant discounts. Many brands offer exclusive deals on orders exceeding 1,000 sq. ft., so consider adding extra turf to your purchase for future DIY projects. This way, you can also avoid any additional delivery fees!
Weight & Density
The weight of artificial grass is a crucial factor in determining its price. Many people prefer heavyweight and plush artificial grass because it provides a soft and luxurious surface that is loved by both children and homeowners. However, in areas where dogs are expected to use the turf or where frequent cleaning is necessary, lighter-weight turf may be a more suitable option. This type of artificial grass still offers durability and functionality while being easier to maintain.
Pile Height
When choosing artificial grass, the height of the blades is an important factor to consider. While taller grass may offer a more luxurious feel, it tends to be more expensive and can be prone to bending underfoot. In high-traffic areas, opting for shorter grass is generally a better choice for long-term durability. To maintain the upright position of the blades, it's recommended to occasionally brush the turf, preventing taller grass from matting.
Interestingly, in some cases, shorter grass can be just as expensive as taller varieties. This is because certain types of short turf, such as pet turf, are specifically designed to be highly durable and resistant to wear and tear, which commands a higher price.
Intended Use
The cost of artificial grass installation varies depending on its intended purpose. If you're looking for artificial grass for dogs, it's important to choose a highly durable option with excellent drainage and antimicrobial technology to prevent the growth of bacteria. You'll also want to opt for more premium infills. These additional features may increase the overall cost, but they ensure a safe and hygienic environment for your pets.
On the other hand, if you need artificial grass for a temporary event, there are more affordable options available. Synthetic turf specifically designed for events can be as low as $1.12 per square foot, providing a cost-effective solution for your short-term needs.
Durability
For areas with heavy foot traffic, it's worth considering that turf designed specifically for these conditions may come at a slightly higher price compared to more flexible options. Additionally, synthetic turf with structured or ribbed blades offers enhanced durability and quicker recovery rates compared to flat-bladed grass. To help you make an informed decision, we provide a Turf Lab on every product page where you can find detailed information on the softness, cushioning, recovery rate, and more for each artificial grass option. Take a look at our TurfList now to explore all the possibilities.
Determining the cost of artificial grass in Tampa can be a complex process, as it depends on various factors. These include the specific type of turf you select, the size of your project, and the unique installation requirements. It's crucial to carefully consider these variables when calculating the price of artificial grass.
We understand that navigating this process can be overwhelming, but fear not! Our team of professionals is here to lend a helping hand. We are ready to assist you and provide expert guidance throughout your decision-making journey. So, don't hesitate to reach out to us with any questions or if you need any assistance. We are committed to helping you find the perfect artificial grass solution tailored to your specific needs.