What's the Price of Artificial Grass in South Bay?

Learn how much artificial turf in South Bay costs and what factors affect pricing.
>> Request a Custom Proposal for Your Specific Project in Just a Few Clicks
Or see our list of the best artificial turf installers in South Bay.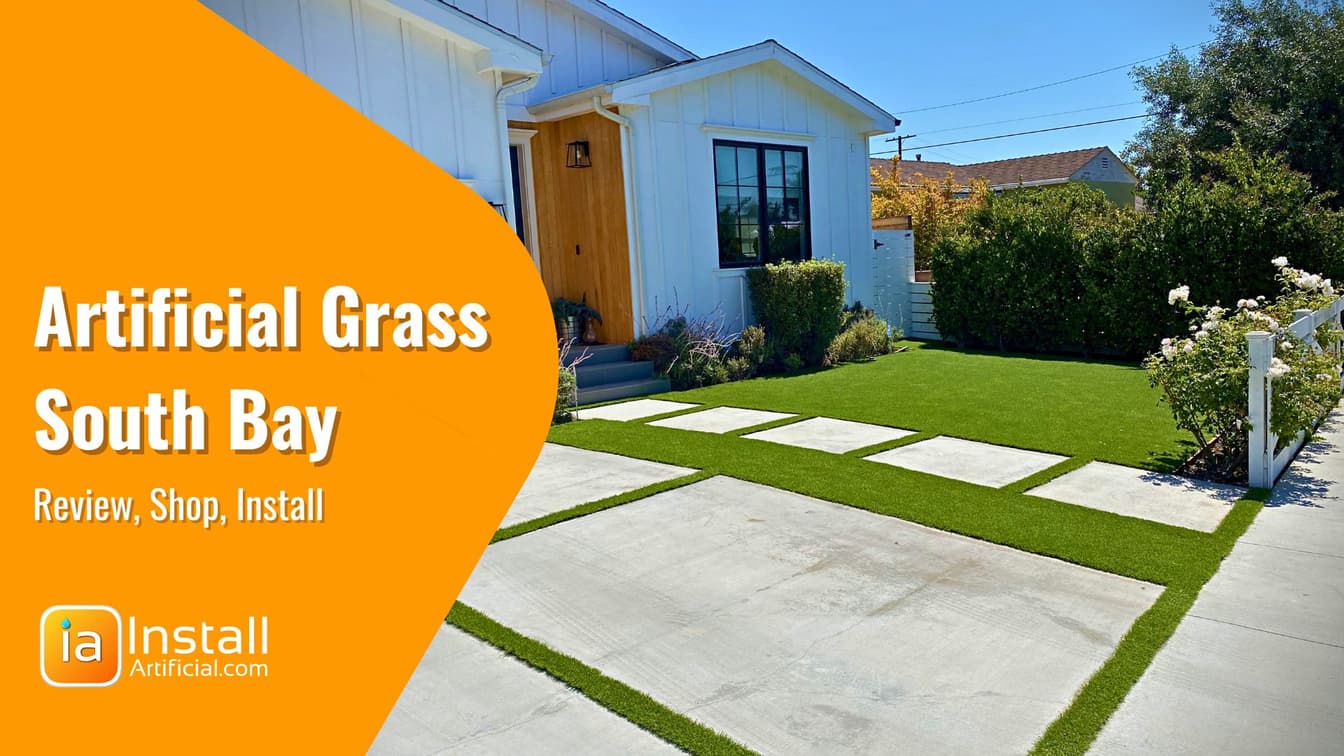 The cost of artificial turf materials in South Bay ranges from $1.55-$6.65 per sq. ft., while the cost of artificial turf installation in South Bay ranges from $8.55-$15.75 per sq. ft. (varying based on scope of work, size, and intended use).
Keep scrolling to learn more about the factors that affect the cost of artificial turf materials in South Bay!

Amount of Fake Turf Ordered
Buying artificial grass in bulk from online suppliers is an excellent way to save money. When you purchase larger quantities of product, you can take advantage of better rates and significant discounts. So, if you have multiple DIY turf projects in mind, it's definitely worth considering buying in bulk to maximize your savings and avoid any additional delivery charges.
Weight & Density
Artificial grass has become a popular choice for homeowners due to its low maintenance and ability to maintain a vibrant green appearance year-round. However, it's crucial to consider the cost factors, and one significant aspect that influences pricing is the weight of the turf. Generally, heavier turf comes at a higher cost as it requires more material to create a denser surface. Many homeowners prefer heavyweight and plush artificial grass for its soft and cushioned feel. However, if you have pets or need to clean the turf regularly, opting for a less dense choice will provide better drainage.
Pile Height
Choosing the ideal artificial turf can be a daunting task, as there are several factors to consider such as price, durability, and height. Pile height, in particular, plays a vital role in determining the overall attractiveness of the turf. Opting for taller grass can create a more lavish feel, although it may come at a higher cost. However, it's important to note that taller grass tends to be heavier and more prone to bending or matting over time. To prevent matting in areas with heavy foot traffic, it may be wise to choose shorter grass. Additionally, regular brushing is essential to ensure that taller grass blades maintain an upright position.
Intended Use
The cost of installing artificial grass can be influenced by its intended use. If you're considering using it for pet turf systems, you may require additional accessories like drainage layers and antibacterial sand infill, which could increase the overall price. It's important to choose turf that is 100% permeable in areas specifically designated for pets to ensure efficient drainage and is manufactured with antimicrobial technologies to prevent the growth of bacteria.
On the other hand, if you're looking for artificial grass for temporary purposes, such as an event, there are affordable options available starting from as low as $1.10 per square foot. These types of artificial grass ground covers provide a cost-effective solution without compromising on quality.
Durability
The structure of the synthetic grass blades you choose can have a significant impact on both the cost and performance of your lawn. For example, synthetic grass that is specifically designed for high-traffic areas may come at a higher price compared to grass that is more flexible and easily bends. The more durable options will also provide better resistance to wear and tear and have a faster recovery rate compared to grass with flat blades.
Discover the Turf Lab available on each product page to gain valuable insights into the recovery rate, resistance to wear and tear, and more for each type of grass for sale in South Bay. Take a look at the TurfList to browse through our options!
When it comes to the price of artificial grass in South Bay, it can vary greatly based on your specific requirements and intended use. Before you start your search, it's essential to have a clear understanding of what you need from the turf. This article aims to provide you with the necessary information to get started. If you're unsure where to begin, simply click the button below to connect with one of our knowledgeable experts. They will be more than happy to assist you in selecting the perfect type of turf for your unique needs.