What's the Price of Artificial Grass in San Diego?

Learn how much artificial grass in San Diego costs and what factors will affect pricing.
>> Get a Custom Quote for Your Specific Project in Just a Few Clicks
Or see our list of the best artificial turf installers in San Diego.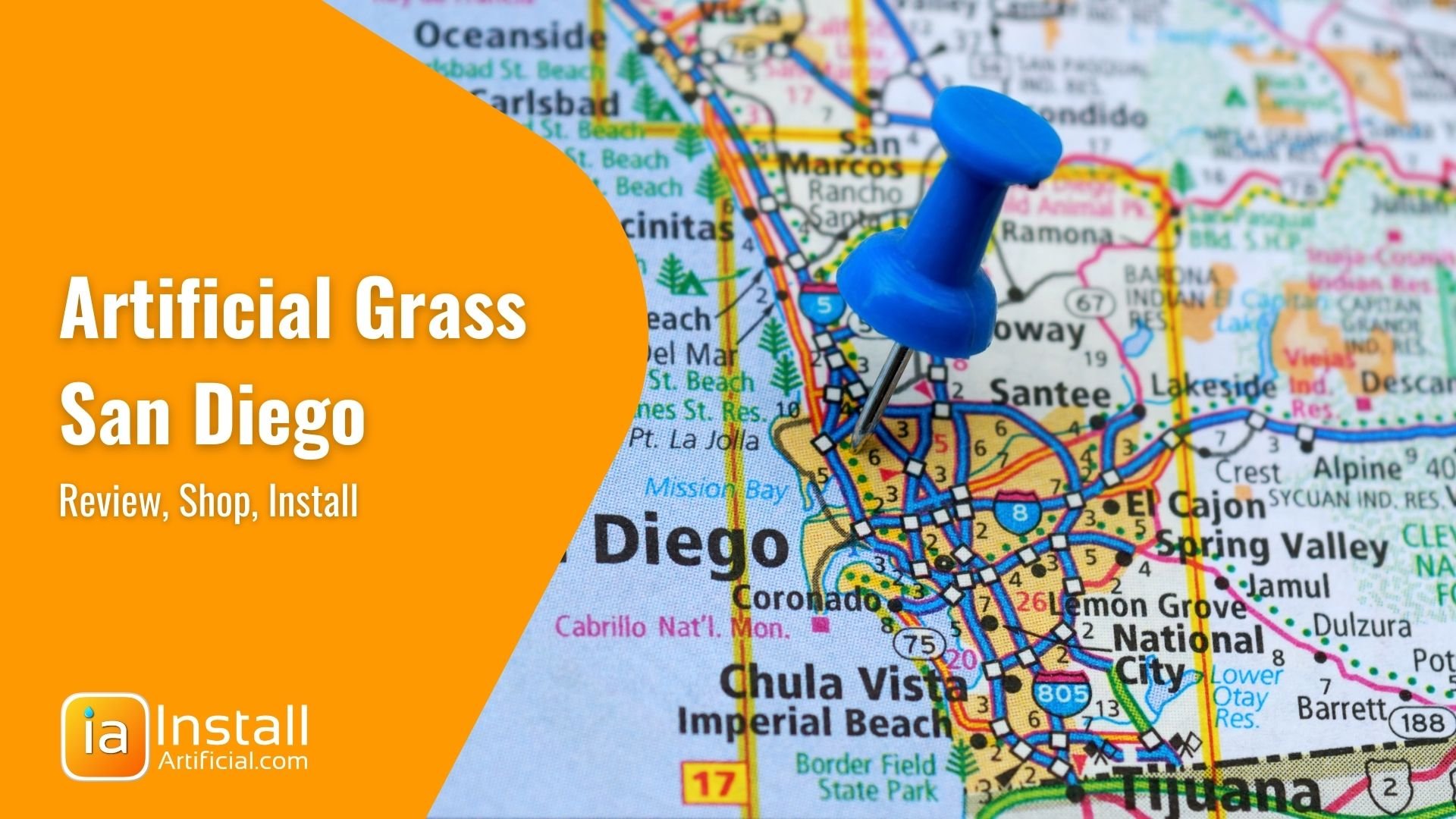 The cost of artificial turf materials in San Diego ranges from $1.29-$6.50 per sq. ft., while the cost of artificial turf installation in San Diego ranges from $8.90-$15.60 per sq. ft. (depending on the scope of work and intended use). Keep reading below to see what factors will affect the cost of synthetic grass materials!

Amount of Turf Ordered
Typically, you'll receive a better rate and larger discounts when buying higher volumes of products. We often see suppliers offering additional deals on amounts larger than 1,000 sq. ft. While this excludes DIYers who are installing turf in smaller areas, it's still a great way to save more! If you'll be needing artificial grass for multiple projects, consider buying in bulk to receive extra savings and save on delivery fees!
Weight & Density
The weight of artificial grass plays a big role in the pricing. Typically, the more the turf weighs the more it will cost. This is simply because in higher density turf there is more material used. Heavyweight and plush artificial grass tends to be the most sought after because it offers a soft cushioned surface. However, in areas that are pet-specific or require consistent cleaning a less dense material is typically preferred for simpler maintenance and quick drainage.
Pile Height
Pile height is the measurement from the blades at their tips to just above the turf backing. A taller pile height tends to produce a more luxurious feel but at a larger cost. Also, keep in mind that taller grass is heavier and more likely to bend and become matted when walked on. For high traffic spaces, a shorter pile height will remain more durable over time. When taller pile heights are used, make sure to brush the artificial grass often to keep the blades standing upright!
Intended Use
The intended use will also affect the pricing of artificial grass. Depending on what you need out of the installation costs can rise or fall. For example, if you're installing artificial grass for pets you'll need to choose turf that's durable and 100% permeable for accelerated drainage. You'll also want to make sure the turf is manufactured with antimicrobial technologies to help with bacteria prevention. All of these factors will raise the price. For the best results, pet turf systems will also require additional turf accessories such as drainage layers and antibacterial sand infill.
On the other hand, if you're buying artificial grass for an event or temporary use you can opt for something with a low pile height. Similar to carpeting, this type of artificial grass can be as little as $0.96 per square foot.
Durability
Typically, artificial grass that's made for higher traffic levels will cost more than artificial grass that's pliable and bends easy. If the grass has a structured or ribbed blade, it will be more wear-and-tear resistant and its recovery rate will be quicker in comparison to synthetic grass that has flat blades. Reference our Turf Lab on every product page to see how each artificial grass holds up during a number of performance tests such as softness, cushion, recovery rate, and more!
We hope this helps you understand why there's such a large window when it comes to the price of artificial grass in San Diego. Before you begin shopping for synthetic turf, you must first understand your intended use and specific needs. Still unsure? Speak with a professional today to get assistance with your purchase by clicking the button below!